Looking to stay anonymous online? Our Windscribe review shows the way to do that for free while enjoying military-grade encryption.
Number of devices:
Unlimited
WORKS ON:
iOS
Linux
MacOS
Android
Windows
Key features:
Cross-platform, logging, proxy, autopilot, port forwarding, firewall, stealth VPN, and more
Visit Website
Best for:
SUPERB FREE VERSION
Strengths
Solid free version

Build a Plan payment method

Unlimited number of devices allowed

Works on many browsers, devices, and operating systems
Inconsistent server speeds

Not the best VPN for streaming
These days, it feels like everybody wants to get your online footprint. The issues of reduced online privacy and increased censorship are becoming so serious that even the most ordinary Internet user needs to have a VPN client.
Enter Windscribe, a VPN client that helps you stay safe by combining various security options with advanced encryption methods. So safe, in fact, that you can even work to avoid the Great Firewall of China!
Is Windscribe legit, though?
That is exactly what we are going to evaluate in this Windscribe review!
What Is Windscribe
Windscribe is a VPN client that is well known for its free plan. Even its free version offers amazing security, making for a solid torrenting and streaming choice.
At the very least, as the numbers show, the free browser extension will allow you to increase your privacy online while bypassing geographically-restricted content.
Windscribe Features
The following part of this Windscribe VPN review will help you get to know its features even better.
Cross-platform VPN
This VPN has versions for Windows, Mac, and Linux, but if you are only looking to download a free VPN add-on for your browser, there are also Windscribe Chrome and Firefox extensions.
Windscribe actually encourages using both client and browser extensions to further increase your traffic anonymization.
A free version of this VPN for Firestick also exists, and so does Windscribe for iPhone and Android.
Logging Policy
Even though it comes from Canada, Windscribe entirely avoids logging. The only things that it does collect are the amount of data transferred in the last thirty days and the date of your last session.
Split Tunneling
Currently, only Windscribe for Android supports split tunneling, but this feature is being developed for Windows, Linux, and Mac, too.
Proxy
Windscribe for Mac and Windows allows you to set up an HTTP or SOCKS5 proxy server. That way, you can connect your devices that could otherwise not connect via VPN to your computer and further increase your online privacy.
Autopilot
The Windscribe browser extension also has an autopilot option that automatically connects you to the fastest server and bypasses geo-blocking, if needed.
Port Forwarding
Windscribe allows for ephemeral port forwarding, but only if you get the Pro version.
R.O.B.E.R.T.
R.O.B.E.R.T. was one of the most intriguing aspects of my research for this Windscribe VPN review.
A handy IP and ad-blocking tool, it can block malware, ads, and trackers. With Windscribe VPN Pro, it can also block gambling sites, crypto miners, social network trackers, and more.
Windscribe Security
Windscribe rightfully touts its own horn when it comes to online security.
Security Protocols
This VPN uses IKEv2 by default, but you can also choose the superior OpenVPN tunneling protocol for a safer point-to-point connection.
Both TCP OpenVPN and UDP OpenVPN are available.
This security feature, together with the following two, adds a lot of positives to our Windscribe review. And the encryption protocol is the AES-256 cipher with SHA512 authentication and a 4096-bit RSA key - that's even stronger than what the top TSL providers use.
Stealth VPN
If you opt for using OpenVPN, you can hide it thanks to Windscribe's TLS tunnel. By doing so, you can surf the Internet through a Windscribe server in China and other countries that tend to block VPN traffic.
Firewall
Windows and Mac versions of Windscribe have a firewall which is even better than a plain automatic killswitch.
It does not allow for any connectivity outside of the tunnel, protecting you from DNS, IPv6, and WebRTC leaks, even if your VPN suddenly disconnects.
Windscribe Speed
Even though this VPN's network is pretty big, with 63 countries and 110 cities to choose from, Windscribe is generally slow. The free version has a much smaller number of available networks, so the network speeds tend to vary heavily. It is oftentimes five to six times smaller, which is a big issue.
Here are the speed test results on our VPN-less connection, followed by a Windscribe free VPN speed review:
PING - 20ms
Download Speed - 63.13Mbps
Upload Speed - 21.61Mbps
When connected to a Romanian VPN, the closest network in this case, the speed falls drastically:
PING - 77ms
Download Speed - 11.04Mbps
Upload Speed - 6.19Mbps
It decreases even further when connected to a faraway network. Here are the Hong Kong VPN results:
PING - 429ms
Download Speed - 1.32Mbps
Upload Speed - 3.48Mbps
Even though it is not the closest, a French IP address gave better results:
PING - 87ms
Download Speed - 11.77Mbps
Upload Speed - 6.35Mbps
Ease of Use
This would not be a proper Windscribe review without mentioning the program's ease of use.
The reason why is because it is surprisingly easy to install, as the express installation option does everything for you. To make things better, the interface is very simple and user-friendly. After starting Windscribe and choosing the desired network, you are already set.
Streaming
Windscribe has Windflix, a special server made specifically in order to get around Netflix's geolocation blocker, but it requires the Pro version. Windflix works for the US version of Netflix, but UK, Canada, and Japan versions are not as reliable.
This VPN client can also stream Disney+ content, Amazon Prime, iPlayer, and Hulu, but it cannot stream HBO, leaving room for improvement in this department.
Torrenting
Windscribe is good for torrenting, but keep in mind that not all of its servers allow it. Windscribe prevents P2P file sharing in servers of countries that prohibit it.
Plans & Pricing
With Windscribe, you can choose between the following pricing plans:
Support
Should you have a question or encounter a problem with the program, you can go to the Windscribe support page or access it from the app in a few clicks. My query was answered rather quickly but other users share stories that it might take a while before someone from the Windscribe team gets to review your issue.
While there is no linked phone number, there is a chatbot named Garry and a ticket system. The chatbot replies immediately, but can only answer common questions, while the ticket system isn't particularly fast. There is no 24/7 service, meaning that the amount of time to receive a reply can greatly vary, especially if you submit a ticket during the weekend.
Reddit users will be delighted to hear that there is a subreddit called r/Windscribe where both Windscribe support staff and developers hang out and answer questions. Again, the reply time varies, but at least the service is kind.
Windscribe User Reviews
According to Windscribe VPN reviews on Reddit, people seem to love it.
Most of them are overwhelmingly positive, with many praising the capabilities that the free version offers and the seamless streaming from the dedicated Windscribe Netflix servers.
The most common complaints are about Windscribe servers that are not connecting, its customer support, and the speed.
A few users report that even purchasing the premium VPN service didn't solve their speed issues.
Other than that, some claim that the Windscribe Chrome extension occasionally stops working.
We Recommend Windscribe For
Windscribe has a remarkable free version, superb ease of use, and great security.
Its 10GB of free monthly allowance are great for casual usage and bypassing geoblockages.
Of course, if you want to use it full-time, then a paid plan will be a necessity, but Windscribe performs there as well.
Windscribe Alternatives
Windscribe certainly is legit, but how well does it fare against some other popular clients?
Windscribe vs TunnelBear VPN
This is a close one, its outcome depends on your preference.
TunnelBear has its servers spread across fewer countries, but they are more consistent and somewhat faster, so it's better for streaming.
On the other hand, Windscribe VPN has a free version and is the better choice if you value privacy highly.
Windscribe vs NordVPN
Since NordVPN is widely regarded as one of the best, if not the best VPN client, it should not come as a surprise that it is better in some regards.
They are just about equally good at torrenting, but NordVPN is much faster and even a tad bit safer.
Too bad it does not come with a free plan, nor does it support an unlimited number of devices.
Still, even though this is a Windscribe VPN review, we have to hand it to NordVPN here.
Windscribe vs ExpressVPN
ExpressVPN is stationed far away from the 14-Eyes Alliance, something that cybersecurity buffs will appreciate.
Other than that, it wins because of the superior customer support and speed, but not by much.
If this does not make you want to pay up, go for Windscribe.
Final Verdict
Is Windscribe a good VPN? It most certainly is!
It's great if you can get over its speed and customer service issues. It has many security options and, despite its Canadian jurisdiction, will keep you protected, even with the free version.
Because of that, we hope this detailed review made you take Windscribe into consideration.
Also, if you're looking for a VPN that works on digital media players, knowing that Windscribe is considered to be the best free VPN for Firestick might help.
FAQ
How does Windscribe work?
Like each VPN client, Windscribe seeks to help you prevent Internet Service Providers (ISP) and countless web trackers monitor your online activity. It does so by protecting the data coming from your computer with an encrypted connection.
Does Windscribe hide your IP?
Yes. Hiding the IP address is one of the main functions of a VPN client, and Windscribe is no exception.
Does Windscribe keep logs?
No. Windscribe has a zero-log policy, avoiding logging altogether.
Does Windscribe collect data?
Other than your username, password, and eventually email, Windscribe does not collect any data whatsoever.
Is Windscribe good for torrenting?
With its speed inconsistencies, Windscribe is not the best for torrenting but is still pretty good. Check out the rest of our in-depth Windscribe review to learn more about its possibilities, reliability, and speed.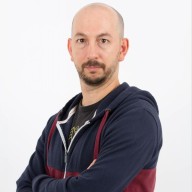 Nick Galov
Unaware that life beyond the internet exists, Nick is poking servers and control panels, playing with WordPress add-ons, and helping people get the hosting that suits them.