Take charge of your online privacy and security with ExpressVPN's best-in-class encryption and IP address masking. Its broad distribution of high-speed servers across the globe allows you to switch change locations without any restrictions. The geo-blocking workaround helps you watch your favorite shows on multiple streaming services. Check out our detailed ExpressVPN review below to learn more about its speed, security, and service.
Free version:
7-day free trial
Jurisdiction:
British Virgin Islands
WORKS ON:
iOS
Edge
Linux
MacOS
Opera
Chrome
Router
Safari
Android
Firefox
Windows
Visit Website
Best for:
STREAMING & TORRENTING
Strengths
Incredibly fast

Unrestricted worldwide access

Advanced security protocols

No activity or connection logs

Works on Win / macOS / Linux / Android / iOS

Accepts bitcoin
Slightly expensive

Lack of advanced configuration
As much as we all love how convenient it has made our lives—online shopping, electronic banking, video streaming—the internet is still an unscrupulous place.
Our online footprint leaves us exposed to potential identity theft, and that's why a good VPN is essential for our personal cybersecurity. With over 5,000 positive ExpressVPN reviews on Trustpilot, the company is arguably the best VPN service provider on the market.
Web Tribunal's in-depth ExpressVPN review explains how the VPN hides your IP address and creates a secure and encrypted connection, bypassing content censorship restrictions.
We also look at the features that allow you to enjoy safe, lightning-fast, unrestricted access to websites and streaming content worldwide.
What Is ExpressVPN?
ExpressVPN is a premier provider with a vast ultra-fast global network spread across 160 locations in 94 countries, optimized for high-speed and secure browsing.
Countless ExpressVPN reviews testify it can bypass any geo-blocking restrictions and has the best-in-class encryption and leak proofing, making it perfect for streaming and torrenting.
The lightweight app also has a browser extension that acts as a geolocation blocker to hide your whereabouts while you're surfing the web.
ExpressVPN Features
Secure, fast, and up-to-date, this service comes with a variety of useful features and keeps adding new ones.
Logging Policy
ExpressVPN has a zero data-logging policy—it doesn't keep any record of your activity or connections, including IP addresses, browsing history, traffic destination, metadata, and Domain Name System (DNS) queries.
The Privacy Policy outlines that it collects as little information as possible.
This includes data about app usage, successfully activated app versions, the dates when you connect to the VPN service, choice of server locations, and the total amount of data transferred per day.
This information is aggregated in anonymous data blocks that help improve the service as a whole.
Split Tunneling
ExpressVPN split tunneling works in two ways.
The first is to protect all the connected devices or apps except for those expressly excluded.
The second, called inverse split tunneling, covers only selected devices or apps while everything else flows outside the VPN.
TrustedServer
TrustedServer is a new online privacy mechanism and a groundbreaking approach to running ExpressVPN servers.
It ensures that your data isn't stored on a hard drive.
Instead, the VPN software runs on the server's RAM, keeping you safe and ensuring the server networks never retain sensitive or personally identifiable information (PII).
Lightway
Lightway is ExpressVPN's newly launched protocol.
Faster, secure, and reliable, it can compete with Wireguard-based protocols.
Lightway has shown a tremendous uptick in speed and performance over traditional protocols like OpenVPN and IKEv2.
ExpressVPN Security
In their ExpressVPN reviews, many users happily report the tremendous security of the service.
So it doesn't come as a surprise that it's packed with features ensuring users' privacy and protection.
Security Protocols
Safety is at the forefront of ExpressVPN—its servers are carefully engineered to eliminate any kind of sensitive categorical data like gender or state of residence, so hackers can never steal it.
You can choose between:
OpenVPN (UDP or TCP)
Layer 2 Tunneling Protocol/Internet Protocol Security (IPsec)
PPTP
SSTP
Killswitch
ExpressVPN has an automatic killswitch called Network Lock.
It ensures that your data will be safe even if your VPN connection drops and protects all internet traffic until the service is restored.
We didn't experience any interruptions while testing, so we had to simulate a couple ourselves.
The Network Lock kicked in as advertised.
Encryption
ExpressVPN uses AES (Advanced Encryption Standard) with 256-bit keys.
That's an impenetrable security measure—it's the same encryption used by SSL certificate providers, government agencies, and security experts worldwide to protect classified information.
Private DNS
ExpressVPN runs private encrypted DNS on every server.
This means it protects your DNS requests with the same encryption and tunneling protocol as your other online activity.
It makes your connection faster and keeps it safe even from your Internet Service Providers (ISP).
ExpressVPN Speed
We ran an Express VPN speed test on Ookla and found that its claim of being the fastest VPN in the game might, in fact, be valid.
We started by connecting to its US servers and experienced a loss in speed of just about 10%!
Then we crossed the globe and tried the servers in Australia.
Again, taking into account the sheer distance between our location and the VPN server, the drop in speed was insignificant.
We're happy to say that ExpressVPN passed our test.
ExpressVPN Streaming
You can use ExpressVPN on Netflix to easily bypass geo-blocking by connecting to servers in one of 160 locations and accessing location-specific content.
The ultra-fast bandwidth lets you stream all the content you want in 4K/UHD and download at an average speed of over 100 Mbps.
ExpressVPN is compatible with the most popular US-based streaming services, so whether you want to revisit Game of Thrones on HBO, start watching The Boys on Amazon Prime video, or catch up on The Mandalorian on Disney+, ExpressVPN has the tools you need.
ExpressVPN Ease of Use
Part of our review process involved testing all ExpressVPN applications: for desktop, mobile, and browsers.
The mobile virtual private network and desktop user interfaces are sleek, intuitive, and incredibly easy to use.
The single-click Smart Location feature automatically connects you to the nearest high-speed server for a fast connection.
The app will also automatically detect and select the best security protocols for traffic anonymization.
Express VPN Pricing & Plans
There are three Express VPN subscription plans.
Each of them has the same features and benefits and comes with a 30-day money-back guarantee:
Get proper protection for a month, to test the waters.
Prepay $59.95 and get protected for six full months. 30-day money-back guarantee will give you a peace of mind.
Pay $99.95 and get protected for a whole year. Given the high quality of the service, this is a very sweet deal.
If you're unsure whether you want to pay for the service, you can try it first.
Getting access to the ExpressVPN free trial is pretty straightforward. All you need to do is download the app and register with your email address.
You'll then be automatically redirected to the ExpressVPN free version, which you can use for seven days.
But there's a catch—you can only access it from your mobile device in countries where the ExpressVPN app is available.
Overall, the plans are relatively pricy. If you're interested in a cheaper VPN, you can check out our Ivacy VPN review.
Support
The ExpressVPN Support Center can be contacted via email or chat only, but this turned out to be as efficient as phone support. The provider also has an extensive FAQ section and a very thorough knowledge base.
As part of our research process for this detailed and objective ExpressVPN review, we contacted the support team on both platforms while testing the service.
Since information about the number of access points was not available on the website, we turned to the support team with this query.
We received a response via chat almost immediately. The customer service rep was very polite and helpful—she solved our issue promptly and even directed us to the knowledge base for further questions.
We inquired about the same issue via email.
Their response took a little longer than it did via chat, but it was still much quicker than most email support systems.
We received an automated response informing us that we'll get an answer within 24 hours, but the reply arrived much sooner—an hour and a half after the initial contact.
ExpressVPN User Reviews
We went through tons of ExpressVPN reviews to get a sense of how customers feel about the service. The most positive reviews praise the service's speed and performance.
The mobile app is sometimes criticized for not offering the same user experience as the desktop version. But despite this small issue, ExpressVPN has a good reputation for being safe and trustworthy.
There are some negative ExpressVPN reviews on Reddit—users expressed their skepticism about the service's privacy, but this concern is no longer relevant. Back in 2016, a former Google Information Security Engineer criticized the platform for using weak encryption.
ExpressVPN has since rectified this and now uses top-of-the-range Advanced Encryption Standard (AES) with 256-bit keys—known as AES-256.
Express VPN ratings are quite high. Experts and users give it nearly perfect scores, especially when it comes to speed and security. Since these are some of the most valued qualities in a VPN service, most drawbacks can be overlooked.
Given the positive feedback from users, we have little doubt that ExpressVPN reviews in 2022 will remain positive.
Is ExpressVPN Worth It
ExpressVPN offers a high-speed, secure, and supercharged VPN service, albeit for a slightly higher price than most providers offer.
But as one ExpressVPN review on Reddit put it, this "daylight robbery" is well worth the price of admission.
Because of its robust online protection, ultra-fast speed, and unlimited bandwidth, we recommend ExpressVPN for torrenting and streaming and extensive, secure browsing sessions without any noticeable drop in speed.
ExpressVPN Alternatives
ExpressVPN is a monster of a service, but our reviews of the best VPNs have revealed some worthy alternatives.
NordVPN vs ExpressVPN
ExpressVPN and NordVPN are both in the top 10 VPN services.
Putting them head-to-head is like pitting two Bighorn Rams against each other.
Both services have ultra-fast speed and secure connections. With ExpressVPN, you can login to up to five devices, while NordVPN allows six simultaneous connections. ExpressVPN also has split tunneling and a browser extension for Safari.
But any NordVPN review will tell you that this is the lower-cost option, and it provides ad-blocking, malware scanning, and automatic WiFi scanning.
ExpressVPN vs IPVanish
IPVanish has a stylish interface and more configurations, which makes it better for beginners who want to take a peek under the hood to see how things work.
IPVanish beats ExpressVPN in terms of price too.
Its multiplatform flexibility and 40,000+ IP address make it a more Netflix-friendly option.
That said, a significant drawback of IPVanish is that it is registered in the US, which is far from ideal in terms of privacy.
ExpressVPN vs PureVPN
Both companies offer users a wealth of great features. The numerous positive ExpressVPN reviews praise the service as nearly flawless.
PureVPN, on the other hand, is a low-cost option with a great point-to-point connection capability and unlimited bandwidth.
Its only drawback is the ongoing concern about the level of privacy it provides. These started when the company turned over a user's IP address to the FBI for an investigation of a cyberstalking case, violating their own privacy policy.
ExpressVPN vs OpenVPN
OpenVPN is geared mainly toward providing software solutions for businesses, but it still has robust VPN services with top-notch functionality.
The basic version of OpenVPN (the Community Edition) is an excellent option if you want to download a free VPN. But the protocols from the paid version provide more advanced features.
The subscriptions are incredibly affordable, starting from a $15 one-off payment for a full year.
Final Verdict
Overall, ExpressVPN is an excellent choice for a VPN provider. Our detailed ExpressVPN review pointed out that it is pricier than most services, but you're getting your money's worth.
With its impregnable privacy and security, high-speed VPN servers with unlimited bandwidth, and unrestricted access to content regardless of your location, ExpressVPN is possibly the best VPN service.
FAQ
ExpressVPN doesn't keep logs of connections or activity and is located in a privacy-friendly location. It guarantees your anonymity, which makes it very safe.
How much does ExpressVPN cost per month?
Subscriptions for ExpressVPN cost $12.95/month for a one-month plan, $9.99/month for a six-month plan, and $8.32/month for a 12-month plan.
There's also an ExpressVPN coupon that gives you a discount if you buy the 15-months plan, reducing the price to $6.67. Each subscription comes with a 30-day money-back guarantee, and you can try it out risk-free.
Is it illegal to use a VPN?
Every country has different regulations, but normally, you're free to use a VPN as a privacy tool. But while using a VPN is entirely legal, engaging in illegal activity in the meantime isn't.
Which is the fastest VPN?
NordVPN and ExpressVPN reviews differ, so the answer might vary depending on your source. However, multiple speed testing sites claim that with an average speed of 115 Mbps across all times and locations tested, NordVPN provides the fastest service.
Is NordVPN better than ExpressVPN?
Even though both are excellent choices, ExpressVPN has better functionality, ease of use, and overall performance, according to many speed test websites.
Does ExpressVPN keep logs?
According to its website, ExpressVPN does not store any activity or connection logs.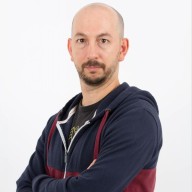 Nick Galov
Unaware that life beyond the internet exists, Nick is poking servers and control panels, playing with WordPress add-ons, and helping people get the hosting that suits them.
Leave your comment
Your email address will not be published.