Talkroute Review—Great Ease of Use at an Affordable Price
Edited by
Aleksandra Yosifova
Thanks to its reasonable pricing, free trial version, and great ease of use, Talkroute is a great, scalable solution for small to medium-sized businesses. We tested its features and checked the legitimacy of both positive and negative user comments in Talkroute reviews. Read on to see what we found out.
Mobile app:
Android / iOS
Key features:
Affordable, simple setup, neat UI, great customer support, free trial

Visit Website
Best for:
BEST FOR SMALL TO MEDIUM BUSINESSES
Strengths
Free trial

Neat user interface

Simple setup process

Great customer support
No faxing

No screen sharing
Business VoIP services are on the rise, and so is the demand for them. If you're an SMB owner on the lookout for the best business VoIP service, Talkroute might just be the perfect solution for you.
Affordable, user-friendly, and with positive Talkroute reviews by end-users, it looks promising at first glance.
What opinion did we form after thoroughly reviewing it?
There's only one way to find out.
What Is Talkroute?
This is possibly the best VoIP system for small to medium-sized businesses. The virtual phone system comes with a fixed price, versatile functionality, and, best of all, incredible scalability.
We examine its features in more detail in the next section of the Talkroute review.
Talkroute Features
Since it isn't an internet phone service for home use, all its tools are tailored to businesses. Are they enough to make it the best VoIP phone service?
Let's see.
Devices and Operating Systems
Talkroute is available on Windows, Mac, and even Linux. This alone gives it an edge over other solutions. Since it's not that common, you won't see it often mentioned in business phone systems reviews. Still, it might be a determining factor for Linux users.
The Talkroute phone service is also available for Android and iOS. Both versions are well received by the public, very useful, and extremely easy to use.
Softphone
The softphone functionality allows you to make and receive calls from your PC or laptop.
In other words, with Talkroute you won't need dedicated VoIP phones.
Call Forwarding and Routing
Not only does the Talkroute service offer a call forwarding feature, but it also has call routing. This means that whenever you receive a call, you can transfer it to another number or your voicemail.
With the routing feature, you can also transfer calls to your colleagues' computers.
On top of that, you can schedule calls and transfer them to the next agent if there is no answer from the first number.
Call Stacking
Another unique and commonly praised feature in 2022 Talkroute reviews is call stacking. Thanks to it, you can avoid busy signaling even if you have a single phone number.
In case of multiple incoming phone calls, you can play hold music or a custom message to your clients.
You can also set maximum hold time. When it expires, Talkroute will instantly transfer them to voicemail or back to the call menu.
Voicemail
This feature is available with all pricing plans. You can access it from the online platform, desktop version, or mobile app. Talkroute allows you not only to hear your voice messages but also to see the transcribed versions.
Additionally, you can create multiple mailboxes for specific team members or office departments with Talkroute.
To regulate the access, administrators can set up user permissions for said mailboxes.
Hold Music
Talkroute has a big audio library with sounds that you can use as hold music and custom greetings.
You can also record one yourself or contact Talkroute's Voice Studio and have them do that for you.
Text Messaging
This VoIP phone service for business lets you send, view, and reply to SMS and MMS messages from all apps.
As you can see below in this Talkroute review, you can enjoy this function with all pricing plans. Of course, the more basic packages come with certain limitations.
Phone Numbers
Whether you have your own business number or not, Talkroute has you covered. You can either transfer your existing number or get one of theirs. You can even transfer it to another service later on if you decide to switch providers.
There is a choice between toll-free, vanity, 800, and local numbers. You can add or remove them from your Talkroute account at any time.
HIPAA Compliance
Talkroute is HIPAA complaint. Individuals' health information is strongly protected.
Talkroute Prices
This business VoIP phone service has very comprehensive pricing plans.
While the number of features in each package differs, the provider doesn't charge you per user. This keeps the bill relatively small—even the highest-tier subscription comes out cheap.
Talkroute also offers a 7-day free trial. Some users complain about its length in their Talkroute VoIP reviews.
Still, this time is more than enough to test the functionality of the service. Overall, Talkroute prices are lower than those of most business or home VoIP phone service providers.
Talkroute Support
Should you have any problems, the Help Center on the Talkroute website is a good starting point. It's filled to the brim with useful step-by-step tutorials and a FAQ section, both well-organized.
Alternatively, you can contact support via phone, schedule a call, or send them an email.
Although its customer service teams are based in Canada and the US, Talkroute offers 24/7 email support.
Not only that, but they are also very kind and helpful. We received a detailed answer to our question in just about 20 minutes.
Ease of Use
We are talking about a cloud-based system, which means the Talkroute setup process is extremely easy. You just have to choose a plan and download the app. There's no additional hassle.
Navigating the app afterward is also straightforward.
The mobile and desktop versions are streamlines and work seamlessly.
Talkroute User Reviews
To get the full picture, we decided to check what other users think of the software.
Finding Talkroute reviews that aren't rave is a challenge. People praise it for everything from the streamlined setup process and general ease of use to call quality and app reliability.
Unfortunately, Talkroute isn't BBB accredited. This isn't surprising, though, as most VoIP providers aren't. What's disappointing is that there aren't any Talkroute reviews on BBB either. Still, we found plenty of user opinions on other platforms.
The product boasts a 4.9 rating on G2, 4.3 on Capterra, and 4.4 on Trustpilot. Granted, that's based on less than 60 reviews collectively, but they're still informative and very positive.
Of all business VoIP providers we've reviewed, Talkroute seems to be doing best on Trustpilot, with a surreal score of 94%!
Although there isn't a dedicated Talkroute Reddit space, it does appear in comments occasionally. Users usually compare it to Grasshopper and say they prefer Talkroute because of the more affordable price.
For every positive comment, there is a negative one, but this shouldn't discourage you. This isn't the case just with Talkroute reviews on Reddit but also with other VoIP providers. Redditors are critical customers.
Is Talkroute Worth It?
The verdict of our Talkroute review is that the software is the best VoIP service of 2022 for small and medium businesses with a tight budget.
Sure, there might be better options for bigger companies or other products with more features, but this is still a tough one to beat.
Apart from the lack of faxing, we have no other major Talkroute complaints.
So, if faxing isn't among your priorities, you'll find this solution more than enough.
Talkroute Alternatives
If you're looking for the best residential VoIP service or aren't satisfied with Talkroute for another reason, you should consider one of its alternatives.
Talkroute vs Nextiva
Nextiva is much more powerful than Talkroute but also much more expensive. It has all features you could think of and is often considered the best business VoIP system.
If you can afford it, Nextiva is the better option, but its high fees make it prohibitive for many small and medium businesses.
Talkroute vs Grasshopper
Grasshopper does offer faxing, but its starting plan is more expensive, and it has fewer features overall. Most notably, it doesn't have a call recording option, while Talkroute does.
Talkroute is also much more scalable, which makes it a go-to choice for starting businesses.
Neither of these is the best residential VoIP provider, however. If that's what you need, check out the next solution.
Talkroute vs RingCentral
Just by looking at VoIP phones reviews online, you can tell that RingCentral is one of the best VoIP providers overall.
We were really impressed when we tested the service. It's a bit more expensive than Nextiva but is even more polished.
Its biggest advantage is that, in addition to being a business VoIP solution, it's the best residential VoIP service of 2022.
Final Verdict
The Talkroute phone system is one massive force to be reckoned with.
It's a cheap VoIP service and one of the best VoIP service providers for small businesses—a rare combo.
Talkroute is easy to set up and use, with a sleek user interface and excellent support.
If you're looking for robust functionality at an affordable price, it's the perfect choice.
FAQ
Is Talkroute safe to use?
Yes. It is HIPAA compliant, and we have no major concerns.
How much does Talkroute cost?
Its cheapest plan costs only $19. Better yet, since this internet phone service doesn't charge per user, its prices are fixed.
For the full list of plans, check out the pricing section of the Talkroute review above.
One of the most commonly praised aspects of the service in Talkroute reviews is its ease of use. You won't have any problems in that regard.
All you have to do to start using the VoIP service is choose a plan, get a phone number, input your details, and you're good to go.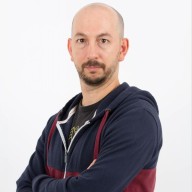 Nick Galov
Unaware that life beyond the internet exists, Nick is poking servers and control panels, playing with WordPress add-ons, and helping people get the hosting that suits them.