Nextiva Review - The Leading VoIP Provider
Edited by
Aleksandra Yosifova
Thanks to its numerous features and app integrations, many believe that Nextiva is the best VoIP phone service for businesses of different sizes. Find out why we think so too in this in-depth Nextiva VoIP review!
WORKS ON:
iOS
Edge
MacOS
Opera
Chrome
Safari
Android
Firefox
Windows
Great for SMB:
All-in-one suite for phone handling, agent monitoring & training.
Visit Website
Best for:
SMALL & MEDIUM BUSINESS
Strengths
Great features

Easy to use

Good analytics

Has a softphone
Pretty expensive

Occasional support issues
What Is Nextiva?
Nextiva is a VoIP service that offers a wide range of features for businesses. Widely considered the best business VoIP service, it will provide your business with everything you could possibly ask for.
Features
In this part of our Nextiva VoIP review, we at Web Tribunal will give you an overview of some of its most important features.
There are simply way too many to cover all of them. However, all of them are business-centric and are not that suitable for home use.
Multiple Devices and Operating Systems
Nextiva is available for Windows and Mac. Wherever you start a call from, you can move from your cellphone to a desk phone and vice versa.
The Nextiva phone app can be installed on Android and iOS devices and used to increase mobility or replace your desk phone altogether.
The app's functions are surprisingly versatile – employees can make and receive audio and video calls, use the instant messaging feature to chat with coworkers, or even change their call settings.
Softphone
The built-in Nextiva softphone, included in the Windows and Mac versions, makes VoIP calls so much easier. You only need headphones or a microphone and a good internet connection.
Conference Calling
Although it was not made for conference calling, Nextiva has this option integrated. You will get it free of charge with the main app. There is a participant limit for the first two pricing plans, but it is lifted from the two bigger packages.
Nextiva reviews go to show that this is quite an advanced feature. Not only can you connect with other VoIP users, but mobile phone and landline users can also chime in this way. If you're a moderator, you can set up a conference bridge and require passcodes from participants this way.
Call Recording
This feature is also quite advanced. It lets you record the calls of other Nextiva users with a license that enables this function.
You can use this Nextiva feature to review the calls later or adapt them for training.
The Call Recording lets you access and download the calls at any time, but they can be saved for a maximum of six months.
As an administrator, you can also choose who will be recorded or let people decide that for themselves.
Faxing
All plans offer the internet fax feature, but not much more than that.
Nextiva fax pricing plans are also offered separately.
They're quite cheap and allow you to send and receive faxes on any device.
Integrations
Nextiva lets you integrate its software with numerous other programs to make it even more powerful.
The most popular ones are:
Screen Sharing
As long as you are using the Nextiva app on Windows or Mac, you can share your screen during a call at any time.
You can even present to people that are not using Nextiva, but they cannot share their screen with you.
Analytics
With a tool called Voice Analytics, Nextiva reviews your call data by accessing it and then presenting it visually.
This way, you can engage and retain employees, as well as reduce costs, helping the company advance.
Hold Music
Nextiva's hold music lets you play a tune to callers while they wait.
Besides the three default options, you can insert an audio file manually.
You can also choose when that music will play and which audio codec it will rely on.
Security
Nextiva takes its security pretty seriously. It has multiple physical data centers, and they all meet the security standards set by the ISO/IEC 27001 certification.
Network connections are monitored at all times,1 and call encryption can be enabled at any time.
HIPAA Compliance
Most Nextiva services are HIPAA compliant. This means that patients' information processed by health care providers, for example, is protected.
The services protected under HIPAA include fax, call recording, analytics, and many more.
The most notable ones that aren't HIPAA compliant are the Advanced Call Recording and Nextiva Skype, and Zendesk integrations.
Nextiva features, such as visual voicemail, voicemail emailing, and fax emailing, are at least partially disabled to maintain HIPAA compliance.
Nextiva Plans & Pricing
This is by no means a cheap VoIP service, but Nextiva has a free 30-day trial.
You can also arrange a demo version for your company by contacting them.
Discounted from $21.95 per month, the basic Nextiva plan offers unlimited phone and video calls, 1,500 toll-free minutes, and voicemail notifications via email. You can also integrate Outlook and Google Contacts within the app. This is a pretty good deal for its price!
This plan adds unlimited video conferencing and unlimited conference calls to the mix. They have a 250 and 40-participant limit, respectively. The mobile app becomes more advanced, too, as it won't only allow phone calls anymore. Other than this, you're getting Nextiva SMS voicemail notifications, 3,000 toll-free minutes, 24/7 customer support, and integrations with Zendesk, Salesforce, and Hubspot. The Nextiva pricing starts at $22.95 per user per month for this plan.
The Enterprise plan removes the limits for conferencing and gives you 12,500 toll-free minutes. This is where you're getting advanced features like Voice Analytics and call recording. Additionally, you can record video conferences and use the voicemail transcription feature. Microsoft Teams, ServiceNow, and Oracle Sales Cloud integrations also become available. Its starting price is $32.95 per employee per month.
Nextiva Support
The toughest part of Nextiva to review is its support. It is very well thought out, as it has a knowledge base, 24/7 phone support, and email support. The majority of users have reported quick, helpful answers from kind people.
On the other side, there are numerous Nextiva phone support complaints.
Some users claim support staff don't know what they're doing and aren't very kind. But for each negative comment about support, there are dozens of positive ones. It's hard to tell for sure, but with many big companies praising Nextiva as the best VoIP service, we'd say it's all good.
Ease of Use
Since it is cloud-deployed, Nextiva doesn't require any additional setup. You only need a stable internet connection and a phone to use Nextiva.
It has a simple, user-friendly interface, so you may not even need to contact support. You can adjust most of the settings through the online portal.
Another great plus of Nextiva is its reliability – its reported uptime is 99.99%.
Another option that might come in handy is call forwarding. If you're out of the office, Nextiva can transfer any business-related calls to your smartphone or landline.
Nextiva User Reviews
You'll hardly find a bad Nextiva VoIP review, at least in terms of pricing or support. Plenty of people have been using Nextiva for multiple years and haven't looked back. They appreciate it for its speed, ease of use, and the overall amount of features it gives them.
Unfortunately, one big downside of Nextiva tech support became evident during the pandemic. According to some users, Nextiva is willing to help you with upsizing but not downsizing, so keep that in mind.
Nextiva reviews on Reddit are yet another proof of the importance of product/customer fit, as you'll commonly see positive and negative comments in the same place. It all comes down to the user's preferences and needs.
Nextiva is a BBB-accredited business, which can be seen as a seal of approval. The company is also pretty active on that site, responding to and closing customer complaints. Perhaps for that reason, Nextiva VoIP reviews on BBB are more positive than those on other review sites.
Is Nextiva Worth It?
Nextiva reviews from 2022 commonly call it the best VoIP service for business, and for a good reason. It's easy to use, has great features, and does not require much setup.
You can connect all phones you have to it, use it together with other apps, or just use its softphone feature.
Our only concern is the inconsistency of Nextiva user ratings. While most users believe it's still the best VoIP service in 2022, some claim that the support team didn't help them one bit.
Fortunately, there's a free trial version that can help you check whether Nextiva is the right fit for your business.
Nextiva Alternatives
Nextiva is good, but is it better than its most popular competitors?
Nextiva vs. RingCentral
RingCentral is slightly less affordable than Nextiva but offers more advanced call management features. On the flip side, it only offers advanced features with higher pricing plans, and it has stricter limits regarding the number of participants in calls.
There is no clear winner here; it all comes down to your preference. These are two of the best VoIP providers, but RingCentral also happens to be the best residential VoIP service for 2022, while Nextiva is more suitable for businesses.
Nextiva vs. Grasshopper
Business phone systems reviews reveal that both apps suit smaller businesses best, but Grasshopper is much more basic than Nextiva. The biggest advantage of Grasshopper is that it is cheaper, so it's even better suited for startups and entrepreneurs.
If you need more advanced features, though, go for Nextiva.
Nextiva vs. GoToConnect
Just like Grasshopper, GoToConnect, formerly known as Jive, is a cheaper solution with fewer features.
However, its pricing plans are much better, as they only differ in the number of users allowed. All tiers have all functions that this software can offer.
Unfortunately, GoToConnect has an unreliable smartphone app, and its features are more limited there. Also, neither it nor Nextiva can be used as a home VoIP phone service.
Final Verdict



Looking at all of the Nextiva pros and cons, we can safely say that it's the reigning business VoIP phone service. It offers a plethora of features across many devices, and it's more than easy to use it.
All advanced features essential for businesses, such as conference calling, call recording, and screen sharing, are there. Its integrations are numerous, and its softphone and hold music options are great.
Its biggest downside is that it's not suitable for personal use, so if you're looking for residential VoIP, you should turn to another service for that.
Firm recommendation from us!
FAQ
Nextiva is a voice over Internet protocol (VoIP) phone service for business. It works with businesses of all sizes, but it is most suitable for those with up to 100 employees.
Nextiva is an internet phone service that also serves as a business communication platform. It keeps your employees connected both with one another and with clients.
How much does Nextiva cost?
There are several different plans. Their price depends on the number of employees. It ranges from $17.95 to $75.95 per month.
Is VoIP cheaper than a landline?
It is. As numerous Nextiva reviews always point out, there is no need for IT support and hardware installation, which is what makes landlines more expensive. Additionally, with VoIP, there are no multiple service providers.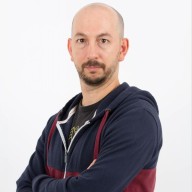 Nick Galov
Unaware that life beyond the internet exists, Nick is poking servers and control panels, playing with WordPress add-ons, and helping people get the hosting that suits them.