MightyCall Review—Is It the Right VoIP Service for You?
Edited by
Aleksandra Yosifova
MightyCall is hands-down the best VoIP system in terms of value. But it must offer much more than affordable plans to boast such positive MightyCall reviews, right? To see what else it can do, we downloaded the app, tested all its features, contacted support, and even compared it to other alternatives on the market. Keep reading to see what we found out.
Mobile app:
Android / iOS
Key features:
99.99% availability, ease of use, simple set up, great customer support, best pricing model
Visit Website
Strengths
Free trial version

99.99% availability

Easy to use and set up

Great customer support
Suboptimal Android app

Lacks certain advanced features
Finding a good business VoIP phone service is easy. Finding a cheap one is not so hard either. But you usually have to sacrifice one to have the other.
Business VoIP systems often charge separate monthly fees per user. If you own a big company, you'll end up paying through the nose.
This is where MightyCall steps in.
With its fixed prices, excellent customer support, and rave MightyCall reviews, it sure seems like the perfect solution.
But is that enough to make it the best VoIP phone service on the market?
Let's find out.
What Is Mightycall?
MightyCall is a VoIP provider. It allows you to make calls over the internet and own a second phone number without carrying around multiple devices.
It is the best business VoIP service for small organizations—the target market of the company. However, it is also suitable for large enterprises and even some home users—although it's not the best residential VoIP service, that's for sure.
MightyCall Features
Being the best VoIP service for business organizations comes with many responsibilities. Sure, MightyCall has a solid feature set, but is it enough to deserve this title?
In this part of the MightyCall review, we analyze its functionality to see whether it measures up.
Devices and Operating Systems
According to its website, you can use this VoIP phone service for business on any device. The provider doesn't limit you on the operating system or the number of devices connected.
Windows, Mac, Android, iOS—it doesn't matter. All your employees can use it from a different phone, tablet, or computer simultaneously.
Softphone and Webphone
MightyCall has both softphone and webphone functionality in its feature list, but the former is not available with the Basic plan. The same goes for desk phones.
Although some users complain about this absence in their MightyCall reviews, it is not an unsolvable problem.
The Basic plan still comes with a webphone. The only difference is that it requires you to keep your web browser open while talking, while the softphone doesn't.
Conference Calling
Every pricing plan includes conference calling, but only for up to five people. Also, you have to invite them one by one.
Unfortunately, the MightyCall VoIP service doesn't offer video conferencing. Of course, this means it has no screen sharing feature either.
Text Messaging
You can send text messages regardless of your pricing plan if you have a 10-digit local or toll-free phone number.
You can even do that from your computer.
The messages can use up to 140 characters, and international numbers are off-limits.
Note that this only applies to MightyCall SMS messages; you can't send MMS with this feature.
Contact Book
In the contact book, you can save the name, number, and email address of callers. You can also leave a comment visible to all users. That way, everyone can see important information about clients.
This feature turns this virtual business phone system into an improvised CRM tool.
Voicemail
This business VoIP phone service has a surprisingly rich voicemail feature. Every time you receive one, you get an email with a download link and transcript right away.
To top it up, it has a straightforward user interface, which makes it even more powerful.
Auto Attendant
An auto attendant is an automated reception system that can at least partially replace a secretary.
Its main duties are greeting callers, forwarding their calls to specific extensions, and delivering the most important info beforehand.
Unsurprisingly, it also helps prevent human error.
Call Forwarding
MightyCall can review calls and forward them to multiple extensions either simultaneously or sequentially.
The latter resembles call queuing in that it lets you set up the order in which you want your phones to ring.
If one employee doesn't answer, it automatically goes to the next one, and so on.
Hold Music
The MightyCall phone service allows you to change the hold music or select your own.
You can also pick a ringback tone or record your own voicemail greeting.
If you decide to upload a sound file manually, note that its size cannot exceed 10 MB.
Call Recording
We can't omit the call recording feature in our 2022 MightyCall review—it's one of the best we've seen.
Before it records a call, MightyCall asks the other side for consent. It also comes with a journal that helps organize calls so you can listen to them anytime.
The feature is enabled by default, but you can easily change that from the settings.
It is available for all pricing plans except the first one.
Scheduling
This virtual phone system for small business organizations has some surprisingly advanced features.
For example, it lets you set different business hours for each day of the week, as well as holidays. That way, the calls you receive during your time off will be automatically forwarded to your voicemail.
Integrations
This virtual business phone service comes with two native integrations: WhatsApp Business and Zapier. Naturally, thanks to Zapier, you can connect with numerous other apps as well.
These include but are not limited to CMR platforms, Slack, Trello, Gmail, Google Drive, and other Google apps.
Security
One of the most commonly praised aspects of the service in MightyCall reviews is its top-notch security. It may not be HIPAA compliant, but it makes up for that with other features:
99.99% uptime

Continuous backup

Amazon Web Services

Data Centers for data protection

PCI Data Security Standard certification

Premium SSL verification with 256-bit encryption
MightyCall Prices
As we mentioned above, this cheap VoIP service is notorious for its fixed fees and unlimited devices.
It might not be the cheapest solution, but the cost of the MightyCall pricing plans doesn't depend on the number of users. This reduces the overall price significantly, especially for bigger companies.
As this isn't that common among VoIP providers, it is often mentioned in business phone systems reviews.
For $9 per month, you're getting 1,000 minutes, two toll-free or local numbers, and ten contact book slots. On top of that, you can add as many extensions as you want. The only thing missing from this subscription is a softphone or desk phone. It only includes a webphone feature. However, this virtual phone system has a free 7-day trial of all plans. You can test the Basic plan, see if it works for you, and choose one of the others if it doesn't.
The most important features that this plan adds are call recording, transcribed voicemail, and a presence indicator to monitor your colleagues' availability. It also loses the minute and contact book slot limits and adds three more toll-free or local numbers. The subscription cost is $15 per month per user. At the time of writing this MightyCall review, there's a discount, reducing the price to $49.99 per month.
Other than ten toll-free or local numbers, this plan gives you access to the software's API, as well as high priority support. You're also getting a free coupon that you can use to arrange for a professional to record a voice greeting for your business. The most powerful of all MightyCall plans can be tailored to match your needs to perfection over a friendly chat with the MightyCall team.
MightyCall Support
The support section of the MightyCall website is more than comprehensive. It has a search bar and informative help sections so you can easily find answers to your questions.
This is also a great way to find out more about the MightyCall features and VoIP systems in general.
If that is not enough, there is an email, live chat, and phone number that you can use to contact the support team. The last two are only available during business hours.
We don't have any complaints about MightCall's customer service.
The team is kind, helpful, and thorough. The positive comments in VoIP phones reviews show that many users have had similar experience.
Ease of Use
There's not a single negative MightyCall VoIP review about the software's ease of use online.
All you need to do to get started is install the app and choose your phone number. The user interface is fresh and simple, which is always a welcome sight. And the lack of MightyCall desk phones makes the internet phone service even easier to use.
MightyCall User Reviews
The amount of user reviews online is scarce, but the ones we found are mostly positive.
For instance, 80% of comments on Trustpilot are rave. People praise the customer support team, the web app, and the wide range of features repeatedly. The most common complaints are about the buggy Android app and the lack of faxing.
Finding a MightyCall review on Reddit is also tough, but not impossible. The few reviews on the platform compliment the service highly. The only prominent complaint there is the lack of faxing too.
Is MightyCall Worth It?
Although it's hard to tell which is the best VoIP service in 2022, MightyCall comes pretty close. It's cheap, secure, easy to use, and has great customer support. Not to mention the MightyCall free trial version, which most of the competition doesn't provide.
Of course, it's not without its flaws.
The one that bothers the most users is the lack of a faxing feature. Screen sharing, video conferencing, and conference calls are also missing. If any of those is crucial to your business, you'd be better off with another service.
Otherwise, MightyCall is the best value-for-money solution you'll find. Made with smaller organizations in mind, it can adapt to the needs of a greater variety of businesses.
MightyCall Alternatives
If you're not convinced MightyCall is the right solution for your business, perhaps you'll like some of its alternatives better.
MightyCall vs Grasshopper
Grasshopper is a direct competitor to MightyCall. The services are very similar. Both are primarily intended for small businesses, although you can also use MightyCall for medium-sized ones too.
Grasshopper does have a faxing feature, unlike MightyCall, but it allows for fewer users for a higher price.
Both are among the best VoIP providers for small businesses, each in its own right. It all comes down to your preference.
MightyCall vs Nextiva
Charging for its services per user, Nextiva is much more expensive than MightyCall. However, it's better suited for bigger businesses and has all of the crucial features MightyCall doesn't.
Neither can claim to be the best residential VoIP provider, but Nextiva is more often than not considered the best business VoIP overall. If you can budget in, it is the more out-and-out choice.
MightyCall vs RingCentral
This virtual phone system comparison is very similar to the previous one.
RingCentral is even more expensive than Nextiva but also arguably better.
It has one crucial advantage—it's suitable for home use. In fact, it's often deemed the best residential VoIP service in 2022 and sometimes even the best VoIP service overall.
Final Verdict
Hopefully, this MightyCall review helped you choose the best provider for your needs.
Whether you're looking for a home VoIP phone service or a business VoIP provider, MightyCall can step in. However, it is best suited for small organizations.
Its pricing model is what sets it apart from the competition, but it's not its only benefit. The system also has a solid feature set, uptime, and a great support team.
Since it's cloud-based, the setup process is a breeze, and the program is extremely easy to use. If you own a small or medium-sized business, MightyCall might just be the cheapest solution you can find.
FAQ
What is a MightyCall toll-free number?
These are phone numbers that people can call free of charge. Instead, the person receiving the call pays for the expenses. It's a great way to make your services more accessible and attract more customers.
With MightyCall, you get several toll-free numbers even with the Basic plan.
How do I make a call from MightyCall?
That depends on the device you are using. You can make calls from a web browser on your computer with a webphone or a softphone. With the latter, you don't need to keep the browser open.
Alternatively, you can use the Android and iOS apps. However, be careful with the Android version, as users occasionally complain about bugs in their MightyCall reviews.
How quickly can I use a number ported into MightyCall?
It takes a week for the porting process to be complete. In the meantime, you can use the numbers with the old carrier.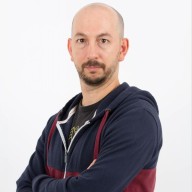 Nick Galov
Unaware that life beyond the internet exists, Nick is poking servers and control panels, playing with WordPress add-ons, and helping people get the hosting that suits them.