8x8 Review – A Feature-Rich and Cost-Effective VoIP Service
Edited by
Aleksandra Yosifova
Thanks to its feature-rich plans, good security, advanced analytics, numerous integrations, and rightfully praised by many users in 8x8 reviews, it is VoIP often featured in "best business and residential VoIP service" lists. But is it really that good or just a company with a clever marketing campaign? Find out in our 8x8 review below.
Key features:
Great call quality, numerous features, multiple integrations, good basic plan
Visit Website
Best for:
FEATURE-RICH LOW-TIER PLAN
Strengths
Great basic plan

Solid call quality

Highly secure

Numerous features & integrations
Expensive higher-tier plans

Customer support issues
The variety of business VoIP services on the market is overwhelming, but many of them have a less-than-ideal quality-price ratio.
Many solutions reserve advanced yet key features for the higher pricing plans, luring customers into paying more than they normally would.
That's not the case with 8x8—its cheapest plan offers by far one of the best VoIP phone service deals around.
To see whether it's a good solution overall, we tested the solution through and through. We dug deep into its features list, tested its ease-of-use, and even checked how it handles customer complaints and negative 8x8 reviews.
Keep reading to see what we found.
What Is 8x8?
8x8 is a great business VoIP phone service with feature-rich, low-cost plans. Although it's primarily used by companies, 8x8 offers some residential phone services as well.
8x8 Features
8x8 might not be the best residential VoIP service in 2022, but it does have a great variety of features.
As some users point out in their 8x8 reviews, it covers the needs of nearly every type of customer.
Devices and Operating Systems
The 8x8 service is available for Windows, Mac, Android, and iOS. It also has a web version. Although that only works on Chrome, it is still quite useful.
Softphone
All versions of this VoIP phone service for business users have an integrated softphone capability. This means that you can use your computers as 8x8 VoIP phones, just like smartphones. It's supported on all apps: desktop, web, and mobile.
Conference Calling
Naturally, there is an 8x8 conference bridge. Best of all, there's no limit on the number of calls you can make regardless of your plan—only a maximum of 100 participants. This goes for both audio and video conferencing.
On top of that, you can share your entire screen with or without audio during a video call. Alternatively, you can share just a single application, a browser tab, or even a YouTube video.
Call Recording
The 8x8 phone system doesn't just let you record phone calls. You can also keep them in the program's cloud, in your Dropbox account, or on your computer.
Additionally, you get to decide whether you want to record all of them automatically or just certain ones on-demand. This feature is particularly useful for 8x8 training and employee review purposes.
Call Forwarding
You can set call forwarding rules on both the mobile and desktop versions of the app, indicating whether you want to forward them to a single number or several devices. You can also edit or delete them at any time.
Call Monitoring
You will find the 8x8 call monitoring feature particularly useful for employee performance evaluation and training. Should you decide to monitor calls, however, neither of the parties will be informed—this will be your obligation.
As a supervisor, you can interrupt a call in case of an emergency. Alternatively, you can use the Whisper feature—it lets you speak to your employee without the knowledge of the other party.
Faxing
Just like with most VoIP providers, you can send faxes with the desktop version of the 8x8 application. But keep in mind that they should be smaller than 19 MB and a maximum of 20 pages.
Speed Test
The speed test feature helps you determine if your connection is fast enough for VoIP calling. But since nearly every connection can support the best VoIP providers, jitter and latency are the key factors to look out for.
A jitter that's too high may ruin the sound quality, and a high latency may cause delays in sound transmission.
Fortunately, you can check this with the 8x8 speed test. The same goes for download and upload speeds.
Web Dialer
One of the more interesting features of this internet phone service is the 8x8 Web Dialer. It turns phone numbers on websites into clickable links so you can dial more easily. 8x8 also allows you to search the web for the Caller ID or phone number.
This only works on the desktop versions, though.
Integrations
8x8 has plenty of integrations, including Microsoft Teams, Google Workspace, Slack, Microsoft Office 365, Skype, Zendesk, and Salesforce.
You can see the full list on the 8x8 website—you can look for concrete products by typing the name in the search bar or sort them by category with the filter option.
Analytics
With 8x8's analytics tools, you can access your employee's correspondence and analyze team trends and behavior.
There are also numerous other features, such as integrated diagnostics reporting and speech analytics. These will help you notice customer behavior patterns, make sure that the quality of calls is consistent, and much more.
Security
The 8x8 phone service has a long list of certifications. The most notable ones are ISO and US/EU Privacy Shield. We should also mention the HIPAA, CPNI, and FISMA compliance.
It comes with some additional security features, too, like fraud detection and secure endpoint provisioning.
8x8 Price List
This is a pretty cheap VoIP service at its core, although it may get expensive if you're looking for advanced features.
Its pricing structure is unnecessarily complex, offering eight plans and pushing some tools you probably won't need. For that reason, we discuss only the three most prominent packages—you can find everything you need there.
The cheapest plan comes at just $15 per user per month and is the only one with a free trial version. The trial lasts for one month, beating most of its competitors. The software is very easy to set up and it doesn't require any hardware or contracts. A quick 8x8 Express review reveals that it has all the essential features you might need. These include video calling, messaging, call management, and voicemail. Its only major flaw is that it provides you with unlimited calling solely in Canada and the US.
With this plan, you can make audio and video conference calls, as well as send SMS and MMS. You also get a team chat feature and can make unlimited voice calls to 14 countries. Faxing and some integrations also become available. This 8x8 VoIP pricing plan can be yours for $32 per user per month—$24 if you pick the annual contract.
This is the go-to plan for supervisors and administrators. You get the call quality reporting and call monitoring capabilities, as well as analytics. Best of all, you can now make voice calls to 47 countries. This 8x8 pricing plan costs $57 per user per month, but that falls down to $44 with an annual subscription.
8x8 Support
The support page of the website is well-equipped and organized, with a chatbot, numerous courses, and guides on various subjects. There's also a ticketing system and a phone number that you can call.
While we didn't have a single issue with the always professional 8x8 technical support, others did. Some users claim they were never served and complained about the constantly rising prices.
Still, you might want to take that with a grain of salt—such complaints are commonly encountered in business phone systems reviews, and they are rather scarce in this case.
Ease of Use
This is why 8x8 is a good office solution. It's extremely easy and fast to set up, as it doesn't require any hardware at all. The interface is simple enough and consistent across all versions of the service.
It's slightly harder for supervisors and administrators, but this isn't surprising—they have much more to work with, after all.
8x8 User Reviews
Similarly to most other VoIP phones reviews, these are all over the place.
With a 4.1/5 rating, 8x8 reviews on Trustpilot are positive for the most part. Although there are a few harsh opinions, the company is present there, replying to nearly all comments.
8x8 reviews on Reddit are somewhere in the middle. People seem to like the cheapest plan and are satisfied with the call quality but usually have complaints regarding the support team.
Unfortunately, 8x8 reviews on BBB are by far the most negative. Besides, the company is not BBB accredited. Nearly all of the 161 complaints touch upon the free version, the support team, and the rising prices.
Is 8x8 Worth It?
The negative 8x8 phone system reviews apart, this is likely the best VoIP service for business users.
8x8 offers great features, an affordable and well-packed low-tier plan, and high security. And the fact that it can also act as a home VoIP phone service is a welcome addition.
The 8x8 company may have a mixed reputation among users, but customer feedback should always be taken with a pinch of salt—users are more likely to go online to leave a complaint than a praising comment.
It's best if you try the service and see for yourself.
8x8 Alternatives
If you're still not set in stone on 8x8, you might want to look around for other solutions.
In this part of the 8x8 review, we present to you the most notable competitors of the company.
8x8 vs Nextiva
If you have a tight budget, you'll be disappointed with Nextiva's pricing. It does depend on the number of employees, however, so it is affordable for smaller teams.
Other than that, these services are very similar in terms of features. But with 99.99% uptime and the best VoIP customer service of 2022, Nextiva takes the win.
8x8 vs Grasshopper
Grasshopper is the best VoIP system for small businesses. It's also cheaper than 8x8, as it does not charge per user, but that's about it.
Its biggest downside is that it doesn't support any scaling. If you have relatively few customers and don't plan on growing your business much more, go for it.
Otherwise, 8x8 is the better choice.
8x8 vs RingCentral
Similarly to Nextiva, RingCentral is oftentimes considered the best business VoIP service. It has an incredible number of features—even more than 8x8—but its lower plans are more expensive.
Apart from the mixed 8x8 VoIP reviews and underwhelming customer support, it doesn't have any significant downsides. If the cheapest 8x8 plan satisfies your needs, this would be the right choice for you.
As far as more expensive pricing plans are concerned, you're better off giving RingCentral a try.
Final Verdict
With the 8x8 Express plan, you're getting a feature set that's nearly impossible to beat for only $12 per user per month.
Nearly everything else about this service is great—high security, advanced analytics, many integrations. The few downsides we came across while preparing this 8x8 review were negligible.
All in all, it's the best VoIP service in this price range, as long as you don't have a very small number of employees.
FAQ
This company is currently owned by CEO David Sipes. It was founded in 1987.
Its price depends on the plan you purchase and can go anywhere between $12 and $57 per user per month.
Yes. It has great security features, many certificates and is HIPAA compliant. In fact, its security features are a common point of praise for end-users in their 8x8 reviews.
VC stands for Video Conferencing. This service lets you make high-quality video calls for up to 100 participants.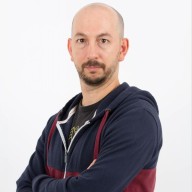 Nick Galov
Unaware that life beyond the internet exists, Nick is poking servers and control panels, playing with WordPress add-ons, and helping people get the hosting that suits them.