Boom 3D Review—Customize Your Auditory Experience
Boom 3D offers impressive audio customization and sound enhancement capabilities. You can use it when you're gaming, listening to music, or watching movies. See what else it has to offer in the Boom 3D review below.
Free version:
30-day trial
Key features:
Wireless control, built-in audio player, 3D sound everywhere, endless configurations
Starts at:
$14.99/once-off
Visit Website
Strengths
Wireless control

Built-in audio player

3D sound everywhere

Endless configurations
Confusing interface for new users

Spotify interface needs refinement
Have you ever wondered why music on one gadget sounds better than music on another? It is mostly due to the device's processing and enhancing capabilities.
Admittedly, the quality of your audio experience will be restricted by the caliber of your headset or speakers. But Boom3D goes a long way to help you obtain the very best output from what you have.
If you're looking for a volume booster, you've probably already heard about Boom 3D and how good the program is.
Let's do a reality check in this Boom 3D review.
What Is Boom 3D?
Boom 3D is award-winning, professional audio enhancement software that allows you to play your media content with amazing 3D effects on ANY headset, streaming service, and media player.
You can use Boom 3D on Windows, Mac, Android, and iOS. This audio booster operates system-wide, so the entire sound quality is improved before the signals reach your speakers.
Boom 3D has 30 million users globally and has added boom effects to more than ten million songs.
Let's dive deep into this 2022 Boom 3D review and see how this program can be helpful to you.
Pros
Impressive audio customization

—The service allows you to play around with the audio settings and adjust them to your liking.
Virtual surround sound experience

—Boom 3D's Surround Sound technology gives you an amazing virtual surround sound experience on any type of headset or audio system.

Automatically calibrates audio

—

Boom volume

adjusts to the

Mac

, detecting the best settings for the optimum audio experience for your device.

In-built equalizer

—Boom 3D has equalization settings for movies, voices, and many music genres.
Boom 3D Best Features
This program's purpose is straightforward: to provide users with an enhanced auditory experience.
In this section of the Boom 3D review, we discuss the feature set and our experience with the program.
3D Surround Sound Anywhere
One of the program's most amazing capabilities is that it can convert sound into a full-range surround experience. It's the same type of quality you'd get in a movie or home theater system!
This eliminates the need to break the bank on speakers or specially developed equipment, allowing you to enjoy authentic virtual surround sound on any headset.
Boom 3D lets you turn on/off individual virtual speakers, change the bass level, and scale the strength of the 3D Surround Sound impression.
The Boom audio enhancer is a great feature to use when you are playing games or watching movies.
Best of all, you can enjoy the simulated surround sound on any device—earbuds, speakers, a gaming headset, or even the speakers on your laptop.
Equalizer and Presets
Another common use of Boom 3D is as equalizer software for Mac and Windows.
Audio settings are not a one-size-fits-all situation. Some genres benefit from more bass, others—from the increased treble.
The Boom equalizer offers a palette of genre-based presets to help you get the most of your music. It comes with 31 presets, including dance, hip hop, classical, vocals, flat, electronic, and many more.
You can go from opera to punk in just one click.
And with the slider-based equalization, you can fine-tune your music.
Audio Boost
You'll only find this handy feature if you use Boom 3D for Mac; it's not available for Windows.
With the Boom 3D sound booster for Mac, you can customize the settings and get the most out of your gear.
The volume booster raises your audio level over the system default without compromising the quality.
Wireless Control
The Boom music app is available for Android and iOS.
The mobile integration transforms your devices into simple remote controls, allowing you to change the music and adjust the settings right from your phone.
Built-in Audio Player
With the music player functionality, you can easily listen to tracks and store them locally on your desktop app. Just drag and drop the audio files into the program and play them straight away.
You can also take advantage of the integration with music streaming platforms like Spotify. Just note that this functionality is only available on Boom for Android or iOS.
App Volume Control
You can do more than just increase your Mac's loudness. You can also adjust the volume of your apps.
Use this feature to adjust the sound output of programs such as Google, Spotify, Netflix, iTunes, Google Chrome, Skype, and others.
Avoid irritating email "dings" from interfering with your after-work listening sessions or layer in some pump-up music while gaming.
Unfortunately, just like the audio booster, this feature is not available on the Boom 3D app for Windows.
Boom 3D Sound Management
Boom 3D for macOS and Windows allows you to select from five distinct audio types in addition to the 3D surround sound.
These features can radically transform music by including electronic effects.
The app provides the following options:
Ambiance
With ambient noises, you can bring your favorite games and movies to life.
The Boom audio enhancer improves your stereo sound by adding realistic audio reflections from the environment.
Fidelity
The fidelity effect enhances weaker frequency regions, improving overall sound quality and bringing it closer to the original recording.
It also regulates the overall gain, adjusts the audio rendering for ear sensitivity, and makes the music livelier.
Night Mode
The program softens harsh noises like explosions and augments quiet sounds like whispering—all while preserving the quality of the audio.
The Boom volume booster has a slider that allows you to customize and alter the balance until you achieve the optimal resolution.
Spatial
The spatial audio effect heightens and intensifies the sound. This seamless speaker booster improves the stereo picture by providing greater clarity to the left and right channels.
This creates the illusion that they are further in the sound field and elevates the music listening, movie viewing, and gaming experience.
Pitch
This effect lets you alter the pitch of the music by five semitones to match other sounds. You can also make finer modifications while recording a song, playing instruments, or singing along.
With the Boom 3D music enhancer solution, you can make these modifications in real-time.
What We Disliked
In the previous section of this Boom 3D review, we discussed some of the amazing features of the audio enhancer application.
Let's take a look at the downsides we noticed while testing the service.
Confusing interface for newbies

—Although it's one of the

best audio enhancer

applications, its interface might be a bit difficult for new users. All the options in the app might be confusing at first, but once you get the hang of it, it's a piece of cake.
Spotify interface needs polishing

—Boom 3D integrates fully with Spotify on mobile devices. While the functionality is handy and improves the sound quality tremendously, the native Spotify interface is much easier to use. Granted, you can use Boom 3D as a system-wide sound controller without integrating it with Spotify and enjoy the best of both worlds.
Boom 3D Pricing
If you're curious about what the cost of this audio program is, look no further. A bit of disappointing news upfront.
There is no free version available for Boom 3D.
The current discount reduces the price to $14.99. With a single purchase, you can use the software on two different devices. 
The Mac version costs $49.99 for two users. However, with the discount available at the time of writing, the price comes down to $14.99. It's a one-time purchase, so you don't have to worry about a monthly subscription.
The smartphone app is completely free to download. However, if you want to unlock all features, you need a premium membership. Multiple purchase options are available, starting at $2.99/month for the monthly subscription.
NB! Boom 3D license for Windows is compatible with Windows 10 & 11 only. Likewise, the Mac license is valid exclusively for Mac devices and the mobile versions work on the respective mobiles. If you want to enjoy Boom 3D across different platforms you'll have to purchase separate licenses.
Support
Our experience with the support team was superb.
The response time was way quicker than we anticipated and the agents were very polite, helpful, and easy to communicate with.
You can contact them by submitting a request through the short form on the Contact page.
And if you don't want to get in touch with a customer service representative, the FAQ section on the official website will answer most of your questions.
Is Boom 3D Worth It?
The Boom music player and sound equalizer are excellent solutions that can improve the audio on virtually any device.
With a reasonable Boom 3D price and top-notch functionality, the program can improve your sound system without costing you a fortune.
The Mac audio enhancer app gives you additional capabilities, such as the volume booster and controller features.
Boom 3D is also possibly the best equalizer app for Android and iOS.
We strongly recommend you download Boom 3D.
Alternatives of Boom 3D
There are a few apps that come close to Boom 3D in terms of features, availability, and pricing.
In this part of the Boom 3D review, we look at the most notable competitors of this software.
Boom 3D vs. MusicBee
MusicBee is a fantastic free music player and planner. With it, you can organize and enjoy your music collection from anywhere, no matter how extensive it is.
You get some great features, like file conversion, sync with multiple devices, optimized playback, groove music support, and others.
Its functionality is similar to that of the Boom music player, although the latter is less advanced. Unlike MusicBee, however, Boom 3D adds sound boosting and equalizer capability on top of that.
Boom 3D vs. FxSound
FxSound improves the movie quality, clarity, loudness, and bass whether you're using affordable plastic headphones or high-end audio equipment.
Both software support 3D, spatial, ambiance, and quality changes to "tune" output to the user's liking. Boom 3D has a 36-band customizable EQ, while the FX program offers a simple 10-band EQ.
Both are excellent tools, but Boom 3D has an edge thanks to its powerful equalizer and system-wide audio enhancement functionality.
Boom 3D vs. Boom 2D
2D is a feature-rich equalization and volume booster software for Mac. It allows you unprecedented control over your audio. It's a one-stop solution for sound improvement.
3D is an improved version of Boom 2D. It adds a few extras, such as 3D surround sound, application volume controller, advanced audio player, and bass control.
2D's biggest advantage is the file audio boosting feature, which is missing from Boom 3D.
Our Final Verdict
For this Boom 3D review, we tested the software through and through and even checked how it stacks up against its competitors.
If you want to improve the audio of any movie, music, game, call, or other media, Boom 3D is the way to go. It includes all you need and gives you an easy approach to altering the sound on your computer.
But don't just take our word for it—download the 30-day free trial and see for yourself.
FAQ
The mobile version is free to download and use, albeit with limited features. There is no free version of Boom 3D for Mac and Windows. It does, however, offer a generous 30-day trial period, which allows you to test all functions before you purchase it.
You can use the Boom smartphone app for free as a simple music player, but you must upgrade to a premium subscription to take advantage of all capabilities.
Is Boom 3D available on mobile?
Yes, Boom 3D is available on the App Store and the Google Play Store. It's free to download, but you have to pay a small fee to use all features.
You can find more information in the pricing section of this Boom 3D review.
Is Boom 3D available on Windows 8?
No, Boom 3D is only available on Windows 10 and 11. Make sure to enable Media Features on your computer to be able to use it.
Which music format does Boom audio support?
The Boom audio player supports the following file types: .mp3, .m4a, .flac, .aac, .wav, .wma, .mp4 (only audio), .mov (only audio), .avi (only audio).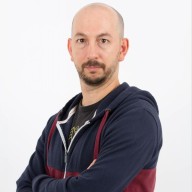 Nick Galov
Unaware that life beyond the internet exists, Nick is poking servers and control panels, playing with WordPress add-ons, and helping people get the hosting that suits them.
Leave your comment
Your email address will not be published.