UserWay Review—Can It Make Your Site More Accessible?
Edited by
Aleksandra Yosifova
With an excellent audit report tool, an accessibility scanner, and a widget, UserWay is the go-to website accessibility solution. Plus, it's incredibly easy to use and affordable. Smaller website owners are in for a treat—the widget has a free version! Find out more about it in our in-depth UserWay review below.
Increased accessibility:
UserWay makes your site more inclusive and user-friendly
Visit Website
Best for:
UX ACCESSIBILITY
Strengths
Easy to set up and use

Great customizable UX

Affordable premium plans

Free version and a free trial
Primarily UX-based

Not fully automated Primarily UX-based
Did you know that your website can get sued if it doesn't adhere to accessibility standards? Luckily, there's a plethora of accessibility audit software and widgets that can help you ensure ADA and WCAG compliance. Let's take a look at one of the many options.
On the surface, UserWay seems like the perfect website accessibility tool. It helps you meet all accessibility requirements and ensures a great user experience for people with disabilities.
Is it good at what it does, though? Join us as we analyze it thoroughly in our UserWay review!
What Is UserWay?
UserWay is, above all, a website accessibility tool that helps businesses remain ADA and WCAG compliant. With it, you can ensure an excellent user experience and avoid lawsuits.
It offers multiple solutions, such as an accessibility scanner, audit, and statement generator, and even a content moderator. However, in this UserWay review, we focus primarily on the widget.
How Does UserWay Work?
As numerous customers point out in their UserWay reviews, this service is very simple to set up.
It doesn't require any special skills or knowledge to implement it. You simply have to add a few ready-made lines of code to your website. If you're using, say, WordPress or Google Tag Manager, it's as easy as just installing the integration.
With the widget, you can easily change the contrast or font size on your website or deploy a screen reader utility to improve user experience.
In the following section of the UserWay review, we cover the tools which allow you to do that.
Best UserWay Features
UserWay is all about increasing the accessibility of your website. The following functionalities help it achieve that:
Compliance—Ensures you're compliant with the essential accessibility standards.
Accessibility widget—It appears on your website, so users can adjust the settings to their own liking.
Accessibility audit—Helps you detect accessibility issues.
Integrations—UserWay has a plugin for WordPress and other similar platforms, which is crucial for software like this.
Let's get into more detail about each one.
Compliance
All plans include WCAG 2.1 AA, ADA, and Section 508 compliance. That said, UserWay is best-known as an ADA compliance widget.
What's more, the software is partially automated. It continually searches the website for aspects that don't adhere to the above-mentioned standards. However, the occasional error can slip through, so you'd have to check yourself from time to time.
Still, customers often praise this functionality in their UserWay reviews. After all, it covers all important accessibility laws and guidelines and saves you tons of time and effort.
Accessibility Widget
The widget is the main point of interaction between UserWay and your website visitors. It appears on one of the corners of your screen as a small, circular button. When you click on it, a variety of accessibility options pop up in a menu.
That way, users can adjust the contrast settings, add a screen reader, enhance the cursor, or change the type options. The UserWay plugin provides multiple settings for each of these functions.
For instance, the screen reader can be fast, slow, or normal. What's more, there are dyslexia-friendly typefaces and ones that improve legibility.
Accessibility Audit
One of UserWay's best features is its proprietary accessibility audit reporting tool. It provides a concise checklist with actions you need to take to make your website more accessible.
More specifically, it shows you what you need to change to achieve ADA, Section 508, and WCAG compliance. The only downside of this tool is its price, but we'll get to that later in this UserWay review.
Accessibility Scanner
If you want to find out whether you have an accessible website, this is the tool for you. The UserWay accessibility scanner goes through your content and checks if it is ADA and WCAG compliant.
Integrations
As we mentioned earlier, setting up UserWay comes down to copying a few lines of code. To streamline that process, the software supports multiple third-party apps, most notably site creators.
For instance, you can connect UserWay with WordPress, WiX, and Google Tag Manager. Other useful integrations include Joomla, Shopify, Squarespace, and more.
What We Disliked
UserWay has a pretty good accessibility widget, but it's not without its flaws. Here's what we disliked:
It's more UX-based than WCAG-based—Its focus is more on adjusting the user interface for people with disabilities rather than complying with accessibility standards.
Not fully automated—This software can't take care of all issues for you. You'll need to check for errors manually, and do it often.
Pricing Plans
This UserWay pricing plan allows up to 100k page views per month at a cost of $49. With an annual subscription, the price is $490/year.
Next comes the Medium Business plan with a one million page view monthly limit. Its price per year is $1,290.
Finally, the Large Business plan increases the monthly page view cap to 10 million. It costs $329 per month or $3,290 per year, depending on the subscription duration.
The starting cost for UserWay's paid plans is $49 per month. That might be on the pricier side, but considering what the program does, it's worth it. Besides, you can test the software first with the 10-day free trial.
What's more, UserWay has a free widget, which makes up for the higher price. Unfortunately, it won't grant your website ADA compliance, or any other one for that matter. It just enhances the user experience by enabling contrast, text, andkeyboard settings.
Should you decide to go for a paid plan, you're getting all the missing options right away. All packages include all accessibility functions and compliances and are fully customizable. The only difference between them is the pageview cap.
UserWay Support
Numerous customers praise the support team in their UserWay reviews. They claim that the quick and helpful agentsaddressed their complaints in minutes. Our experience confirms this—the reps can walk you through complex issues, even via chat.
The website offers a live chat feature, which is always a welcome sight. It also has a ticketing system, but it requires lots of info and isn't as fast.
Finally, UserWay has an official YouTube channel with short, straightforward video tutorials. The only downside is that phone support isn't available even with the paid plans.
Is UserWay Worth It?
With free functionality, plenty of accessibility improvement tools, and a comprehensive integration list, UserWay is a useful, affordable solution. That said, it focuses more on UX accessibility than compliance with legal requirements.
With that in mind, you might be better off combining it with another solution to ensure you're compliant with the strictest laws. Still, UserWay covers the essentials and makes your website more accessible to people with disabilities.
UserWay Alternatives
Software like this is very rare. Therefore, it shouldn't come as a surprise that there is only one worthy alternative to UserWay.
UserWay vs AccessiBe
These two programs are very similar. They cover the same compliances and offer fully customizable UX. Even their costs are in the same range. That said, their pricing models are quite different.
UserWay varies the limit of monthly page views. AccessiBe, on the other hand, charges you based on the number of pages on your website.
Our Verdict
UserWay has quite a specific set of functionalities. It sets out to improve user experience and make your website more accessible for people with disabilities.
Our research for this 2022 UserWay review revealed that it's one of the few tools of its kind. It is easy to use both for those setting it up and those taking advantage of the end product.
Plus, it's affordable and even has a free widget.
You can try its functionality commitment-free before subscribing.
FAQ
It's an accessibility widget. It ensures you're ADA and WCAG compliant and makes your website more accessible for people with disabilities.
How to remove the UserWay widget?
You can hide or move the widget at any time. You simply have to click on the widget button and find the Move/Hide option. Just be careful with the time settings—it's very easy to hide it for a week or a month by mistake.
The accessibility widget does have a free version, but it's fairly limited. Check out the pricing section of our UserWay review to find out what it includes.
How much does UserWay cost?
UserWay offers several services with different costs. In this review, we focused on the accessibility widget. Its price varies depending on the number of monthly page views. It starts from $49 per month and goes up to $329 per month.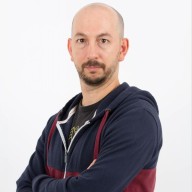 Nick Galov
Unaware that life beyond the internet exists, Nick is poking servers and control panels, playing with WordPress add-ons, and helping people get the hosting that suits them.