AccessiBe Review—Make Your Website Accessible in 2022
AccessiBe can make your website compliant with ADA regulations and make your content accessible to anyone. Even if you're on a tight budget, you can get the best WordPress accessibility plugin for a reasonable price. In this in-depth AccessiBe review, you will learn how to achieve full compliance in a few simple steps.
Free version:
7-day trial
Compliant with:
Section 508, WCAG 2.1 AA, EN 301549, and ADA regulations.

Visit Website
Best for:
VALUE FOR MONEY
Strengths
Over 45 features

Daily accessibility scans

Accessibility Statement

Extensive resources
No phone support

Multiple licenses for each domain
Having a fully accessible website for people with disabilities can be a challenging venture if you're taking the DIY route. Luckily, you can adopt an automated solution to do the job for you.
AccessiBe is one of the easiest, most practical ways to achieve ADA compliance.
In this AccessiBe review, we cover the service's pros and cons and give you an honest evaluation. Stick with us to learn more about it.
What Is AccessiBe?
AccessiBe is an affordable and easy-to-implement solution that can increase your website's accessibility. It's an automated system that allows you to optimize user experience so that everyone can access and enjoy your content.
The best part is that it does so in a non-intrusive and elegant manner. The internet abounds with positive AccessiBe reviews by satisfied users. In this article, we set out to check if the praise is warranted.
But first, let's find out more about AccessiBe's main functions.
How Does AccessiBe Work?
After choosing the subscription plan that best serves your needs, you will receive a line of JavaScript code. You have to embed it into your website's HTML, and the installation phase is over.
This AccessiBe plugin is an unobtrusive widget with a dropdown menu. It will appear on your website as an accessibility interface.
That way, your visitors can choose the right suite of adjustments for their needs and disabilities. We will return to this menu later in the review.
From this point forward, AccessiBe's AI system will do the legwork for you. It will automatically scan and analyze your content to make it more accessible.
In just 48 hours, your website will be fully ADA compliant and certified. But that's not all.
AccessiBe's ADA compliance scanner will run a full scan of your website every 24 hours and adjust new and updated content.
Sounds too good to be true?
Let's see how exactly it does that.
AccessiBe Best Features
There are several ways in which the service can improve your website's ADA compliance and accessibility. In this section of our AccessiBe review, we outline the most noteworthy ones:
Customizable interface

—AccessiBe's user interface allows the visitor to choose between several adjustments. The options are grouped as "Profiles" with settings for different disabilities.
Numerous and diverse adjustments

—As a user, you can increase the font size or line spacing, change colors and contrasts, stop animations, enable a virtual keyboard or a dictionary, and much more.
Two-structured automated system

—The foreground application handles toolbar adjustments and focuses on reaching at least 30% of the accessibility requirements. The background app manages more complex changes, such as keyboard navigation and screen reader.
Accessibility statement and certification of performance

—To ensure full compliance and complete

accessibility by

using

AccessiBe

, you have to undergo a 48-hour scan and optimization procedure. By the end of it, you will get an accessibility statement and a certification of performance.
Daily scan to ensure ongoing web accessibility compliance

—AccessiBe will scan your website every 24 hours. It will then optimize newly-published content to keep full

ADA compliance

.
Extensive advisory service

—AccessiBe's official website is filled to the brim with compliance and accessibility guidelines. It also offers a thorough FAQ section and how-to installation guides.
AccessiBe secures compliance with several laws and regulations

—AccessiBe reduces the chances of a lawsuit to a minimum. It ensures your site is compliant with Section 508, WCAG 2.1 AA, EN 301549, and ADA regulations.
High affordability and great value-for-money

—The

cost of AccessiBe

is reasonable even for small businesses, starting from $49/month.
What We Disliked
Although AccessiBe is a very popular and effective solution, it has a few drawbacks.
Let's see what they are:
The toolbar adjustments don't ensure 100% compliance

—By using the toolbar features (positions, font styles, spaces), you can't guarantee 100% accessibility of your site. You will need to do some extra work to enable keyboard shortcuts, advanced screen readers, and dictionaries.
You need separate licenses for each domain

—If you have several websites, you will need to purchase the

AccessiBe plugin

for each one individually.
No phone number for support

—Although you get free access to tons of informative content, phone support isn't available with any of the plans.
Plans & Pricing
The AccessiBe pricing policy is based on the number of pages on your website. It offers four packages, all with the entire suite of functions.
Some of the most notable features include:
Accessibility statement & certification

Compliance with WCAG, ADA & EAA

Screen-reader & keyboard navigation adjustments

Accessibility interface and design fixes

Monthly compliance audits

Daily monitoring and scans

Dedicated Litigation Support
The AccessiBe pricing plans are the following:
Pricing Plans
What's more, AccessiBe also offers a 7-day free trial for every package. During this period, you can test every feature without providing credit card information. This means you will get a free AccessiBe widget for a week before making a purchase decision.
Support
Next up in our in-depth 2022 AccessiBe review, we discuss the quality of customer service. Although AccessiBe doesn't provide phone support, its website is full of informative content.
Under "Company" in the navigation bar, you will see links to all resources and news. You can read general information about AccessiBe or visit the Blog section.
There, you will find tons of articles on how to create an accessible website and handle compliance issues. In addition, AccessiBe dedicates an entire section to updates of laws and regulations about website accessibility.
If you have difficulties installing or using AccessiBe's ADA compliance widget, you can visit the Technical Support section. It contains an extensive FAQ section and the option to run a fast compliance audit.
As part of our review, we at Hosting Tribunal tested the audit tool. We received a detailed report with scores for the accessibility of our menus, graphics, forms, and more.
Last but not least, the website has a live chat option. Many users praise the support team in their AccessiBe reviews, and for a good reason. You can chat with a rep in real-time and receive a quick and helpful answer.
Is AccessiBe Worth It?
AccessiBe is one of the most reliable solutions.
It ensures ADA compliance while remaining a streamlined and affordable website accessibility tool. This way, the service allows you to make your content accessible for all users.
Whether they have cognitive impairments, motor dysfunctions, hearing or sight problems, or epilepsy, you can provide a seamless user experience.
By virtue of its affordability, you can employ AccessiBe even if you are a blogger. You can get the AccessiBe WordPress plugin for only $49 per month to make your site more inclusive and avoid lawsuits.
What's more, it offers an accessibility statement and daily scans.
These things alone make it a worthy solution.
Alternatives of AccessiBe
To give you a wider range of choices, we compare AccessiBe to some of the best solutions on the market.
AccessiBe vs UserWay
UserWay is a very comprehensive and powerful service with vast experience. Plus, you can implement it without modifying your website's code.
AccessiBe, on the other hand, requires code input.
That said, it is more streamlined than UserWay. The main similarity between the two solutions is their pricing.
AccessiBe vs AudioEye
AudioEye provides some features that AccessiBe lacks.
For example, it can give you expert advice on compliance and accessibility by versed specialists in ADA regulations. Besides, it guarantees full WCAG compliance too.
AccessiBe vs EqualWeb
EqualWeb is a viable alternative if you don't like the AccessiBe WordPress widget for some reason.
Although it doesn't have the same level and stringency and user-friendliness as AccessiBe, EqualWeb has a free plan and generally low prices.
It works perfectly for bloggers, for example, but larger businesses are likely to gain more value from AccessiBe.
Our Verdict
As our AccessiBe review comes to an end, we want to revisit some of the service's key advantages.
For starters, AccessiBe is reasonably priced. It charges you based on the number of pages on your website.
Its widget is intuitive and non-intrusive, which makes it pleasant for users and website managers alike.
AccessiBe's mission is to make online content (the greatest source of knowledge and entertainment nowadays) accessible for all users, regardless of their background, disabilities, or other needs.
After reading numerous AccessiBe reviews and testing the service thoroughly, we can say it's one of the best solutions you'll find.
FAQ
AccessiBe is one of the most reputable solutions dedicated to creating accessible websites. It scans your website and finds the areas which need improvement. After optimizing it, it provides an accessibility statement and a certification of performance. But the cherry on top is that it optimizes your content daily.
No, AccessiBe doesn't offer free subscriptions. However, you can get the 7-day free trial mentioned above and test all features before purchasing it.
How much does AccessiBe cost?
Its starting price is $49 a month. The rates depend on the size of your website. For more information, check out the pricing section of our AccessiBe review.
How to remove the AccessiBe widget?
To remove the widget completely, simply delete the line of code from your website.
To remove the branding it comes with, go to the "Interface Footer Content" settings and type a new designation for the widget. You can replace the label "AccessiBe" with your own company name, for example.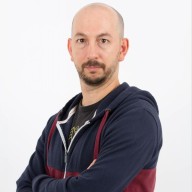 Nick Galov
Unaware that life beyond the internet exists, Nick is poking servers and control panels, playing with WordPress add-ons, and helping people get the hosting that suits them.