Web.com Review—How Can It Help You Grow Your Presence in 2022?
Edited by
Aleksandra Yosifova
It's always refreshing to see a website builder that gets down to the gist of web design. Web.com has clean yet powerful themes, an intuitive structure, and a drag-and-drop editor. It offers a seamless user experience and a rich feature set at affordable rates. To learn more, read our thorough Web.com review below.
Integrations:
Google Analytics, WordPress, PayPal
Minimum price:
$1.95/First month
Visit Website
Best for:
CLEANEST TEMPLATES IN THE GAME
Strengths
SEO-oriented

Expert services

Intuitive editing

Hosting & domain provider
No free plan

Mixed customer feedback
Are you looking for an affordable and simple website builder? Web.com covers both criteria.
In this Web.com review, we go into great detail about this website editor and ecommerce solution. Read on to learn about the service's pros and cons, best features, prices, support, and more.
What Is Web.com?
Web.com is a hosting provider and website builder. It helps you create and host sites, sell products, rank high on Google, and scale your business.
The website maker sports a wide range of functions while remaining user-friendly and easy to use. You can choose between a variety of templates, then customize them without any coding.
What's more, the Web.com pricing is very advantageous, and the support crew is always ready to help.
But that's not all.
Web.com Ease of Use
Using the Web.com website builder is seamless and intuitive.
First, you choose a template. Then, you can drag-and-drop to add and rearrange items.
You can add headings, buttons, photos, videos, and even entire galleries. The latter are perfect for building your online portfolio and showcasing your work.
What's more, you can embed call-to-action buttons, footers, headers, social items, and your company's logo.
You can work with all Web.com web design tools directly, without needing any HTML or CSS knowledge.
Despite its many features, Web.com remains intuitive and extremely easy to use.
Web.com Templates
There are over 150 themes in the Web.com template gallery. They are grouped by industry in eight categories:
Business

Store

Services

Personal

Health

Beauty

Restaurant

Portfolio
You can choose a template and customize it but not indeterminently. The Web.com editing functions are limited by the templates' structure. You can't drag and drop items anywhere on the page.
This is a common complaint in Web.com reviews by end-users. That said, it only hurts experienced designers who want a higher degree of creative freedom.
For those value efficiency and a simple, neat, and professionally-looking design, the Web.com website templates are an excellent solution.
In addition, you can choose between a one-page and a multi-page layout for your site. Further, you can use the Web.com ecommerce website builder to add elements like a shopping cart and shipping options.
Web.com Best Features
We went through tons of Web.com website builder reviews to tap the accumulated knowledge of its userbase and extensively tested its functionality.
Here's what we found.
Seamless Editing
Using Web.com is a breeze. You can adjust fonts, alignments, colors, sizes, and spaces.
The templates come with default images and content, which you can easily change. You can use them as an example and tweak the design to fit your vision.
Clutter-Free Templates
All Web.com websites are uncluttered, modern, and easy to navigate. The templates have a minimalistic and no-frills design.
Customization is somewhat limited, but this makes it perfect for beginners who want to build a website quickly and easily.
Plus, the Web.com gallery has something for everyone—from visual creators to ecommerce store owners.
eCommerce Setup
Even though Web.com's main specialty isn't ecommerce, it provides a handful of options for online stores. These functions are highly-regarded in by end-users in many Web.com reviews we found.
With the Web.com eCommerce plan, you can sell digital and physical products online.
You can secure payments via PayPal, Stripe, and Afterplay, set shipping rules, track orders—all from one hassle-free dashboard.
SEO Tools
Web.com offers advanced SEO functionalities.
However, to access them, you need to purchase the Web.com SEO plan.
With it, you get keyword search systems, SEO analytics, optimization guides, advanced filters, and content performance reports.
The Web.com site builder also allows you to change the URL of your pages, write meta-descriptions, and create optimized titles.
Web.com Web Host & Domains
Apart from a site builder, Web.com is a domain name registrar and hosting provider. You can buy and register a domain name directly from the Web.com website.
What's more, Web.com provides several hosting packages. It guarantees 99.9% uptime and top-notch security.
Marketing Tools
The marketing features of Web.com can significantly boost your sales and bottom line.
They include SEO services, pay-per-click advertising, and business listings and directories.
With this service, Web.com will list your business in top online directories so users can find your website more easily.
What's more, all these tools come with a robust set of analytics. They allow you to track conversion rates, visitor engagement, and other important sales metrics.
Other Features
The service's features are simply too many to discuss in detail in this Web.com review. Besides the most outstanding discussed above, here are some other noteworthy functions and services.
"Expert Services" includes a thorough analysis from a business specialist. You can get a custom package with advanced customization features, additional tools, product setup, and more.
Additionally, Web.com provides professional business email accounts with 25GB of cloud storage.
What's more, your website will get an SSL certificate for 100% encryption of your data.
Web.com Integrations
Lastly, whatever Web.com lacks in native features it makes up for with integrations.
If you're an ambitious web designer, Web.com has some useful gems for you.
For instance, you can integrate Web.com with WordPress and build an outstanding blog for your business. Plus, you can employ LiveAgent and TeamSupport to set up customer service.
If you want to manage PR, Reputation is a great tool. Next, AccessiBe will give you full ADA compliance.
Finally, you can connect with the all-in-one payment platform BlueSnap.
What We Disliked
Like any other solution, the Web.com site creator is not without its flaws.
Let's see where it falls short.
No Web.com free plan

—Unlike most of its competitors, Web.com doesn't offer a

free trial

or a free plan. However, its rates are pretty affordable.
No AI tools

—Web.com is all about

DIY web designs

. Although the lack of machine help is not a deal-breaker, it'd be nice to see a more automated

web design

method.
Limited customization

—Like many other

low-cost builders

, Web.com doesn't allow for complete design freedom.
Mixed customer feedback

—Web.com's reputation is mixed. Some people praise its ease of use, while other

Web.com reviews

criticize the limited design options.
Plans & Pricing
Unfortunately, Web.com doesn't offer free features or a free trial. Therefore, you have to pay to test its tools.
The good news is that you can choose between a very wide range of plans. They are all very affordable, especially for the first month. So, you can use that as a trial period.
The Web.com plans are the following:
Pricing Plans
Web.com Support
We were pleasantly surprised by Web.com's customer service. Unlike other web hosting and design services, it offers 24/7 worldwide phone and live chat support.
When you enter the website, a pop-up window lets you know that the Web.com reps are always there for you. And, from our experience, they really are.
We tested the quality of Web.com customer support by sending a message via live chat. We received a detailed, friendly, and useful response within 30 minutes.
You can also reach the reps on Web.com's social media accounts on Facebook and Twitter. Plus, you'll find plenty of useful information on its YouTube channel.
You can also visit the Web.com blogs that will inspire you in your marketing, design, and sales pursuits.
To top it all off, Web.com offers a vast knowledge base. It is filled to the brim with useful articles.
Overall, Web.com's support is excellent.
Is Web.com Worth It?
After carefully analyzing the pros and cons of Web.com, we can confidently say this website builder a solid choice for small online businesses and solopreneurs.
Whether you want to promote your online business or set up an eCommerce store, Web.com has something for you.
It comes with in-depth analytics, intuitive drag-and-drop editing, SEO features, hosting, domain registration, marketing features, and much more.
Best of all, you can enjoy hassle-free, code-free, and secure design tools at an affordable price.
That said, the service has limited customization options and doesn't offer a free trial or plan. Besides, reviews and ratings online show it has a mixed reputation among end-users.
Still, if you need a simple and affordable website builder with extra features, Web.com is perfect for you.
Web.com Alternatives
In this part of our We.com.com review, we compare the service with some of the top website builders on the market.
Web.com vs WiX
WiX is an industry giant when it comes to website builders. People appreciate it for its flexibility and advanced customization tools, which are not exactly Web.com's forte.
As we mentioned, Web.com is more structured and has templates with simpler designs. Nonetheless, it offers a variety of plans with different functionalities. Plus, it is ideal for beginners.
Web.com vs Weebly
These two solutions are very similar. Weebly and Web.com users usually choose them for their simplicity. What's more, they both have somewhat restrictive designs.
However, Weebly has some features which Web.com lacks, such as a vast App Center and a mobile app.
Web.com fights back with more flexible hosting options and expert services.
Web.com vs Squarespace
Both Web.com and Squarespace excel in the customer service department. However, Squarespace has more powerful design options and allows for more creative freedom.
Web.com appeals to business owners aiming for a minimalistic web design and assistance from professionals.
Web.com vs Pixpa
Pixpa is designed for building the perfect product portfolio. This Web.com alternative is most suitable for visual creators like photographers and graphic designers.
Web.com caters to a wider range of users. It's affordable and easy-to-use, but it doesn't offer a free trial.
Wrap Up
To conclude our Web.com review, it is a more-than-decent option for startups and growing businesses.
It has everything you need to promote and sell your products online. What's more, it is accessible, intuitive, and feature-rich.
Its main downsides are the limited customization and lack of a free trial. Still, Web.com compensates with excellent ease of use and generous offer.
FAQ
No, Web.com doesn't have a free version. However, you can enjoy massive discounts for the first month with all paid plans.
For more details, check out our Pricing section above.
Yes, absolutely. Web.com provides an SSL certificate and advanced cyber-security for your website. That way, your data will remain private and safe.
Yes. Web.com is great for small businesses and solopreneurs. It could also cater to larger companies, but it has limited customization capabilities. That, however, makes it particularly useful for beginners.
For all the pros and cons of the service, check out our in-depth Web.com review above.
What is the downside of Web.com?
Web.com's main downside is that it doesn't offer a free plan. You have to pay to test its tools.
However, you can enjoy discounted rates for the first month. They're so cheap, you'll be paying next to nothing.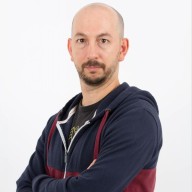 Nick Galov
Unaware that life beyond the internet exists, Nick is poking servers and control panels, playing with WordPress add-ons, and helping people get the hosting that suits them.