QuickBooks Review - The Leading Accounting Platform
From online and offline accounting to inventory tracking, the ever-evolving QuickBooks does it all. Fast and reliable, this software can save you a lot of time and effort. Its affordable plans make it ideal for small and growing companies. Check out our QuickBooks review to learn how it can help your business.
WORKS ON:
Edge
Opera
Chrome
Safari
Firefox
Key features:
Inventory management, analytics, reports, discounts, fraud protection, etc.
Visit Website
Best for:
SMALL TO MIDSIZE BUSINESSES
Strengths
30-day free trial

Plenty of reports

Inventory management

Handy desktop, web, and mobile apps
Average customer support

Troublesome migration from desktop to cloud version
Are you tired of chaotic paperwork?
Do you need a simple-to-use yet advanced accounting platform?
If your answer is "yes," you should definitely consider QuickBooks.
It's built for businesses of all sizes, but it's especially suitable for small companies that need a fast and reliable accounting solution.
In our comprehensive QuickBooks review below, we evaluate its features, analyze its capabilities, overview its pricing, and more. We at Web Tribunal did the legwork—you simply have to read our findings and see if this product is a good fit for you.
What Is QuickBooks
QuickBooks is an accounting software developed and owned by Intuit.
It's a perfect solution for freelancers, startups, nonprofits, and small businesses. If you own an enterprise, QuickBooks has a plan especially for you.
You don't have to worry about the nitty-gritty of your finances—you can always invite your accountant or bookkeeper.
It comes with a cloud and desktop version and packs many valuable features. With QuickBooks accounting, you'll take your business affairs to the next level.
QuickBooks Features
From online accounting to inventory tracking, this software does it all. Let's get into specifics.
Cloud Accounting
While doing the research for this QuickBooks review for 2022, we paid special attention to security measures. You can rest assured that your data is safely stored in the QuickBooks cloud and protected with 128-bit SSL encryption.
If you choose to keep and organize your data in the cloud, you will be able to access it anytime, anywhere, from any device.
This also gives you the possibility to invite your accountant, bookkeeper, or other users and collaborate with them in real-time.
Invoicing & Payments
With QuickBooks, you can customize invoices, create quotes to manage discounts, payment terms, and more.
QuickBooks invoicing provides the option to send invoices automatically, along with reminders for due or overdue invoices.
You can set up recurring invoices and include taxes, discounts, and shipping costs. Thanks to these options, you'll always be up to date with your revenue.
Use QuickBooks to track account developments in real-time from the Web or your mobile app. The platform includes many payment gateway integrations. Some of the most famous QuickBooks payment gateways are Stripe, PayPal, Shopify, Square, and others.
Inventory Management
QuickBooks' web-based inventory management system allows you to track your inventory in real-time.
The software auto-updates it regularly and adjusts the prices to the changes in your stock value. QuickBooks collects all vendors' contact info in one place so you can keep an eye on your orders and where they come from.
This service will even provide you with low stock alerts as a reminder to restock your inventory. This way, you can easily follow the most popular products and services and reorder them promptly.
With the QuickBooks inventory control system software, you can easily organize your inventory. You can add images, categories, and prices, use the first-in, first-out (FIFO) method to calculate the cost of products, and receive reports on bestselling items.
Project Profitability
QuickBooks is an easy-to-use project cost & tracking software.
You can use it to monitor the projects' profitability and efficiency. Thanks to its innovative dashboard, you can keep an eye on the revenue and expenses on every task.
Users often praise the accurate calculation of labor costs in their QuickBooks reviews. The platform takes into account the hourly cost rate of every employee and multiplies it to the total hours worked.
With intelligent budget oversight and forecasting, you can calculate incomes and expenses for a project in advance and use the results to make smarter business decisions.
Accounting Reports
The QuickBooks membership management software produces numerous handy reports. They're divided into three subcategories: standard, custom, and management. Here's what each one includes:
Standard reports—profit & loss, balance sheets, collections report, invoice list, inventory valuation summary, unpaid bills, supplier and employee contact lists, statements of cash flows, time activities
Custom balance sheets show the analytics that helps stay in control of your business metrics during the changing conditions
Management reports—company overview, sales & expenses reports
Thanks to these reports, you can create a clear image of your business performance and keep track of QuickBooks payment processing. Get insights about your sale by customer, product, project, or location.
You can create profit and loss statements to help your decision-making. With the company snapshot, you can track your entire business performance in real-time.
QuickBooks reporting and invoicing options make it one of the best recurring billing software for small businesses.
Ease of Use
With an intuitive dashboard that contains all the necessary information, you can easily access the report you need or send an invoice. QuickBooks Online gives you immediate access to your account wherever you are.
Even though this platform is very straightforward to use and has an intuitive user interface (UI), some customers criticize it.
But throughout our QuickBooks cloud review process, we discovered that the software is constantly evolving and promptly solving these kinds of issues.
QuickBooks Plan Comparison
QuickBooks Online for small businesses with more than one employee offers four plans: Simple Start: $25/mo ($7.50 at the time of writing) Essentials: $50/mo (discounted to $15) Plus: $80/mo (discounted to $24) Advanced: $180/mo (discounted to $54) The Simple Start Plan includes QuickBooks billing, tracking income and expenses, tax deduction, plenty of reports, managing 1,099 contactors, and more. The Essentials Plan adds time tracking, bill payment, and management and allows for 3 users. The Plus Plan tops that with the option to add up to five users, and inventory management. Finally, the Advanced Plan allows up to 25 users, advanced business analytics & insights, the option to restore company data, etc. Our review of QuickBooks for small businesses also showed that this plan comes with a dedicated accounting team.
QuickBooks Desktop pricing is the following: Pro Plus 2022: $349.99/yr Premier Plus 2022: $549.99/yr Enterprise 22.0: $1,340/yr (discounted to $938 for the first year) With these subscriptions, you can do accounting right from your desktop. Everything available in the cloud can be at your service when you're offline. With the desktop plans, you can run hundreds of reports, track time & inventory, manage contractors, monitor sales tax, and predict profit & loss. Not to mention that the highest plan comes with a dedicated accounting team, complimentary on-demand training, and premium care from QuickBooks' top specialists.
Aside from small-business plans, QuickBooks has a whole set of plans dedicated to enterprises. You can purchase local-only or remote versions. Of course, the QuickBooks monthly cost of the latter is higher. Gold with Core cloud access: $199/mo (currently discounted to $140.84) Platinum with Core cloud access: $232/mo (currently discounted to $142.80) Diamond with Core cloud access: $404/mo (currently discounted to $228.60) Every QuickBooks Enterprise plan comes with desktop enterprise software and many premium features. These include 24/7 premium support, the newest versions of QuickBooks products, and data recovery options.
QuickBooks Support
QuickBooks support includes a comprehensive knowledge base, webinars, guides, and video tutorials. There's an active community forum with Q&As, business discussions, and helpful articles.
You can reach QuickBooks' international customer support 24/5 via live chat or phone. The US reps are available during business hours on the weekend too.
The quality of customer support depends on the agent you're communicating with. Considering the QuickBooks price, this is unacceptable.
From our many queries, only one was addressed properly. The agents answered promptly and politely, but it seemed that they lacked knowledge about the software.
Other users don't find support agents very helpful either, especially when it comes to tech problems.
QuickBooks User Reviews
QuickBooks review Reddit threads are full of contradicting opinions. Because of its popularity, it gets numerous reviews, but it seems like users either love it or hate it.
Negative opinions concern two things: the quality of customer support and the issues with switching from the desktop to the online version.
But the QuickBooks pros and cons don't end here.
Many users praise its ease of use and the mobility & accessibility of the online version. With web and mobile access, you can use QuickBooks on the go.
QuickBooks' compelling offer can be fantastic for startups and small businesses, but, understandably, it won't suit everyone. Let's see who can benefit from it the most.
When to Use QuickBooks
If you have just started your business or own a small or mid-size company, QuickBooks.com accounting might be the ideal solution for you.
You don't have to worry if you're not a finance guru—it's very straightforward to use. If you don't have an accountant or bookkeeper, QuickBooks has you covered—just pick one of its many experts.
Its intuitive UI and numerous reports make it a great choice for those with accounting experience too.
Still, if this doesn't sound like the right tool for you, check out the most notable QuickBooks competitors below.
QuickBooks Alternatives
If you don't think QuickBooks is suitable for your business, let's see what else is on the market:
QuickBooks vs Chargebee
Chargebee is a subscription management and recurring billing service, while QuickBooks is mainly built for accounting.
Both companies are intended mainly for small businesses. Chargebee's prices are higher, but it includes more featuresthan QuickBooks.
QuickBooks vs Zuora
Zuora offers subscription-based and recurring billing services. It prepares advanced analytics and reports and it's highly customizable. It's hard to judge which service is more affordable since Zuora has quote-based pricing.
If you only need an accounting service, QuickBooks is the right choice for you. It's available on smartphones, too, and you can access your account at any time from anywhere.
QuickBooks vs FreshBooks
Both are small-business-friendly and have a mobile app, accounting services, and a free trial.
FreshBooks can be extended into a subscription-based and recurring billing service.
Our research for this QuickBooks review showed that this platform offers a greater variety of plans. But FreshBooks has more tools and advanced capabilities.
Still, if you don't need plenty of features but a simple and helpful accounting software, QuickBooks is the right choice for you.
Final Verdict
The QuickBooks app is handy, reliable, easy-to-use, and ever-evolving accounting software. It's mainly intended for small businesses, but it offers solutions for large enterprises too.
Regardless of the level of your financial literacy, you'll be able to use QuickBooks. You can even invite your accountant or bookkeeper to help you. If you don't have one, QuickBooks experts will come to the rescue.
According to QuickBooks reviews by users, the process of switching from the desktop version to the cloud could be improved. It could also work on its customer support.
Still, it is a great product worth purchasing, especially if you've just launched your business.
If you want to try it yourself, sign up for a free trial and test the software—just like we did for this QuickBooks review.
FAQ
QuickBooks is a reliable and easy-to-learn accounting platform. It's mainly intended for small businesses—if you own one, QuickBooks probably has the right deal for you.
Is paying by QuickBooks safe?
The cost of QuickBooks is negligible considering the measures it takes to keep your financial data is safe and sound.
Your banking details are encrypted so that no one, not even QuickBooks, can access them. Data is protected with SSL protocol and RSA encryption.
Is there a monthly fee for QuickBooks?
QuickBooks comes with a 30-day free trial on every plan. The costs vary a lot depending on the package—starting from $15 and going up to $4,020/yr.
You can find the full list of plans in the QuickBooks pricing section of this review.
What is better than QuickBooks?
Different solutions have distinct offers and purposes—no option fits all needs and businesses.
That said, users often mention Chargebee, Zuora, and FreshBooks as good alternatives. We compare their performance in the Alternatives section of this QuickBooks review.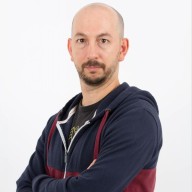 Nick Galov
Unaware that life beyond the internet exists, Nick is poking servers and control panels, playing with WordPress add-ons, and helping people get the hosting that suits them.
Leave your comment
Your email address will not be published.