Zoho Projects Review—Lots of Bang for Your Buck
As a cloud-based project tracking & management app, Zoho Projects is gaining traction, especially among small and growing businesses. It comes with a wide array of basic, easy-to-use but highly effective features. Check out our detailed Zoho Projects review below to see who will benefit the most from the plethora of app integrations.
Mobile apps:
iOS & Android
Reporting:
Basic & advanced
Key features:
Customizable, great planning, analytics, etc.
Visit Website
Best for:
PRICING & COLLABORATION FEATURES
Strengths
Strong customization

Great value for money

Easy setup and navigation

Advanced communication features
No project templates

Some crucial features demand integrations
Having a project management tool is one of the best ways to stay on top of your operations, but it might be hard to afford, especially if you're a startup or a small business with a tight budget.
As you'll see in our Zoho Projects review, this software comes at a very reasonable price and can lower expenses in a number of ways. For instance, if you prefer to run the day-to-day operations without an office space, the Zoho Project management tool will enable your virtual team to remain agile in their workflow.
But how can it help you manage your team, delegate tasks, keep all deadlines?
Let's find out.
What Is Zoho Projects?
Zoho Projects is a project management cloud app under the umbrella of the versatile Zoho Corporation. Founded as AdventNet in 1996, Zoho began as a network management company. Today, the corporation deals with network and IT management, has numerous apps, and more than 50 million users worldwide.
Most Zoho Projects reviews describe the app as an easy-to-use, simple project management software with basic features. But it's equally efficient in managing complex tasks, as it comes with a plethora of app integrations and impressive means of communication, such as the Zoho Projects Chat app.
This makes it an extensive tool at a low cost that can be used as the exclusive project management software by any growing business. Your friends at Web Tribunal will show you why in the next section of our Zoho Projects review for 2022.
Zoho Projects Features
In addition to being insanely affordable, this app has a wide choice of features.
Zoho Projects Management Tools
Being a project management tool, its planning and organization capabilities are crucial, so we'll start from there.
Customizable Dashboard
There's a reason why all users Zoho software reviews praise the software's ease of use. Zoho Projects' dashboard gives you a clear overview of all features from the moment you log in. It presents you with all relevant projects, including their status and budgeting, through snapshots. You can also customize the dashboard, modifying everything from individual workloads to timesheets.
There, you can see the raw number counts and pie charts for open/closed tasks. And that's only one of the many visual elements of the Zoho Projects management toolset.
Project Planning
This feature will make sure you stay on top of your project schedule by breaking down all tasks into more manageable pieces. Apart from subtasks, there are also milestones that will enable you to keep all the deadlines in check.
You can also get centralized access to all the projects, showing you upcoming deadlines and the people assigned to each task.
This extensive view, combined with the fact that you can leave comments on tasks, is what makes Zoho task management perfect for heavy-workload scheduling.
Kanban
The Kanban management style is great for progress visualization, presenting the workflow in the form of cards arranged in columns. The cards can be sorted by task list, priority, or percentage of completion.
The Kanban board presents the tasks' status within each Zoho project in columns with eight options—Open, Closed, In Progress, On Hold, In Review, Delayed, To Be Tested, or Canceled—allowing you to change them anytime.
Zoho Gantt Chart
The Gantt Charts feature takes visualization of the project workforce management one step further. With nicely organized categories in different colors, the layout is highly distinctive but also functional. You can see clearly every detail from the percentage of completion and milestones to overdue tasks.
You can change the views on each Zoho Gantt chart depending on the type of information you require. For example, if you want to see the projects that are due soon, the chart will display the upcoming deadlines first.
You can also reorganize your project-scheduling by editing milestones, adding more tasks, or dragging them from one area of the chart to another.
Resource Utilization Chart
This feature could be very helpful in human resource management. It provides weekly reports highlighting which projects employees spend their time on and shows details of their workload.
This Zoho Projects management tool comes with a timeline with spanner bars in four colors. Red, blue, green, and gray indicate when employees don't have assigned work, when they have too much or too little of it, and if the assignments are adequate. Hovering over the spanner bars shows additional details in pop-ups.
Showing you the balance between free and work hours, this chart is helpful for decision-making managing, especially when you need to perform human resource allocation.
Automations & Dependencies
Management becomes easier when you don't have to do everything manually. You can set automations for numerous task details like start and end date instead of just a deadline and the number of hours an employee needs to dedicate to a certain task. You can even split responsibility among multiple people with just a few clicks. These are just a few examples; you can explore the rest on the Zoho Projects tutorial page.
Zoho Projects also comes with dependencies which you can create simply by drawing a line from one task to another in the Gantt chart view. That way, employees won't be able to start another task until the dependent one is complete.
Collaborative Project Management Tools
Smooth collaboration seems to be a priority for Zoho Projects, so it offers a variety of communication management tools.
Feed
At the heart of the communications management system is the feed feature, which works on the principles of social networks.
All Zoho Project reviews left by project managers point out that this boosts coordination. By posting questions, comments, and quick updates, team members can avoid long phone calls and meetings and save valuable time. And the activity stream option allows you to see all discussions chronologically.
Chat
The Project Chat is perfect for real-time collaboration—it's a built-in feature, so there's no need to switch to another app to discuss work in progress. There's no limit to the number of participants and transcripts remain available in the chat room. Every Zoho Projects chat review we came across praises this as one of the software's strongest points.
For topics that don't require synchronized communication, the Project Forum is an equally good alternative. Setting up forums is especially handy for virtual management, as it creates a strong knowledge base for rotating personnel.
File Sharing
The chatbox and comments sections have an attachment field where only paid users can share files. Although some Zoho Projects competitors offer file sharing in their free plan, Zoho has a few tricks up its sleeve.
The file-sharing feature comes with a powerful search tool that can save you time when you're looking through the documentation for the files you need. The ability to save previous versions of documents and the existence of a centralized database help you keep your business administration extra neat.
Issue Tracker
The Zoho issue tracker is a great tool for software and app development.
It is a crucial part of any project governance that involves coding. Designed for meticulous bug tracking, it submits all potential issues and organizes them based on their severity and status.
Zoho Time Tracking
The time tracking feature of Zoho Projects was something we were eager to review in detail because we use a similar tool at our office.
It is completely automated and integrated into the software.
It contains all the details of the working day—start time, end time, as well as the time spent on each task. What is unique about it is the ability to clock in on several tasks simultaneously. This is not only an advantage over other project management apps but also over time tracking programs, such as TSheets, VeriCLock, or Hubstaff.
The Zoho timesheet also contains a built-in timer for each task. You can choose to allocate working hours as billable or non-billable. That guarantees accuracy during invoicing and billing and a comprehensive overview of cost control and budget management.
What makes time management even smoother is the fact that the rules for timesheets are easily adjustable—you can set the maximum number of logged-in hours per day or week. And these time logs can be managed from the Zoho Projects mobile app, too.
Gamescope
This gamification feature is more than just fun—it can turn certain tasks into time-framed contests. The badge or trophy rewards are purely symbolic, but it's still a great option for remote team building and motivation.
Zoho Projects Mobile
Zoho's mobile apps for Android and iOS allow you to keep track of your project management solutions on the go. You can also add tasks and upload or access documents right from your phone.
Analytics
Zoho Analytics holds a special place in our Zoho Projects review because it offers seamless integration where all the data is synced automatically. This add-on allows you to keep track of all the key project metrics providing you with insightful dashboards and reports. These include project status, human resource, burndown (a nice enhancement to the time tracking feature), billing, projected revenue, etc.
Analytics is also a collaborative tool where accurate and secure sharing of data allows report development to be a team effort. With such performance analysis, you'll be able to make informed decisions to improve your project execution and operations on every level.
Zoho Projects Integrations
We've already mentioned there is a whole suite of apps under the umbrella of the Zoho Corporation and Zoho Projects integrates with many of them seamlessly.
Let's start with Zoho Invoice and Zoho Books. These integrations fill the gaps in the software's financial analysis capabilities by adding a project accounting feature for cost management and control.

Zoho Subscriptions adds recurring billing to the fold.
The list of Zoho ecosystem integrations is extensive, so for our Zoho Projects review, we've chosen to present the ones that stand out the most.
Zoho Meeting
This integration brings the already strong communication capabilities of the software to an even higher level. One-click at the Meet button opens a new tab with online video/audio meetings. All invitees are provided with a link that doesn't require entering an ID or opening another app.
Zoho Reports
This analysis and reports tool is one of Zoho Projects management's most important integrations. It provides a reporting dashboard and full access to more than 50 reports. You can drag & drop, export, email, or print reports. The dashboard is customizable, so you'll choose which metrics to follow. This makes it very easy to keep track of your KPIs and team progress and is highly beneficial to program management.
Google Apps
Integrations also include Google apps such as Google Calendar, Drive, and Gmail. Many Zoho Projects reviews claim this integration is an essential part of integration management. It allows them to attach files from the Drive easily, put tasks in the Calendar, and sync them with their Gmail accounts.
Dropbox
This integration also deserves special mention. It creates a centralized location where you can find all the files without switching between apps. Not to mention that Dropbox is one of the leading cloud storage companies. The integration instantaneously syncs them with Dropbox and brings them into Zoho.
Other third-party apps available for integration are GitHub, Slack, Zapier, Harvest, Zendesk, Bitbucket, Evernote, etc.
Zoho Projects Downsides
Here are some weak spots of Zoho Projects we've noticed:
There's no

Zoho Projects SMS feature

with text notifications. This function is available with integrations with Webhooks or another app.

The

risk assessment and management feature

that Zoho announced is missing. We're still waiting on updates about that.

There are

no project templates

, even though other similar apps are packed with them. With Zoho, you need to start from scratch or build your own templates.

Resource management doesn't work well for large teams

due to its unusual view.

Some important features are

available only with integrations

with other paid Zoho apps, such as Zoho Books and Zoho Invoice.
Zoho Projects Pricing
Before we go over the available plans, it's important to mention that each of them comes with a 10-day trial period.
The Free plan is available for up to three users with a limit of two projects and 10MB of storage. It contains the basic task tracking features and mobile apps.
The Premium plan is available for up to 50 users and comes at $4 monthly per user when billed annually and $2 for client users per month ($5/user and $3/client user when billed monthly.) The number of projects is unlimited and the available storage is 100GB. It's the most popular Zoho personal account as it has just the right amount of features—including Time Tracking, Project Budget, Gnatt charts, some issue tracking tools, and others.
The Enterprise plan doesn't have a user limit and comes at $9 monthly per user when billed annually ($10/user when billed monthly.) The prices per client user are the same as with the Premium plan. For this price, you get unlimited projects and 120GB of storage. The package contains everything from the Premium plan and it's packed with additional custom features.
Zoho Projects Support
The best part about Zoho's support is the huge library of resources. That goes way beyond user guides—developers can access an API guide; there's also a knowledge base, help videos, and webinars. Zoho also has a well-developed community forum where you can contact other users.
It's a bit tricky navigating through the website. But once you reach the Contact Us page, the emails and phone numbers of all the offices around the world are well-organized.
Ease of Use
The navigation in the Zoho Projects app is incredibly simple. Try to imagine a project management simulation perfect for beginners—it looks something like that.
It takes only minutes to set up an account, create a project, add a task and a milestone, and invite people to join. Small businesses without a dedicated project manager on board will especially value this simplicity.
User experience doesn't change depending on the company systems model—it's equally pleasant to use regardless of the industry or size of your business.
Zoho Projects User Reviews
There aren't that many Zoho Projects reviews—less than 300, mostly coming from smaller businesses. The software's average rating is quite high—4.18/5 stars.
Users praise the software for its collaboration and communication tools, ease of use, and a large number of basic features. The flaws they mention are usually small—issues with the Resource utilization view and the lack of project templates.
We did come across one pretty negative review on fool.com, claiming that Zoho Projects is useless without the whole Zoho suite as it lacks some crucial and unique features. We find this to be an overstatement, as Zoho Projects' basic features are versatile and some of them even unique.
Almost every Zoho Projects review on Reddit confirms our opinion—users discuss a large number of features, claiming they keep finding new ones and that there are "tons they didn't use yet." They also praise the customization and integrations and say that Zoho Projects saves them money with its wide application opportunities.
Is Zoho Projects Worth It?



With all the integrated tools, Zoho Projects management comes at more than a fair price. It's a well-balanced choice that can provide quality management, especially for small and mid-sized businesses.
Its tools go beyond small-scale project management but might not be suitable for everyone. Startups and small teams will have a hard time finding better time-tracking, communication, and bug-tracking features, but large teams may require more than that.
Zoho Projects Alternatives
There's more than one alternative to Zoho available on the market. In our project management software comparison, we'll examine the two most notable examples.
Zoho Projects vs Asana
Although it doesn't have the variety of features Zoho Projects has, Asana is probably more popular because of the high functionality it packs in its free version. This is precisely due to the smaller number of features and simplistic design, which makes the tool accessible to small teams and beginners.
On the other hand, Zoho Projects gives you more in-depth information about project operations. Collaboration takes place across multiple channels and communication is much more advanced.
Maybe Asana is more suitable for absolute beginners, but Zoho Projects can contribute to your business' growth.
Zoho vs Basecamp
As the very name suggests, the idea behind Basecamp is that it relies on the base—a centralized location where you can find all the resources and tools you need. This makes the project management process comprehensive and quick and the intuitive interface facilitates communications.
But Zoho is far better in management control with workflow automation, custom reports, and time-tracking (features which Basecamp doesn't have.) Basecamp's pricing comes at expensive flat rates, so it's much more suitable for larger companies in need of simple navigation and strong communication.
Our Final Verdict
As our Zoho Projects review has established, this software is one of the leading project management apps with numerous features reinforced with integrations. Some options are only available with the paid plans, but they offer great value for money.
The platform is simple and well-organized—project details, charts, and important documents are easily accessible. Zoho's core tools are geared toward most small and mid-sized companies, but the customizability and Zoho suite can serve larger operations well too.
FAQ
Zoho Projects is cloud-based project management software ideal for small and growing businesses. It helps you to assign and plan projects, finish tasks on time, manage resources, and enhance collaboration.
That depends on the requirements and scope of your business. Collaboration and customization are among its greatest strengths. Most Zoho Projects reviews, including ours, find it best for small and growing businesses.
Does Zoho Projects Have an App?
There's no local app for desktop, but there are mobile apps for iOS and Android that allow you to keep up with projects when you're away from your computer. However, the software has a web app that works better. Read our Zoho Projects review to find out what else you can do with the mobile app.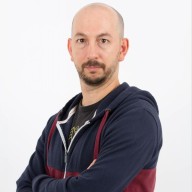 Nick Galov
Unaware that life beyond the internet exists, Nick is poking servers and control panels, playing with WordPress add-ons, and helping people get the hosting that suits them.
Leave your comment
Your email address will not be published.