Boasting a suite of critical features, pragmatic integrations with essential third-party apps, and simplistic design with a sleek interface, Olark is one of the best live chat solutions on the market. Find out whether it can boost your conversion rates and lead generation in the detailed Olark review below.
Integrations:
Good selection
WORKS ON:
iOS
Edge
Opera
Chrome
Safari
Android
Firefox
Key features:
Great tools, lots of integrations, reporting tools, unlimited history, group chats, etc.
Visit Website
Best for:
GREAT FEATURES FOR SMBs
Strengths
Very user-friendly

Cost-effective

Searchable chat transcripts

Customizable branding
Limited automation features

No chatbot tool
In today's consumer-centric world, fast and personalized active communication is the key to good customer service. If this is what your business needs, live chat might just be the right solution for you. After all, it has become the single point of contact for many companies.
At the forefront of this innovation is Olark—one of the best live chat software on the market. It prioritizes listening and learning through the interactions and provides customer relationship management tools to improve them.
Check out this Olark review to see whether this approach can guarantee your business the success you're looking for.
What Is Olark Chat?
Olark is a cloud-based live chat solution that allows businesses to interact with customers on their websites in real-time.
Olark live chat is one of the best chat programs for small-to-medium companies. It will enable you to gather feedback through customer engagement, collect data from Olark (or your own CRM), and optimize your product and/or service based on those insights.
Interface
Olark has a simplified user interface that is extremely dynamic, intuitive, and user-friendly. Onboarding new users to intricate and elaborate interfaces and workflows can be challenging.
Olark makes sure to eliminate all the unimportant elements to facilitate that process. Its user interface tools are conveniently laid out and extremely easy to find.
Olark Features
No matter what your business goals are—more leads, growing sales, or better customer service—Olark has straightforward, practical live chat features to help you get there.
Chat Console
Olark live chat has a very basic and easy-to-use chat console. For the quickest setup, you can use it right from your web browser without the hassle of installation.
The console has an easy-to-navigate menu that allows you to perform several tasks, including operator commands and shortcuts, blocking troublesome chatter, and more.
Shortcuts
Shortcuts make it easy to operate the Olark Chat Console using only your keyboard. This means you can work more efficiently and effectively without wasting time to switch between typing and using your mouse.
Canned Responses
Shortcuts are Olark's Canned Response feature. They allow you to create commands that expand into pre-defined greetings, messages, and links.
Shortcuts save you time by giving you a faster way to type out common phrases, but it's best to use them in moderation to balance efficiency and personalization.
Agents can save Personal Shortcuts directly in the Chat Console and Admins can create and edit Team Shortcuts.
Offline Mode
The Olark live chat offers three different offline options for the website chat widget, so your customers have a way of reaching you even when you're away.
The first one is the default Offline Email Mode. It grants visitors the possibility to send you an email when you're not around to chat.
The second one is to choose an Offline Message you can display while you're away.
And the third option is to hide the chat widget altogether when you're offline.
Team Management
Olark makes team management easy with tools like Chat Activity Monitoring, Message Routing, and Per-Agent Chat Limits to keep your employees aligned and on track. Plus, the Shortcuts system we mentioned above in this Olark review gives everyone access to a shared database of canned responses for quick, consistent replies.
Searchable Transcripts
The Olark software saves every live chat transcript and offline email in an archive along with any information you might have collected, like contact info, profile data, or follow-up action items.
You can filter transcripts by keywords, tag, date range, and so on.
It is a great way to better understand your audience, how they feel about your competition or a specific product, and much more.
PowerUps
PowerUps are specialized Olark live chat features you can add to any plan to boost your online sales, growth, and customer satisfaction.
The flexible monthly billing and one-click activation make them easy to buy, remove, and swap at any time so that you only pay for the features you need.
PowerUps include Visitor Cobrowsing (seeing your customer's screen), Visitor Insights, Live Chat Translation, and a Non-Branded Chatbox.
Analytics
Olark's native chat analytics include monitoring chat volume to identify your busiest times and staff and reviewing visitor history to check prior interactions.
The Olark integration with Google Analytics allows you to collect valuable visitor data, track conversations, etc.
It also provides additional reporting insights for managers, such as chat activity, the percentage of website visitors utilizing the chat widget, and the pages they access it from the most.
Let's see what other integrations the software offers in the next section of the Olark review.
Integrations
Olark has basic but functional integrations for everything from CRM and Helpdesk to Web Publishing.
This might be an inconvenience for users looking for more robust and advanced integrations.
Still, Olark thrives by keeping things simple and creating integrations with apps you're probably already using. Whether that's Salesforce, Slack, HubSpot, or Mailchimp, Olark works with what you already have.
The company also created the WordPress live chat plugin to give ecommerce platforms an edge.
To give your business an additional boost, check out our tips on how to speed up your website.
Plans & Pricing
You can choose between the flexible month-to-month Olark pricing and the annual plans to match your team size and needs. You get access to the same core features regardless of the length of your plan.
All Olark accounts start with a free 14-day trial.
After that, you can either downgrade to a Free version with limited features, one agent, and a maximum of 20 chats per month or start paying the subscription fee.
Pricing Plans
All the features for a full price of $29 per month.
Pay a year up front an get a reduced price of $23 per month.
Paying for two years upfront grants an even bigger discount, knocking the price down to $19 per agent per month.
You can also purchase features a la carte with PowerUps:
Cobrowsing—$99
Non-Branded Chatbox—$59
Live Chat Translation—$29
Visitor Insights (Social)—$59
Visitor Insights (Social and Professional)—$99
Olark Support
An intrinsic part of our research process for this Olark review was to test the quality of customer service.
Unlike most of its competitors, Olark doesn't offer 24/7 support. Even its live chat is available only between 9:00 am and 3:00 pm PST Monday to Friday.
If you have an immediate issue, you can create a ticket. According to the website, an agent will reply within the same business day.
We tried it out and received a response in a few hours. We also contacted the agents on the Twitter support account, which isn't very active, so it took them a little longer to reply.
But while you're waiting, you can consult Olark's robust knowledge base, which is filled with tips, tricks, guides, and quick fixes.
Ease of Use
Many users praise Olark on Reddit for its clearness and accessibility. The company keeps with the running theme of simplicity all the way through—from the setup to the execution of advanced tasks.
You can use the chat tool from your browser without the hassle of a complex installation process, especially if you're using Olark for WordPress. The menu structure is undemanding, with straightforward explanations where you need them.
Olark User Reviews
We read through some Olark reviews online to get a sense of how people feel about the platform. Most users praise the ease of use and affordability of the platform.
According to one Olark review on Reddit, its integrations with CRM systems and helpdesk software make it a more well-rounded customer service platform.
The most common complaints are about the lack of an image share feature (even though the Cobrowsing function is an acceptable substitute) and the one-seat-per-agent policy.
Is Olark Worth It?
Olark boasts a clean interface, intuitively designed chat console, and some solid features and integrations. Its simplistic approach is well suited for small and medium businesses and its straightforward pricing could accommodate teams of different sizes.
Some users might be frustrated by its lack of advanced features or elaborate integrations.
Still, during our research for this 2022 Olark review, we found that it covers the basics well enough.
Plus, that scarcity gives it another advantage—because the entry barriers are lower, the website chat software is accessible to a larger audience.
Olark Alternatives
Olark is one of the top web chat tools on the market, but it's far from being the only one. To show you what else is out there, we evaluate some of the most notable Olark competitors below.
Olark vs LiveChat
LiveChat offers an online chat, help desk, and web analytics capabilities, plus 24/7 support. This would explain why it's more expensive than its competitor.
Besides, LiveChat has a mobile version, while the Olark chat app for iOS and Android is still in beta testing at the time of writing.
Olark fights back with exclusive features like cobrowsing, text autocomplete, and customer insights right at your fingertips. Even though it lacks advanced features like website traffic monitoring and a built-in ticketing system, Olark is still a great, lower-cost option for smaller teams.
As your business scales, however, LiveChat might be a better alternative.
Olark vs Chatbot
While Olark is full-service live chat software, Chatbot is a builder that's part of the larger LiveChat Inc family.
Chatbot has an easy-to-use framework for automating customer service. It utilizes machine learning to develop intelligent bots for a human-like experience.
Because Olark doesn't have a chatbot function, it might be better to use these two products together to create a truly rounded online support service.
Olark vs HubSpot
HubSpot has great customer service software that includes live chat and a ticketing system. But best of all, it's free. On top of the HubSpot Chat, you also get a CRM, a team email, and a reporting dashboard.
Olark has a free plan, too, but it's more limited. This software's biggest perk is that you can customize its plans by adding features a la carte in exchange for an additional fee.
Still, free is hard to beat. If you have a small team just getting off the ground, then HubSpot might be the better option.
Final Verdict
Olark's live chat software and customer data tools help you gain valuable insights from every interaction and apply those to enrich your customer service outreach.
It's a useful tool for building and cultivating a healthy relationship with your customers.
Olark is loaded with handy features and convenient integrations that allow businesses to engage with customers in real-time.
In spite of the few downsides we mentioned throughout this Olark review, this platform is one of the most popular live chat solutions and a favorite among hundreds of businesses.
FAQ
Olark is beta testing an Olark mobile app for iOS and Android. For now, you can use the Olark mobile version through third-party services like Trillian for iOS and Xabber for Android.
Yes, especially for small and medium businesses. It's simple to set up, easy to use, and has solid integrations and features to build and manage customer relationships easily. Plus, it doesn't cost an arm and a leg.
How much does Olark cost?
You can choose between the flexible month-to-month plan and the annual packages. The prices start from $12/agent/month.
Olark also has paid add-on features called Power-Ups that you can purchase a la carte.
Check the pricing section of this Olark review for the full list of costs.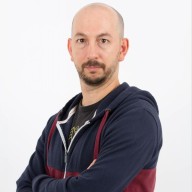 Nick Galov
Unaware that life beyond the internet exists, Nick is poking servers and control panels, playing with WordPress add-ons, and helping people get the hosting that suits them.
Leave your comment
Your email address will not be published.