Chatra Review—What Can This Multichannel Platform Do for You?
Chatra is a multichannel customer service platform built for businesses of all sizes. Its top-notch features provide a simple and cost-effective way to engage with customers. Thanks to its live chat, email, and chatbot features, you can reply to user queries with ease and increase your online sales. Find out more about this lightweight, focused solution in the Chatra review below.
Mobile Apps:
Android / iOS
Key features:
Ease of use, simple setup, targeted chats, real-time visitor lists, offline messenger mode

Visit Website
Strengths
Targeted chats

Real-time visitor lists

Intelligent chat queues

Offline messenger mode
Limited reporting

Basic integrations

Occasionally buggy
By adding a live chat widget to your website, you can provide more efficient online support, boost your sales, and gain an advantage over your competitors.
But how do you choose the best live chat software for your business among the plethora of solutions on the market?
To help you get started, we evaluated one of the most popular platforms—Chatra.
In the Chatra review below, we show you its strengths and weaknesses, what users think about it, and, most importantly, how it stacks up against its competitors.
Read on to find out everything there is to know about this live chat software.
What Is Chatra?
Chatra is a multichannel support platform that helps businesses of all sizes provide excellent customer service, engage with new prospects, and increase conversion rates.
Versatile and straightforward, it allows you to talk to your visitors in real-time or reply to offline messages at your own pace.
Best of all, you can set it up on any website with a few clicks.
Interface
The slick interface of the software is the main point of praise in nearly every Chatra review by end-users.
It's easy to learn, so you won't need to break the bank on training.
The omnichannel dashboard is clean, simple, and well-designed. Thanks to it, you can manage all messages from one central point.
You can even connect your email and Facebook page inbox. That way, you never have to switch between different browsers, making chatting with customers much more manageable.
Chatra Features
Chatra is fully functional, easy-to-use software that helps agents engage in active communication with customers and provide effective support.
Canned Responses
The best chat programs have a canned response tool that helps you save time and respond to queries more quickly. Chatra is no exception.
Its Saved Replies offer a great way to tackle frequent questions that require simple, structured, standardized answers. They allow agents to get through more chats in less time and craft consistent replies.
Offline Mode
Chatra Messenger initiates conversations with your website visitors automatically and delivers the messages to you.
You can answer them instantly via the web-based application dashboard, the desktop application, or the Chatra mobile app. The chatbot also collects their email addresses so that you can reply later.
To avoid unnecessary frustration, Chatra makes sure users understand that they're communicating with a bot.
And if Messenger Mode isn't enough, you can always switch to live chat and let your customers know you're available to answer their queries in real-time.
Real-Time Visitor List
This feature has the function of real-time website traffic monitoring. It shows you a list of all visitors that are currently online on the website.
You can choose what kind of visitor information you want to see—location, current page, referrer, OS, browser, etc.
That way, you can target customers from particular locations or users who have put items in the shopping cart and start a conversation with them.
Targeted Chats & Triggers
This Chatra.io tool helps curb passive communication. It uses website traffic monitoring to maximize sales, accelerate lead generation, minimize bounce rates and abandoned shopping carts.
It allows you to contact customers proactively using Smart Actions templates like "Greetings on the front or landing page," "Assistance on the complicated page," "Pop-up chat box on 'Contact us' page," and "Cart savior and assistance with checkout."
Chatbot
Apart from a live chat functionality, Chatra has a chatbot builder—great for automating customer service. It allows you to approach customers with minimal effort from support agents by creating Chatra chat scenarios.
This is how it works:
The bot sends a message to the website user with a question or an offer, listing several answer options. The client chooses their preferred response and the bot replies with the next message in the scenario.
This goes on until the sequence comes to an end or until the customer asks to be transferred to a live agent.
Analytics
Chatra.io works with and automatically sends data to Google Analytics—there's no need for additional adjustments to your settings.
That way, you can track your agents' efficiency analytics, including chats initiated by visitors and by agents, chats accepted by agents, targeted chats, pre-chat form data, and bot data.
You can also create goals based on Chatra events within Google Analytics. You can then track specific events to see whether the behavioral triggers you've set up are working.
Chatra Integrations
Chatra has relatively few native integrations compared to some other live chat software.
It does, however, connect with Zapier, securing access to a massive repository of apps.
For example, if your company uses mobile marketing, you can use Zapier to connect Chatra with SMS software.
In terms of native integrations, Chatra offers the following:
You can connect your email provider with the live chat app and receive view, and answer messages directly from the Chatra dashboard.
The Median Screenshare integration allows your customers to share their screens with you. This tool is helpful for more complex technical support issues. However, you need to have paid accounts on both Median and Chatra to use it.
A similar integration is Upscope co-browsing, which lets you view a user's screen with one click.
You can also connect Chatra with Front, Help Scout, Instagram, and Slack.
Last but not least, you can use Chatra for WordPress. All you have to do is add a WordPress live chat plugin to your website, and you're good to go.
Chatra Plans & Pricing
In addition to a Free plan, Chatra has two paid plans:
Pricing Plans
The free plan only supports one agent. It still offers some pretty useful features like an offline and online website chat widget and basic user info (name, email, and phone number).  You also get limited access to agent productivity features, chat functions, reporting, and integrations.
The Chatra pricing for this plan is $17/agent/month charged yearly (or $21/agent/month billed monthly). It offers a few upgrades from the Free plan. These include access to an email helpdesk, Facebook Messenger, bots & automation (including chatbot building and targeted messages & triggers), and visitor intelligence tools (visitor information and real-time visitor list). The plan also unlocks access to more chat functions like email opening tracker, typing insights, and screen sharing.
For $23/agent/month billed annually (or $29/agent/month charged monthly), you get the full package of Chatra features. On top of the other tools, this subscription adds the option to set operating hours and agent groups to route chats from different users to specific agents. Chat ratings let you find out how satisfied visitors are with their experience. You will also be able to access data reports and analytics exports.
Chatra Support
Chatra chat operating hours are Monday to Friday between 3:00 am and 4:00 pm EST. The company provides both email and chats support, so we tested out both to find out how well they do.
First, we contacted the team via live chat with an inquiry about the Chatra pricing plans. The support agent, Vlad, got in touch with us immediately, providing detailed information about the plans, pricing structure, and features available in each subscription.
Vlad also told us about the 10-day free trial period, so we signed up and tested all the Pro features.
We also asked whether the chatbot function is available in the free plan and whether Chatra is HIPAA-compliant. Unfortunately, the answer to both was no.
Still, in terms of customer service, Chatra's performance was flawless.
Ease of Use
When we tested the software as part of our Chatra chat review process, we were very impressed by the simplicity of the solution.
The company's main claim to fame is its ease of use. It's basically a plug-and-play widget for your website, so it's effortless to set up and you can get started right away.
Everything is designed to reduce the workload of agents and increase customer satisfaction.
Saved replies make responding to repetitive queries a breeze.
Typing indicators show you what your visitors are saying even before they send the message. The intelligent chatbotanswers instantly and even approaches visitors actively.
And if you come across any issues, you don't have to worry.
The competence of the support team is one of the most commonly praised aspects of the service. For example, one user left a comment about Chatra on Reddit to underline the availability and usefulness of the reps.
Still, the software is super intuitive, so you probably won't even need to contact them.
If you own a growing business that needs easy-to-use website chat software, Chatra may very well be the perfect solution for you.
Chatra User Reviews
To get a feel of what other people think about the platform, we read through all the Chatra reviews we could find online.
Its reputation is nearly impeccable.
Although there isn't a dedicated channel or even a full Chatra review on Reddit, some users still mention the platform, praising its ease-of-use, polished UI, and fantastic client support.
Others are impressed by how fully functional the free plan is compared to other live chat solutions.
We also came across some complaints about occasional bugs and the fact that the Chatra mobile app is less functional than the web version.
Still, Chatra is an excellent piece of software and most customers seem to agree with us.
Is Chatra Worth It?
After testing the software through and through for this 2022 Chatra review, we can say without a doubt that it's one of the best live chat tools on the market.
It's useful, user-friendly, designed for easy agent application. It works seamlessly with any website—all you need to do is embed the website chat widget, and you're good to go.
You can also enjoy multiple advanced features like messenger mode, targeted chats, and a real-time visitor list—all made to help capture more leads and provide excellent customer support.
Last but not least, you can use the Chatra chat software from anywhere with the Android and iOS apps.
If you're still not sure whether it's worth it, you can test it without paying a dime with the free plan or the 10-day trial.
Chatra Alternatives
Chatra might be one of the best live chat software for website owners looking for an outstanding sales and support solution, but it is not the only one.
As part of our review, we took the liberty of evaluating some of the most notable Chatra competitors.
Chatra vs Pure Chat
The three most important factors in a live chat software comparison are price, features, and functionality.
Chatra comes out ahead in all three categories.
Chatra's pro plan is $23/agent/month and comes with all the trimmings, while Pure Chat's pro plan is $79 per month.
The Chatra chat also comes with more features, including a convenient chatbot that can automate customer service.
Chatra vs ChatBot
ChatBot lets you build multipurpose chatbots for your live chat widget, Facebook Messenger, and various other messaging apps. It's a little more sophisticated than the Chatra bot.
With ChatBot, you can build custom bots for specialized tasks like customer support, lead generation, offline support, and even recruitment.
Chatra's biggest advantage is that it's considerably cheaper.
Its intelligent bot comes with a package built for small to emerging companies, so pricing might be a significant factor in the decision-making process.
Chatra vs HubSpot
HubSpot's main claim to fame is that it is a full-service platform that comes equipped with sales, service, CRM, and helpdesk tools, plus a built-in ticketing system.
That also explains why it's a bit pricier than Chatra. However, if you want an all-in-one platform that acts as your single point of contact, HubSpot is worth paying for.
If you want a free chat software, Hubspot Live Chat ticks that particular box.
Chatra partially makes up for this difference with integrations like Help Scout, a simple and easy-to-use helpdesk platform, and amoCRM, a messenger-based sales company.
That said, the two platforms have some fundamental differences.
Chatra is more suitable for small-to-medium businesses, while HubSpot is an excellent platform for large enterprises.
Final Verdict
Chatra is undoubtedly one of the top web chat platforms on the market. It can help you increase sales and provide excellent customer service.
If you're looking for a well-designed and easy-to-use live chat platform that helps minimize the cost and workload of customer support, Chatra is the right choice for you.
We hope this Chatra review helped you make up your mind and decide which is the right live chat software for you.
FAQ
Chatra is a very convenient live chat solution made for providing effective customer support and increasing conversion rates.
You can manage messages from one convenient place, monitor visitors on your website, contact them proactively, and much more.
It's the best way to keep your business ticking by ensuring your customers get high-quality service.
Yes, it does. You can download the mobile Chatra chat app for Android and iOS.
How much does Chatra cost?
Chatra has a 10-day free trial and a completely free plan. The cost of its paid packages starts from $15/agent/month.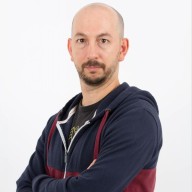 Nick Galov
Unaware that life beyond the internet exists, Nick is poking servers and control panels, playing with WordPress add-ons, and helping people get the hosting that suits them.
Leave your comment
Your email address will not be published.