Chaport Review—Looking for Sleek Live Chat Software?
The Chaport live website chat software allows you to unify your online support channels and boost customer satisfaction. At the same time, the chatbot enables you to capture more leads and streamline communication by automating customer service. Keep reading this Chaport review to learn what else you can do with this tool.
Mobile apps:
Android / iOS
Key features:
Free plan, ease of use, detailed visitor info, dedicated account manager, custom bots
Visit Website
Best for:
STARTUP COMPANIES
Strengths
Free plan

Custom bots

Multilingual chat widget

Dedicated account manager
Limited free plan

Basic customization

Rudimentary Chatport mobile app
The era of one-to-many communication methods is far gone. Customers prefer instantaneous, personalized service.
Fast, efficient, and convenient, live chat has become the new norm in customer service. It can improve the support experience, boost agent efficiency, and even increase online sales.
One of the best live chat software on the market right now is Chaport. It's a sleek, multi-channel live chat software with chatbot capability, tons of robust features, and numerous positive Chaport reviews online.
But is it really that good?
We tested it through and through to find the answer to that question.
Read on to see what we discovered.
What Is Chaport Chat?
Chaport is multichannel live chat software for website pages built to bring companies and clients closer together.
It helps businesses engage with website visitors, get more qualified leads, increase sales, and improve customer support.
Interface
Chaport has an incredibly sleek chat interface akin to Facebook Messenger.
The operator interface, which acts as the single point of contact, is extremely intuitive. This means that new agents can get used to it quickly, speeding up the training process.
It's separated into three columns. The left one contains the chat history. You can toggle between chats, operators, reports, and settings at the bottom of the page.
The middle one displays the conversation with the web visitor. At the top-right of this column, you have the option to transfer the chat, bring in another agent if you need help, or ban the user.
The right-hand column contains visitor info—email, phone number, language, location, etc.
Chaport Features
Chaport provides all the features you need to improve user experience, provide better support, increase sales, and so much more.
Live Chat
Chaport's live chat functionality lets you add a widget to your website and talk to visitors in real-time.
You can initiate conversations with your customers using Auto Invitations—automatic pop-up messages—and put an end to the days of passive communication.
Typing insights lets you see what your website visitors are writing even before they hit send, reducing operator response time and optimizing support.
Group chats allow you to collaborate with your team members, effortlessly transfer chats to a colleague, or view other conversations in real-time.
Other Chaport chat app tools worth mentioning include pre-chat forms. With them, you can request the name, email, phone number, and any other important info from the user before beginning a chat.
You can leave the live chat in messenger mode when you're offline, displaying an automatic message. You can also reply to customers after they leave the website via email.
Chatbots
Among the most notable Chaport features and a very recent addition to its offering, the software allows you to create chatbots.
The bots are easy to make. Chaport has a user-friendly scenario builder that lets you generate responses based on triggers with zero coding required.
This feature, paired with the live chat, can do wonders for your sales and customer support.
You can initiate conversations and collect customer info automatically to generate more leads, offer instant 24/7 support, so you never miss a single query, and auto-reply to FAQs to reduce the workload on your operators.
Canned Responses
Canned responses (or Saved replies, as they're called in the ​​Chaport chat app) are handy tools that let you create templates of standard replies to frequently asked questions.
A good catalog of predefined answers can go a long way in making your support team more efficient. You can solve common problems with little-to-no human interaction.
This frees up your agents from the grunt work of tedious chats so they can focus on more complex issues.
Offline Mode
Many organizations lose clients as questions fall through the cracks. Chaport ensures you're providing the best support to your customers even during your downtime.
When you're offline, the ​​Chaport chat app goes into messenger mode. This means that website visitors can still contact you while you're offline. But when you see the message and respond via live chat, customers will receive the notification on their email.
With this functionality, you won't miss a single chat and all your customers will be attended.
Team Management
Chaport has a few management tools you can use to ensure your team is firing on all cylinders.
The standard operator rules let you assign roles with specific permissions and functions to team members. That way, people won't step on each other's toes and everyone will know exactly what they need to do.
For example, supervisors can train junior operators, join chats when they need to troubleshoot issues, and give advice.
Another handy function is that Chaport reviews all unanswered chats and transfers them to "unassigned" agents.
Finally, Chaport uses round-robin chat allocation, which means new chats are equally distributed between agents to balance the workload.
Analytics
Chaport provides valuable insights in its report, like the volume of incoming, served, and missed chats—overall or per agent.
You can get operator working time reports to track your agents' efficiency analytics. That way, you can see how much time your agents are spending in the live chat, how long they're talking to visitors, and even whether they're using the desktop application or the mobile application.
With these tools, you can identify the areas of improvement in your team, provide better support, and boost conversion rates.
Chaport Integrations
Chaport has some excellent integrations to help streamline your workflow and deliver the best customer experience possible. These include Chaport for WordPress, Facebook, Viber, and others.
Let's take a closer look at a few more examples.
Zapier
Zapier is an online automation tool that gives you access to 2,000+ apps without a single line of code. It allows you to add Chaport to Slack, Facebook Messenger, Microsoft Office 365, and many more.
Google Analytics
The integration with Google Analytics allows you to monitor the interaction between web visitors and your website chat widget. You can use these insights to build a model of user behavior and improve your communication with them.
Telegram
This integration allows you to connect your Telegram bot to your Chaport live chat and respond to customer queries in the Chaport inbox.
Chaport Pricing
Chaport has a transparent and straightforward pricing system. In addition to a free plan, it has three paid plans.
Pricing Plans
Chaport Support
You can contact the Chaport customer service team via email and live chat.
Thanks to the chatbot, support is available 24/7. If it can't connect you to an agent, it will refer you to an article from the knowledge base to help you with the issue.
Chaport introduced its chatbot function in March 2022, so we contacted them via live chat to find out more about it.
The agent we spoke to, Steve, responded almost immediately in an amiable and helpful manner. He answered all our questions and directed us to a few articles about chatbots and how to build them.
The whole experience was seamless and hassle-free. No wonder so many users praise its exceptional customer support in their Chaport reviews.
Ease of Use
The ease of use of the software is another common point of praise in Chaport reviews. The straightforward implementation and simple agent application are also a big draw.
The setup is really simple, making the process seamless from the very beginning. Chaport doesn't offer any demo videos, but it has a rich knowledge base.
The detailed articles break down the whole process step-by-step—from creating an account and installing the chat widget to customizing it and setting up auto-invitations.
Chaport User Reviews
To get a feel of what other customers think about the platform, we looked through numerous review sites.
The company receives consistently high ratings on user feedback websites like G2, Capterra, and GetApp.
The majority of positive Chaport reviews include praise about the easy setup and use of the platform and the fact that it has a free plan. Complaints are rare and are usually minor nitpicks about the software's functionality.
Although we couldn't find a full dedicated Chaport review on Reddit, users occasionally mention it in comments and comparisons. For example, one customer highlighted that its simple functionality and customizability make it the ideal customer service platform for small-to-growing companies.
Is Chaport Worth It?
Chaport is undoubtedly one of the best chat programs on the market. It is beautifully designed, affordably priced premium live chat software that helps companies communicate better with their customers.
During our 2022 Chaport review process, we were highly impressed by its quality features, multi-channel support capability, lead generation tools, and custom bots for semi-advanced automation.
The platform's scenario-based trigger system chatbot might be superior to some Chaport competitors that work with AI or pre-defined templates, but it still gets the job done.
Overall, the platform is sleek, easy to use, affordably priced, and has a free plan if you want to try it out without commitment.
Chaport Alternatives
Chaport is one of the top live chat platforms on the market. But despite its incredible offering, it has some fierce competitors to contend with.
As part of our Chaport review, we evaluated some of its competitors to give you a broader choice.
Chaport vs Live Chat
We took three things into consideration in this live chat software comparison—pricing, features, and functionality.
Chaport has a free plan, while LiveChat is more expensive overall.
With the higher price, however, come more features. LiveChat offers perks like lead scoring and lead management, phone support, webinars, and demo videos.
On top of being live chat software, LiveChat also has a helpdesk ticketing system, giving users additional functionality in a single platform.
Chaport vs ChatBot
Chaport's chatbot functionality is relatively new and is more of a trigger-based response tool.
ChatBot, on the contrary, has a full-on AI chatbot based on machine learning and Natural Language Processing (NLP), which can interpret and mimic human speech.
This is like comparing a Tesla with a Prius—both get the job done, but one of them comes with more bells and whistles.
Those bells and whistles, however, will cost you at least $50/month. With Chaport, the custom bots come with the Business plan, which costs $23/operator/month.
Chaport vs HubSpot
These two platforms match up pretty closely.
The HubSpot Service Hub is the most similar to Chaport product in the HubSpot suite.
Service Hub offers all the tools that Chaport has—live chat, website traffic monitoring, and user roles. On top of that, Service Hub has ticketing, contact management, and a team email—all this, available in the free plan.
The HubSpot live chat solution is also completely free.
You can use it to qualify leads, provide 24/7 customer support scale conversations.
Even though Chaport also has a free plan, the chatbot functionality is only available with the Business plan and upwards.
If you're looking to tinker around with an excellent customer-communication tool for free, then HubSpot is a great option.
Final Verdict
For this Chaport review, we tested the platform thoroughly, read the plethora of user feedback online, contacted support, and identified the platform's strengths and weaknesses.
All in all, Chaport is a fantastic live chat platform with advanced features, robust tools, and an attractive design. It's affordably priced and even has a comprehensive free solution.
The software ensures better communication, faster resolution of queries, and increased agent efficiency.
FAQ
Does Chaport have an app?
Yes, it does. The Chaport mobile app is available for Android and iOS. The desktop app works on both macOS and Windows devices.
What are the top alternatives for Chaport?
Chaport is an excellent live chat platform, but it has fierce competition in the face of Live Chat, HubSpot, and Chabot.
For a more detailed comparison between these solutions, visit the Alternative section of this Chaport review above.
Yes, it is. Chaport has consistently high ratings on sites like G2, Capterra, and GetApp, boasting numerous positive Chaport reviews by users.
Its live chat and chatbot functionalities can help improve your communication with customers and the efficiency of your support team.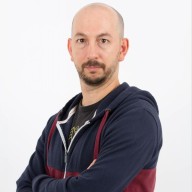 Nick Galov
Unaware that life beyond the internet exists, Nick is poking servers and control panels, playing with WordPress add-ons, and helping people get the hosting that suits them.
Leave your comment
Your email address will not be published.