iPage is a fast, nimble hosting provider that can accommodate the needs of many. Check out the details in the review below!
WORKS ON:
Linux
WordPress
Hosting options:
Shared, VPS, dedicated, website builder, email hosting | MySQL
Host with iPage
Best for:
Blazing fast TTFB & decent uptime
Strengths
Website builder

Free domain

Free SSL
Unreliable support

Hefty charge for backup
iPage is a somewhat peculiar web hosting provider. With a single shared plan, the company believes that one size can fit all needs. This makes it somewhat difficult to make a direct comparison iPage vs. Bluehost or between iPage and other hosting providers, but the numbers are telling all the same.
I purchased its hosting package, created a default WordPress site on it, and connected it to powerful monitoring tools. Constant observation and regular benchmark testing are the only way to create an iPage review full of valuable information yet free of personal bias.
What Is iPage?
iPage is a website hosting provider that specializes in shared hosting. Managed iPage WordPress plans were also added to the portfolio some time ago. The company has dedicated and VPS services too, but they are hardly advertised.
iPage is owned by the gigantic EIG, an international conglomerate that controls a huge portion of the hosting market. EIG continues expanding and constantly adds new names to its already long portfolio.
Under EIG, iPage continues to grow as well.
I am not that big a fan of EIG because its record is questionable. Mostly because profit seems to be the main goal of Endurance, it ruins many of the companies it acquires.
Not that they go bankrupt, but their services deteriorate. Soon after EIG acquired HostGator back in 2012, the company experienced the worst outage in its history. Bluehost has a similar story.
But I prefer to judge a company by the numbers my monitoring tools report and not according to personal bias.
This is exactly what I am going to do in this detailed iPage hosting review.
The Essentials – iPage Uptime, Speed, Support
Uptime and speed are the two major factors that determine host ranking here at Web Tribunal. The support contributes heavily as well.
1. Excellent Uptime – 99.97%
Uptime is one of the two most important aspects of web hosting.
iPage promises that its services will be available 99.9% of the time and manages to live up to it.
The first thing I did after I received my iPage login credentials was to install WordPress. Right after that, I connected it to a StatusCake monitoring tool that checks the availability of my iPage site every 5 minutes, pinging it from three different servers.
We are entering the fourth year of constant uptime monitoring, and iPage performs with remarkable stability, albeit it doesn't quite hit the set target. The promised uptime has been delivered occasionally, but after four years of testing, there is room for improvement.
Average Uptime 2018 – 99.95%
Average Uptime 2019 - 99.97%

Average Uptime 2020 - 99.97%

Average Uptime 2021 - 99.98%
Verdict: iPage fails to deliver the promised stability.
2. The Best Good Speed
Fastest Response Time – 0.17s (1st)
Reasonable Loaded Time – 1.01s (8th)
Fastest Under Load – 0.12s (1st)
Note: If you run speed tests on my domain, results might fluctuate a bit. Even from the same testing platform, two tests would normally display slightly different results. My iPage site is hosted in Boston, so I tested it from US locations. All plugins and server-side caching were disabled.
Speed is a decisive factor online.
As long as your site is up for a reasonable amount of time (anything upward of 99% is passable), speed and page responsiveness affect user experience and search engine rating the most.
iPage might have a single shared hosting plan, but it proves its worth where it matters most. The average time it takes for my small WordPress to load hovers around 1 second, which is very fast (but not the fastest), while the initial server response takes less than 0.2 seconds on average.
Better yet, under load the iPage shared solution is superb!
50 virtual users who generated well over 250 connections to the server managed to "slow it" down to 0.135 seconds. That's the fastest time I have measured!
Only SiteGround comes close to this result, and the premium WordPress hosts WP Engine and Kinsta manages to better it.
| | | | | |
| --- | --- | --- | --- | --- |
| | 2018 | 2019 | 2020 | 2021 |
| Average response time | 0.17s | 0.16s | 0.17s | 0.18s |
| Fully loaded page | 0.87s | 1.09s | 0.99s | 1.03s |
| Response under load | 0.13s | 0.12s | 0.12s | 0.13s |
Verdict: Very fast and durable service.
3. Unreliable Support
Outside of the technical side of things, the support users receive is absolutely crucial.
The technicians who receive phone calls in the middle of the night and who answer emails around the clock are the face of the company.
Customer service must be excellent in all regards: knowledge, communication skills, willingness to help, and availability.
The iPage agents I chatted with were available but not very willing to help. My experience coincided to a degree with what many iPage reviews by end-users are complaining about.
Right after my iPage service was activated, I associated (or mapped, as is the right term) the hosting plan with the domain name I had prepared for this review. I went to my Namecheap control panel and put the iPage nameservers as default.
iPage has an automatic installer, but whenever I was going through it, the installer was allowing me to work only with the default iPage subdomain for my account and not with my real domain. The hosting for my actual domain was not present in the installer.
I had to contact support three times to get this thing sorted. The first two agents were adamant that my website was missing because the nameservers were still propagating.
That was wrong information on several levels, but they were so certain in their meaningless answer that didn't want to check anything else to help resolve the issue.
On the third time of asking, the agent realized right away that my hosting product is practically missing from the WordPress installer and went to check what was happening. Turned out the DNS zone had not been created automatically on the backend; he added it manually, and the issue was resolved.
On the other hand, the knowledge page is quite decent.
Verdict: The iPage support has to do much better to compete with the best.
The Pros of iPage
iPage is a popular web hosting service provider for reasons that stretch beyond skillful marketing.
Admittedly, seeing a single shared hosting plan feels very odd, but the company pours enough resources into it so it stands its ground against competitors with more diverse offerings.
1. One Plan to Rule Them All
I have no idea who came up with the unorthodox idea to offer a single shared hosting plan, but it has a certain appeal.
At the very least, one plan simplifies things and removes any brooding over what to choose. This is in line with the general feel of iPage; it seems that the company is aimed at non-technical people who want simple solutions.
For just $1.99 per month, you can enjoy many resources and a reasonable number of technologies for a solid online presence.
2. Free Domain Name Registration
Each new account comes with a complimentary iPage domain registration. That's a nice way to get a web hosting service for less than $20 for the first year.
The renewal of the domain is paid for, but that's fine, as you still save on the initial registration fee.
3. Free SSL
The Let's Encrypt initiative changed the hosting scenery in a very positive way. By providing free, automated SSL certificates, Let's Encrypt makes the entire web a more secure and better place.
I make my detailed reviews hoping to contribute to the betterment of the world web ever so slightly, and such awesome projects make me happy.
Let's Encrypt will make happy any prospective iPage clients, as Let's Encrypt SSL certificates are provided to all hosted sites.
4. Free Website Builders
iPage might have only one hosting plan, but it has two website-building platforms. No need to explain to me how weird this is, I am well aware.
Then again, with potentially unlimited domains hosted with iPage, you might want to try different things.
Website Builder and Weebly provide site-building solutions for free to iPage clients. Both are decent site builders. My personal preference leans strongly toward Weebly, but I must admit that I am biased here simply because I know Weebly much better than Website Builder.
Anyhow, the point of the matter is that iPage puts in your hands powerful creative tools which can shape your online space brilliantly. No coding or technical skill is required. In fact, both site builders are easier to use than WordPress.
Other than a minor branding change, iPage Website Builder and iPage Weebly are practically no different from the original site building platforms.
The Cons of iPage
An iPage review cannot be exhaustive without mentioning some of the downsides of the company.
Were the reviews at Hosting Tribunal based solely on uptime and speed, then iPage would have easily ranked among the top web hosting providers. However, our detailed analyses don't rely only on benchmarks.
Thorough research also plays its part, so I checked several iPage reviews 2022 has generated so far. Most of the iPage complaints were about the renewal fees. For me, they are not so shocking because this is a fairly common practice in the industry, but there are other areas in which iPage disappoints.
1. Hefty Restoration Fee
iPage creates automatic backups of every site. Copies of the past two weeks are kept at all times; all databases are backed up for the last three days.
Sounds very nice, indeed, until you actually have to use a backup. It can cost you as much as $150.
To say that this price is high would be a gross understatement. It is outright insane and borderline immoral. I was shocked to see how few iPage reviews submitted by users don't mention this fact at all.
By requesting such a high fee, iPage essentially keeps your files hostage.
2. Expensive Site Migration
iPage migrates sites from other hosting providers. However, again, the price is quite scary because $150 per site is a whole lot.
The thing is that if you want to move your site manually from another hosting provider that uses, say, cPanel, you might find it technically challenging. iPage uses vDeck Control Panel. Visually, its design may resemble cPanel, but the backend is not the same, which makes any transfer a tough proposition.
Of course, for $150, you can get things set up without much hassle.
You must be wondering by now how much iPage really costs.
I know I am.
3. Non-native Support
Any online customer service can be rated based on knowledge, communication skills, willingness to help, and availability. I already mentioned the questionable work ethics of the iPage support team.
Well, their communication skills are also below par, which made understanding the level of their knowledge very difficult. I've heard stories that EIG moves the service departments of newly acquired hosting providers overseas, and it seems that iPage-India is a rather malfunctioning reality already.
I was asking relatively simple questions about the service offered and had to reiterate them several times before getting a clear answer.
Frustrating
4. vDeck Control Panel
I must admit that I quite like the iPage control panel. vDeck is uncluttered and easy to navigate and resembles cPanel visually. In general, it is a decent cPanel alternative, but it certainly lacks its tremendous functionality.
Even though most basic tools are there – file management, iPage email setup – many things are missing.
It is OK for basic usage or for users who want to utilize mainly the iPage website builder solutions, but slightly more experienced webmasters will find it very lightweight.
iPage Shared Plan at a Glance
iPage has a single shared hosting plan to offer.
For only $1.99 at first, then $7.99 (prepaid for three full years), you can have unlimited sites, hosted on unlimited space, using unlimited bandwidth. Of course, other than human stupidity and the universe nothing is truly unlimited, so you must stay within the terms of service to enjoy these things fully. Limitlessly, if you will. Still, you get email addresses, several scripts, Mojo Marketplace, and a couple of decent site builders.
| | | |
| --- | --- | --- |
| Bandwidth: | Unlimited | |
| Storage: | Unlimited | |
| Email: | Free | |
| Database: | MySQL, unlimited | |
| Domain names: | One free domain name registration | |
| Control panel: | Custom iPage control panel | |
| Software installation: | A few apps, limited choice | |
| Migration: | $150 per site | |
| Payment options: | Credit and debit cards, PayPal | |
| Account setup: | Quick account activation | |
| Upsells: | Quite a few. I think it is possible to make an iPage vs GoDaddy review that counts the unnecessary services each company vigorously promotes; a possible second part can compare the necessary, core features each of these hosts charges for. (My intuition tells me GoDaddy will win the first contest, while iPage will nick the second.) | |
| User reviews: | Mixed | |
Do We Recommend iPage?
It is a tough and maybe somewhat controversial call, but I can't wholeheartedly recommend iPage.
Despite the decent performance, the overall offering of the company is shabby.
iPage, just like many other hosts under the EIG umbrella, attracts new customers with very tempting offers for the initial period of service, only to raise the price four times (at least) upon renewal. This is unjustified because the hosting package is OK-ish but nothing spectacular.
It lacks basic services like backup and restoration. I mean, they are there but are very expensive. I doubt that even the best iPage coupon can offset this fact.
Add to that the questionable support, and things become even bleaker.
Indeed, the company offers access to a couple of decent site builders, but this iPage review is about the company's hosting solutions and not about Weebly and Website Builder. Besides, if you are planning to use a website-building platform, you'll be much better off signing up directly with the service provider instead of going through iPage.
If you want to secure quality, check out some of our top website hosting reviews.
iPage at a Glance
| | |
| --- | --- |
| Support | Quick support, but sometimes the agents struggle with the English language and are not always very willing to help. |
| Knowledge base | A decent knowledge base. |
| Shared hosting plans | iPage has a single shared hosting plan. |
| Control panel | vDeck. |
| Number of hosted domains | Unlimited. |
| Number of databases | Unlimited. |
| Email | Unlimited. Integration with G Suite. |
| Backups and restoration | Automatic file backups for the last 14 days and database backups for the last 3 days. There is a big restoration fee. |
| Storage | Unlimited. |
| Bandwidth | Unlimited. |
| Technology | Performance load-balanced servers. I am not quite sure either what exactly it means and am too weary to try the support team right now. |
| Security | There is not much to mention. Remember to log out of your iPage account because it doesn't terminate inactive user sessions. |
| Domain name registration | A free domain name registration. |
| Site migration | $150 per migrated site. |
| Website builder | Weebly and Website Builder available. |
| Ecommerce | Ecwid Online Store available for an additional fee. |
| Specialized hosting | Specialized WordPress hosting. |
| Windows hosting | No. |
| Data centers | One data center located in Boston, USA, and one in Waltham, USA. |
| Uptime | 99.9% guarantee. |
| Speed | Very good speed. |
| Pricing | Very affordable when prepaid. |
| Pricing structure | Prices go up when paying for shorter billing periods and upon renewal. |
| Guarantees | 30-day money-back guarantee. |
| Pro-rated refunds for early cancellation | Pro-rated refunds for early cancellation – No. |
| Freebies | Free domain registration, $200 worth of ad credits, free SSL. |
| Company website | Informative but full of promotions. |
| Company culture | Strong emphasis on marketing and promotion, not so much on transparency and technology. |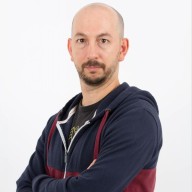 Nick Galov
Unaware that life beyond the internet exists, Nick is poking servers and control panels, playing with WordPress add-ons, and helping people get the hosting that suits them.