HostPapa is the leading website hosting provider for small business sites. Excellent support for many shopping carts and CMSs, fair pricing, and superb performance make it the front-runner for any online endeavor. Find out how it can benefit you in our thorough review!
Hosting options:
VPS, WordPress, reseller, managed share, online store, numerous apps | MySQL
Visit Website
Best for:
SMALL BUSINESS HOSTING
Strengths
+400 business-oriented apps

Drag-n-drop site builder

Advanced server caching

Dedicated server resources

Free SSL

Free domain name
Backups costs extra

Limited email storage
HostPapa is an award-winning host with services tailored to suit small business enterprises from all niches. On the surface, its hosting platform seems affordable and versatile, but does it live up to the hype?
I paid for the HostPapa shared service several months ago and began monitoring its performance through extensive benchmark testing, while recording its uptime through constant live monitoring.
I spent a few weeks assessing the host's reputation through the prism of expert and user reviews and also read carefully the terms of service and the features promised. The result is this detailed, unbiased HostPapa review which carefully examines all aspects of this hosting provider.
What Is HostPapa?
Hailing from Canada, HostPapa web hosting has its headquarters in Burlington, Ontario.
Founded back in 2006, this privately-owned company has been growing nicely and steadily. I've already commented how the drive to expand often destroys companies. The folk over at HostPapa seem to have a clear plan with a holistic approach that balances company growth with excellent infrastructure and great customer service.
Even though past events are not a very reliable predictor of the future, the HostPapa philosophy instills a sense of security and wholesomeness, which are scarce commodities.
These are not empty words.
I gathered hard-cold numbers to show for them and they agree with the majority of HostPapa reviews I checked.
Performce – HostPapa Uptime, Speed, and Support
Starting a HostPapa review with pricing and features without first checking its speed, uptime, and technical support would be an exercise in futility. If you can't deliver the essentials, no fancy tricks can put you among the best web hosting providers.
1. Uptime – 99.96%
HostPapa delivers what it promises: 99.9% availability.
I went carefully through the terms of service to see what happens if the uptime drops more but didn't see a word about compensation or refund.
Weird, right? Especially considering the fact that you can see this on the service guarantee page:
In any case, I ran this by the HostPapa support team. They assured me that any excessive downtime is recorded and reported accordingly to the billing team who would apply adequate reimbursement to anyone affected.
Now, according to my live monitoring tools my tiny little HostPapa WordPress site was offline for longer than expected in January and February and I didn't receive any discount or explanation from the company's billing team.
Admittedly, at the time I missed the chance to poke them and ask what is going on, so now I am eagerly anticipating the next time I will have the opportunity to see how they handle such cases.
Whatever their reaction might be, the fact that the ToS state nothing explicit about refunds and compensations doesn't bode well.
Average Uptime 2018 – 99.99%

Average Uptime 2019 – 99.91%

Average Uptime 2020 – 99.98%

Average Uptime 2021 - 99.96%
Verdict: HostPapa delivers the industry-standard 99.9% uptime but the reimbursement policy is a bit tricky.
2. Speed – The Fastest Shared Host
The Second Fastest Response Time – 0.20s (1st)
Excellent Load Time – 0.79s (1st)
Superb Under Stress – 0.20s (3d)
Note: If you run speed tests on my domain, results might fluctuate a bit. Even from the same testing platform, two consecutive tests normally display slightly different results. My HostPapa site is hosted in North America, so I tested it from US locations. All plugins and server-side caching were disabled.
Time-to-first-byte (TTFB) and fully loaded time matter a lot for SEO and end-user experience (which, by far and large, is the same thing). That's why I measure both carefully, through several benchmarking tools.
HostPapa impressed me with blazing fast speeds. My WordPress site constantly clocks in the fastest TTFB I've measured to date. 200 milliseconds on average is extremely low and beats comfortably InterServer and Hostinger, who record 0.23 seconds and 0.26 seconds, respectively.
The time it takes for the site to load fully so that users can interact with is also brief. In less than a second everything is displayed for the visitors to enjoy.
Not only this but the HostPapa shared hosting platform is capable of handling influxes of visitors and concurrent connection with remarkable ease. I sent 50 virtual users at the same time who opened nearly 300 requests toward the server and it responded to all of them within 0.20 seconds.
Blimey!
There were virtually no spikes or lag during this bombardment with simultaneous connections.
| | | | | |
| --- | --- | --- | --- | --- |
| | 2018 | 2019 | 2020 | 2021 |
| Average response time | 0.17s | 0.21s | 0.20s | 0.19s |
| Fully loaded page | 0.74s | 0.85s | 0.75s | 0.82s |
| Response under load | 0.21s | 0.20s | 0.20s | 0.21s |
Verdict: HostPapa is the fastest shared host on Hosting Tribunal when all three metrics are considered.
3. Great Support
I had a few pleasant exchanges with the HostPapa support team.
First off, I had difficulties finding out the exact limitations of each shared hosting plan. You see, HostPapa is another host that goes for marketing lingo that has no connections to the technical realities.
Even after expanding the plan details you can see classical nonsense like "unlimited SSD". This time around the terms of service specified to an extent what "unlimited" is supposed to mean but I wanted something more specific.
So, I chatted with a helpful support agent who was decent enough to admit that "unlimited in the real sense of the word" doesn't exist wherever and whenever servers are involved. Because, you know, web servers are nothing more than powerful computers that are bound to physical limitations.
The support agent also provided another link to the shared plans' details where the number of inodes per plan was specified.
That was useful.
Another great thing about HostPapa is the self-help center. The host has a large knowledge base with very useful guides. They are well-written and to-the-point; complete novices can follow the steps with ease.
Verdict: Very quick and friendly support together with an excellent knowledge base.
The Pros of HostPapa
HostPapa is one of the best web hosting services of 2022 for a number of good reasons. Its shared platform is versatile, affordable, secure, and powerful.
1. A Wide Variety of Hosting Options
HostPapa is the ideal hosting solution for small businesses of all sorts. Forums, wikis, shopping carts, CRMs, and galleries – you name it, HostPapa can host it and will host it well.
Admittedly, this is not unique to the Toronto-based web host as the likes of InMotion Hosting also cater to a large number of apps, but HostPapa takes it a step further. The host has plenty of dedicated resources to a great many apps.
New users can benefit greatly from the extended knowledge base, but the support team also has above-the-average knowledge of many of the products.
2. Excellent User Reviews
It is not easy for one person to review web hosting providers thoroughly and completely regardless of the amount of time and effort invested in the endeavor.
Luckily, people who have used the hosts for years share their positive and negative impressions, painting a more complete picture of the situation.
HostPapa is up there with Hostinger and FastComet as one of the web hosting providers with the best reviews. While not quite as unanimously praised, HostPapa user reviews sharing poor experience are few and far between.
3. Generous Plans
HostPapa is an affordable host that offers a lot even with the smallest plan. New users will find everything easily accessible, but experienced webmasters will find many things to like as well.
Custom cron jobs, RAID-10 redundancy, CDN, and many other perks are included across the board.
4. Free Migrations
That's always nice to see. The Toronto web hosting provider is ready to review and sanction the inbound migration of any cPanel account from another host. The support team would move over, free of charge, all emails, databases, and websites.
The only restriction is to apply for migration within 30 days after signing up for HostPapa. You can migrate over 50 cPanel accounts – even if they are with various providers – over to HostPapa for free.
5. Dedicated Resources
You may get tired of reading it as it features in all my website hosting reviews for 2022, but I won't get tired of repeating how good it is to have dedicated server resources. Because it is awesome and hugely important.
I already stated a few times how suitable HostPapa is for small business, but the truth is that the host can accommodate with ease the growing needs of an expanding company or e-store.
Each of its shared hosting plans promises certain server resources to its users and allows them to plan the future and to know what they are paying for.
6. Free Website Builder
HostPapa ticks all the boxes, indeed. The company supports an insane variety of website building solutions but also offers its own website builder.
It is a very intuitive tool that can help you establish an online presence within hours, even without any prior site-building experience. The interface is well laid out, the number of templates is more than satisfactory – over 120 – and the functionality is right there.
Admittedly, the drag-and-drop builder is not the fastest I've seen, but it is quite adequate all the same and doesn't hamper the site-building efforts significantly.
7. Website Building Help
If you want to use the website building opportunities of the company, you get a free consultation with one of its web design specialists.
It is a great opportunity to specify how you envision your online presence and let them build a site for you.
Now, this is not a free service, but it is very affordable and quick. I am not putting this service higher up the list of positives because I don't have personal experience with it and don't know what the end result is.
However, its mere presence is something noteworthy and can certainly help small business owners who actually must run their business and have no time or budget to waste on technicalities. Building websites takes some time and is often more expensive than anticipated.
8. Adequate Security
HostPapa touts its security measures and I must say that they are adequate. Were this my first review of web hosting companies, I'd be much more impressed with its security features, but the truth is that they are nothing extraordinary.
Still, HostPapa ticks all the boxes.
9. HostPapa WordPress Hosting
At first glance, the WP solution HostPapa offers looks suspiciously like the regular shared package. But upon closer inspection, you can find out that the WordPress plans come with Varnish and WP preinstalled, plus Jetpack.
HostPapa also promises to update your WP automatically, should you so desire.
Not bad, especially for that price.
10. Free Training
All new HostPapa customers are entitled to 30-minute consultation with the PapaSquad, who can help with the initial setup, general advice, or devising a specific strategy for taking the Web by storm.
In a sense, this is a glorified concierge service, which is an excellent thing in itself, but it can also become a very useful entrance in the world of hosting.
Talking to a specialist early on, when you are largely clueless, can serve as a rudder for the future.
11. Green Hosting Provider
HostPapa is one of the pioneers of renewable energy in the hosting industry. Dedicated to 100% green energy, the Toronto hosting provider takes a very sobering and socially responsible stance on the matter.
Data centers consume copious amounts of electricity; having them run on renewables is no mean feat.
12. Great User Reviews
HostPapa is highly-values by its customers. User reviews abound, they praise HostPapa's reliability, performance, and specialized application support.
The average score HostPapa garners is a comfortable 4-out-of-5 stars across several platforms.
The Cons of HostPapa
HostPapa does many things right. However, it is still growing and developing, and there are several aspects of the company's offer that undermine the generally positive impression.
1. Backups Cost Extra
Dead, taxes, and data loss are inevitable.
Having RAID-10 disk arrays is great, but if you have to pay for data recovery this greatness diminishes manifold.
Automatic backups are a fairly standard feature in most modern web hosting packages and, frankly, when hosts make you pay for such a basic service it grinds my nerves.
Most web hosting services reviewed here include automatic backups with (at least) weekly frequency, but HostPapa is not among them.
Only the users of its most expensive plan enjoy this feature, enhancing the feeling that the host considers it a super special premium service.
It is not.
Moving on.
2. Unclear Terms of Service
HostPapa promises 99.9% uptime but that promise feels hollow. There is no way to see the uptime of your site without relying on external tools; neither the HostPapa cPanel, nor its customer area indicates uptime.
And while such a feature is something of rarity – HostGator has it – practically all hosts that guarantee uptime mention what the compensation will be in case of a prolonged outage.
HostPapa doesn't specify what users who experience greater downtime will get, nor how it will be provided.
Honestly, this is a very baffling omission.
HostPapa Shared Hosting Plans
HostPapa plans come in three flavors. Even though the company caters mainly to small business websites, all packages are spacious, with resources aplenty, and a nice mix of basic and advanced features.
With the special offer for Web Tribunal readers, you can get a free domain and host it over 100GB of space or 150,000 inodes, running on 1GB of RAM and powered by a single CPU core. It is a very generous offer but pales in comparison to the next one.
The exclusive 80% discount for Web Tribunal readers can get you unlimited websites over unlimited SSD space on CloudLinux servers, and doubles the recourses of the Starter plan.
The Business Pro plan adds the advanced website builder plan into the mix, amps up the resources, and grants a wildcard SSL certificate, plus additional security features. Great deal all around!
| | |
| --- | --- |
| Bandwidth: | Unmetered across the board |
| Database: | MySQL, included in all plans |
| Domain names: | Free registration for all users who sign for at least a year |
| Control panel: | HostPapa cPanel, quick and responsive |
| Software installation: | Over 400 apps available |
| Migration: | Yes, within the first 30 days |
| Payment options: | Credit and debit cards, check |
| Account setup: | Quick and seamless |
| Upsells: | Almost none |
| HostPapa user reviews | Excellent |
Do We Recommend HostPapa?
A resounding YES!
I won't – can't – break away from the trend: HosPapa reviews are largely positive because the company provides a good service. As simple as that.
Very good speed and uptime are backed up by honest and helpful support team and that's enough to create a great service. Indeed, the company may lack some of the advanced features the likes of SiteGround and InMotion Hosting provide, but its shared packages are very well rounded.
So much so that I found it hard to list many negatives in my HostPapa review. Yes, the Toronto-based host doesn't have a truly global presence – no data centers around the world – but it has good connections, with localized hosting options, i.e. servers in data centers ran by others.
All in all, HostPapa is a top choice for users whose market is primarily in North America.
HostPapa at a Glance
| | |
| --- | --- |
| Support | Phone, chat, email, 24/7 |
| Knowledge base | Diverse and informative |
| Shared hosting plans | 3 shared hosting plans |
| Control panel | HostPapa cPanel |
| Number of hosted domains | 2 domains for the smallest plan, unlimited for the rest |
| Number of databases | 25 for the smallest, unlimited for the other two plans |
| Email | 100 for the Starter plan, unlimited for the rest. |
| Storage | Unlimited; only the smallest plan restricts the space to 100GB |
| Bandwidth | Unmetered |
| Technology | SSDs, dedicated resources, over 400 apps available |
| Security | Robust security suite |
| Domain name registration | Free domain with all plans |
| Site migration | Yes, within the first 30 days |
| Website builder | Intuitive and flexible site builder |
| Ecommerce | Free SSL included, many specialized ecommerce solutions supported |
| Specialized hosting | HostPapa has specialized WordPress hosting plans and support knowledgeable in many web technologies |
| Windows hosting | No |
| Data centers | Servers around the world |
| Uptime | Solid performance, 99.9% promise delivered |
| Speed | Very quick front- and back end |
| Pricing | Low introductory fees, reasonable hike upon renewal |
| Pricing structure | Prepaying reduces the cost per month. Renewal fees are about average in the industry. |
| Guarantees | 99% uptime is promised but there is no clear guarantee mentioned in the ToS |
| Pro-rated refunds for early cancellation | No |
| Freebies | Domain registration, SSL |
| Company website | Useful and informative, maybe slightly cluttered |
| Company culture | HostPapa is a Toronto-based host and like most things Canadian it projects a friendly, helpful, and green face. |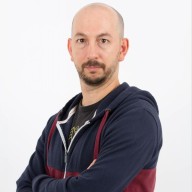 Nick Galov
Unaware that life beyond the internet exists, Nick is poking servers and control panels, playing with WordPress add-ons, and helping people get the hosting that suits them.