GoDaddy is a household name. One of the leaders in the hosting industry, this monster of a company has a massive market share and customer base. Check out whether it merits such position in the review below!
Hosting options:
WordPress, ecommerce, shared, VPS, business hosting, and dedicated servers with MySQL DBs
Check it out
Best for:
BEGINNER FRIENDLY HOSTING SOLUTIONS
Strengths
Free domain

GoDaddy website builder

eCommerce solutions

GoDaddy Payments
Slow support

Paid backup service

No migration service
GoDaddy is the real boss of the hosting industry.
It is the biggest domain name registrar and the largest hosting provider in the world.
Whether it is the best website hosting service remains to be seen in this unbiased GoDaddy hosting review.
I couldn't possibly bypass GoDaddy in my search for the best website hosting company. In order to improve the world of hosting as a whole through honest reviews and to-the-point feedback, I had to evaluate the pros and cons of the biggest host there is.
I purchased the Deluxe shared plan, created a default WordPress site, and hooked it up to several monitoring tools to measure its performance.
There are many GoDaddy hosting reviews out there, but none has the depth and the real data I collected over the course of months.
What Is GoDaddy?
If you live in the USA, you certainly know of GoDaddy, as this is a company that deploys aggressive marketing strategies of, occasionally, dubitable taste. Super Bowl commercials, often featuring celebrities and famous athletes, big sponsorship deals, and a host of controversies all contribute to GoDaddy's popularity.
The company was founded back in 1997 under the name Jomax Technologies and has been growing ever since. According to official data, GoDaddy employs over 6,000 people who cater to 17 million customers.
Most other hosts don't have that many domain names (and GoDaddy has 75 million of those, too.)
GoDaddy is massive.
However, large entities often struggle to stay relevant in a high-paced market where innovation and constant evolution are the main virtues.
Is this the case with this giant?
Is it able to keep its vast infrastructure up-to-date?
Can it realistically compete with the best website hosting providers and their advanced products?
I will let the numbers tell the story of GoDaddy in this unbiased, detailed review.
The Essentials – GoDaddy Uptime, Speed, Support
Uptime, speed, and quality support are the key components of a positive web hosting experience and are the main things to evaluate here, at the Hosting Tribunal.
1. Excellent Uptime – 99.99%
Uptime is the most important factor to consider in a new web host.
That's why the first thing I did after creating my GoDaddy test site was to connect it to my StatusCake monitoring account.
So far, uptime is impeccable, 99.99%. The monitoring time of two months is still too short to draw any major conclusions, but the beginning is very promising.
GoDaddy guarantees 99.9% overall uptime. This guarantee is backed up by a compensation policy that is comparatively meager. If the uptime drops below 99.9%, the end-user could receive credit equal to 5% of the monthly fee. That's it.
The actual length of an eventual downtime plays no role in the compensation.
Other hosts offer a full month of free hosting whenever the existing SLA is breached.
All this is a vain exercise theory-craft, however, as the GoDaddy server delivers the promised stability and then some.
Average Uptime 2018 - 99.99%
Average Uptime 2019 - 99.99%
Average Uptime 2020 - 99.98%
Average Uptime 2021 - 99.99%

Verdict: Superb uptime.
2. Questionable Speed
Average Response Time – 0.61s (13th)
Unimpressive Fully Loaded Time – 1.17s (12th)
Reasonable Under Load – 0.81s (8th)
Note: If you run speed tests on my domain, results might fluctuate a bit. Even from the same testing platform, two consecutive tests normally display slightly different results. My GoDaddy site is hosted in Arizona, so I tested it from US locations. All plugins and server-side caching were disabled.
Speed comes close second in importance. A sluggish site is a serious deterrent and many users would never even consider returning to a page that takes long to load.
I take special provisions in testing all hosts I analyze as various benchmarking tools often produce different results. In my effort to create unbiased and honest reviews, I take the average value of three tests.
When I tested GoDaddy, both the server response time (TTFB) and the time it took for the page to be loaded fully were impressive. The first byte was sent back in less than half a second, while the full rendition of the page took about 1.32 seconds.
This is a good speed for a small, basic site like mine, but compared to the likes of Scalahosting and Hostinger, I must say that the GoDaddy performance is mediocre.
Things were impressive when I put the GoDaddy server under some serious strain. It handled all ~150 requests 50 concurrent users sent its way with remarkable stability and consistency, providing quick responses throughout.
Based solely on uptime and speed, GoDaddy ranks in the bottom half of the best web hosting providers we monitor.
| | | | | |
| --- | --- | --- | --- | --- |
| | 2018 | 2019 | 2020 | 2021 |
| Average response time | 0.68s | 0.55s | 0.62s | 0.59s |
| Fully loaded page | 1.32s | 1.08s | 1.18s | 1.13s |
| Response under load | 0.69s | 0.88s | 0.79s | 0.73s |
Verdict: The speed is not terrible but could be much better.
3. Erratic Support and Outdated Knowledge Base
Speed and uptime are crucial, but technical support is another decisive factor that determines the quality of a web host.
I told you about the size of GoDaddy. The company is huge and its customer base immense. As a result, the support team must be numerous to meet the demand 24/7.
Training over a thousand people to provide top-quality technical support is not that easy, and GoDaddy doesn't do a particularly good job in this area.
It is true that in your hour of need you may receive very good answers and adequate support. However, it is equally likely to get nothing other than a growing frustration from inadequate knowledge and poorly prepared agents.
The lines are available in many languages 24/7, but the same cannot be said about the chat support. When I started this review, the chat was completely unavailable, i.e., there was no chat button whatsoever.
Now, a few days later, it is back online, but the chat support team is available only during business hours. I must say that this makes GoDaddy look amateurish.
The knowledge base also needs an update. While I was searching for my GoDaddy name servers (that are surprisingly well hidden), I had to resort to the knowledge base for guidance… only to realize that the steps provided have screenshots from an older version of the customer area. Useless.
Keeping a tidy and updated collection of guides and articles takes effort, but a respectable host must try hard. Especially when the support is available mostly over the phone and the lines tend to be busy.
Verdict: The GoDaddy support is barely adequate and the knowledge base is outdated.
The Pros of GoDaddy
GoDaddy continues expanding. And while a big portion of its success can be attributed to good marketing, the company offers reasonably well-rounded products.
1. Generous Plans
The introductory Economy shared hosting plan aside, GoDaddy provides nice packages that feature unlimited disk space and bandwidth. The RAM and CPU power allocated are not the greatest but are decent for a shared environment.
The only limit imposed on all plans is the number of files a user can have. It stands at 250,000, which is decent. Nevertheless, it is a limitation that will be felt by those with several medium-sized websites.
To clarify words, even though the sheer hosting space is not restricted, the amount of data you can upload to a GoDaddy server is.
If you read through the GoDaddy hosting plans (more on that later), you might be surprised by the number of features listed. Don't be, as practically all of them are standard features in any Linux shared hosting plan. Nothing wrong with that, as the standard cPanel features are robust and awesome, but it needed clarification.
You won't be getting anything unique, but the packages are sufficiently well-equipped to run modern content management systems without any trouble.
2. Neat Account Setup
Starting a site with GoDaddy is very easy, as the very account setup can walk you through a seamless WordPress installation.
You can have a basic WordPress site up and running minutes after the account is created.
This is what I did, and it was quick and pleasant.
Neat.
3. Free Website Builder
Over the years, GoDaddy develops its own website builder. Its latest iteration is called GoCentral.
I am a bit reluctant to list it under the advantages of the company, as it is a rather mediocre site building application, but it will do for people who want a basic internet presence.
Featured in all plans, GoCentral has a very streamlined creation process that allows you to make a website in minutes. Hailed as intuitive and easy to use by its creators, this site builder feels actually a bit restrictive and basic, but I've seen considerably worse and considerably more expensive website building tools.
4. Shiny Website
Thanks to its slick design, the GoDaddy website is easy to navigate.
Making a purchase based on the perceived adantages of the GoDaddy's products is rather simple and streamlined.
5. Good Deals
GoDaddy is notorious for its lucrative deals. Most of the time you can get ridiculously low starting packages.
I am talking about monthly fees of a single dollar here. It doesn't get much lower than that without crossing over into the territory of free hosting.
The best part is that low GoDaddy hosting prices can be found practically all the time, as the host has a very strong marketing team that knows well how to attract new customers.
The Cons of GoDaddy
Is GoDaddy a good hosting option?
At first, GoDaddy started as a domain name registrar that later expanded into all types of hosting services: website hosting, email hosting, site builder, online bookkeeping, and more.
It is just to say that the company tries to be a Jack of all trades but is certainly master of none, with domain registration being the possible exception.
I already mentioned that the support team is below par when compared with some of the best hosting providers.
Here are other major shortcomings of GoDaddy
1. Basic Hosting Solutions
GoDaddy offers a standard hosting product. There is nothing outstanding or particularly impressive in its Linux hosting package. Essentially, it has the default services of every cPanel hosting.
Now, if you are not looking for anything beyond a simple website, this might be good enough. Undoubtedly, in many cases, it is good enough as the likes of WordPress provide exceptional functionality with even the most barebones Linux setup.
Still, I expected more from a company that is the industry leader by merit of market share and is so vocal about its products.
2. Marketing Over Real Value
Tied to the previous point is the fact that GoDaddy relies heavily on strong marketing instead of on strong products.
The company advertises the numerous features its plans have, yet it charges for absolutely every single extra service. It is so money-hungry that even features found for free in practically all other web hosts don't exist or are paid.
Money-back guarantee? Non-existent.
Automatic backups? No. You can use the in-built cPanel function to back up your site and emails, but this has to be done manually. Additionally, nowhere on the plan details, you see a word about this possibility. The option to pay for the GoDaddy backup tool is quite prominent, though.
A free SSL? No, unless you fork out for the largest shared hosting plan. This one is a particularly big lapse as, all other things being equal, Google ranks sites with SSL higher than pages without a secure connection. That used to be a problem for small site owners, as SSL certificates weren't free, but projects like Let's Encrypt removed this hurdle.
As a result, mostly all good web hosting providers include free SSL in their plans.
Upsells? YES! From those, you get plenty. It is a bit ridiculous to be shoved suggested domain names every time you log into your customer area.
These are but a few instances of how GoDaddy attempts – successfully, for the most part, given its revenue – to charge for services that are quite essential and are largely available for free over at other hosts.
Once you sign up, you will also be getting regular promotional emails that will urge you to order products that are not strictly necessary.
3. No Migration Service
Migration? No. The terms of service state that it is a courtesy service that may or may not be rendered, but GoDaddy doesn't promise that your site will work once migrated.
Like, seriously?
Allow me to ask an interesting question here:
How much does it cost to host a site with GoDaddy?
If you have to migrate a site by yourself, lots of time and technical expertise.
4. Customer Area with Poor Navigation
GoDaddy touts itself as an easy-to-use host, suitable for absolute beginners.
While the company certainly knows how to sell products to inexperienced users, I cannot say that its customer area is particularly user-friendly.
Most of the product management functions are relatively easy to access, even though you must go through a drop-down menu to access them. That's odd as there is PLENTY of space for clearly laid-out navigation.
Things like simple domain management are made unnecessary obscure. The domain manager doesn't display automatically domain names that are registered elsewhere but are hosted with GoDaddy. You must actually type them in the search bar to get relevant information like which name servers to use.
Why this section is named "My Domains" is beyond me.
The easiest thing you can do through the customer portal is purchasing new products.
5. High Renewal Fees
I mentioned the fact that GoDaddy runs promotions practically all the time, and that you can score shared hosting for $1/mo. If lucky, you might even get a deal when you must renew the hosting package, but it is far likelier that you'll have to pay a hefty renewal price.
The Maximum package costs $24.99 (without tax) upon renewal, which is $10 more than the intro price. $24.99 is not the steepest fee (SiteGround charges $29.99), but for the included features the price is total overkill.
6. Company Culture
Now, this is not something I normally consider as an important factor when choosing a web host. As long as the servers are fast and stable, the support team knows their job and the price is reasonable, I couldn't care less what the company does.
However, GoDaddy is so humongous that it defines the entire hosting industry to a great extent. It is an aggressive player that acquires smaller web hosting service providers. On top of that, it has potent marketing that creates a strong brand image, and it is not always a positive one.
GoDaddy has played a central role in a handful of scandals throughout the years, with the company stance on SOPA being the most revealing one for me. The initial position of, again, the largest hosting provider and a domain registrar in the world was that SOPA is a good thing that should be enforced.
Coincidentally, SOPA would have shut down a handful of domain registrars, while GoDaddy would have enjoyed special, protected status.
To me, this is another evidence that GoDaddy is a company that chases nothing but profit, whatever the means and whatever the potential costs for the community as a whole might be. A stark contrast with the likes of SiteGround and InMotion Hosting who tend after their customers and provide a lot of resources that empower the end-users and make the internet a better place.
GoDaddy Shared Hosting Plans
GoDaddy has four shared hosting plans to choose from:
| | |
| --- | --- |
| Bandwidth: | Unmetered across the board |
| Storage: | Unlimited; only the Economy pack comes with a 100GB cap |
| Email: | Unlimited across the board |
| Database: | MySQL, included in all plans |
| Domain names: | Free domain registration is included in all plans |
| Control panel: | cPanel, fast and responsive |
| Software installation: | Softaculous 1-click installer |
| Migration: | No |
| Payment options: | Credit, debit, and gift cards, checking accounts |
| Account setup: | Quick |
| Upsells: | Yes, the most I have seen in any web hosting provider |
| User reviews: | Mixed |
Do We Recommend GoDaddy?
GoDaddy is an OK host, but there are much better options available.
The main downside of this hosting behemoth is the poor support team, but the aggressive marketing and the massive amount of upsells do it no favors either.
Its servers display excellent speed and reliability, but most of the best web hosting providers I review here can match them.
However important these two factors may be, they alone are not enough to put GoDaddy among the top 3 and even top 5 of the best hosts of 2022.
If you are after a simple website with few pages and limited functionality, GoDaddy may be a reasonable choice, especially if you manage to get a nice discount.
Otherwise, forget about this GoDaddy hosting review and check out more robust, affordable providers like Bluehost or HostPapa.
GoDaddy at A Glance
| | |
| --- | --- |
| Support | Only phone numbers available |
| Knowledge base | Knowledge base is OK but needs a serious update |
| Shared hosting plans | 4 shared hosting plans |
| Control panel | cPanel |
| Number of hosted domains | 1 domain for the smallest plan, unlimited for the rest |
| Number of databases | 10 for the smallest, 25 for the Economy pack, unlimited for the other two plans |
| Email | Unknown number of inboxes; their size is 250MB per email, 5GB in total |
| Backups and restoration | No automatic backups |
| Storage | Unlimited; only the smallest plan restricts the space to 100GB |
| Bandwidth | Unmetered |
| Technology | HDDs, standard Linux hosting technologies; over 125 apps available |
| Security | Pretty standard Linux stuff |
| Domain name registration | Cheap initial registration |
| Site migration | A courtesy service without any guarantees |
| Website builder | Basic website builder |
| Ecommerce | Not ideal as SSL is included only in the two biggest plans and the servers are not PCI compliant |
| Specialized hosting | GoDaddy has specialized WordPress hosting plans |
| Windows hosting | Available, 3 plans starting at $2.49/mo |
| Data centers | 9 data centers around the world |
| Uptime | Solid performance, 99.9% promise delivered |
| Speed | GoDaddy serves sites quickly, with response times slightly below average |
| Pricing | Very low introductory fees. |
| Pricing structure | Prepaying reduces the cost per month; renewal fees lean toward the expensive end of the spectrum. |
| Guarantees | If the uptime drops below 99.9% you can request a credit of 5% of the monthly hosting fee. No money-back guarantee! |
| Pro-rated refunds for early cancellation | No. |
| Freebies | Nothing worth mentioning. |
| Company website | The GoDaddy website could be less cluttered and with fewer products pushed in your face. |
| Company culture | GoDaddy is the largest web hosting company in existence. Throughout its history, the company has known many controversies but has remained the dominant player in the field. |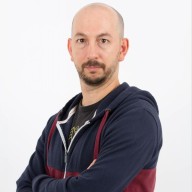 Nick Galov
Unaware that life beyond the internet exists, Nick is poking servers and control panels, playing with WordPress add-ons, and helping people get the hosting that suits them.