DreamHost is one of the most forward-forward thinking independent hosts. Powerful infrastructure, technically adept support, and strong drive toward innovation keep it at the top of the hosting industry. Find out what makes DreamHost so special in our data-driven review!
Hosting options:
Shared, VPS, cloud, and managed WordPress hosting, and dedicated servers | MySQL
Visit Website
Best for:
INNOTVATIVE & RELIABLE HOSTING SOLUTIONS
Strengths
Official WordPress host

97-Day Money Back Guarantee

Free backups

Free SSL

Free domain name
Few 1-Click Installs

Control panel lacks control
For this detailed DreamHost hosting review I purchased the larger of the two plans the company has to offer, created a default WordPress installation, and hooked it up to a number of monitoring tools.
Every month I check the performance of my DreamHost site and share with you the uptime and average speed of this official WordPress host. DreamHost can make you dream big.
These regular measurements are an essential part of my ongoing search for the best website hosting provider 2018 has to offer.
Here is what the numbers have to say about DreamHost and whether it is the best web host for your needs.
What Is DreamHost?
DreamHost is one of the oldest web hosting companies. Founded back in 1996, this veteran in the industry always ranks among the very best hosting providers.
Its support team receives awards all the time, and the list of products DreamHost has is long and detailed.
I was very pleasantly surprised by the general usefulness of Dreamhost.com. The site is uncluttered and easy to navigate, yet the information available is abundant and accessible. It is a trove of knowledge.
The company values dictate love toward anything and everything open-source; WordPress is the biggest beneficiary as DreamHost actively contributes to the vast community of this popular CMS.
Another pivotal thing in the DreamHost world is the investment in infrastructure and green hosting.
And while all these facts are commendable, the crux of the matter, as always, is how the DreamHost servers perform.
Impressively, as it turns out.
The Essentials – DreamHost Uptime, Speed, and Support
Speed, uptime, and adequate technical support is all you need to have a successful online presence. Let's see how DreamHost performs in these most crucial hosting categories.
1. Excellent Uptime – 99.99%
You know it, and I know it – uptime is the most important factor in determining the usefulness of any hosting service.
DreamHost certainly knows it too, as the company promises 100% uptime and manages to deliver, for the most part.
Typically, the best website hosting providers guarantee 99.9% uptime, but DreamHost is not afraid to promise the unthinkable. Such spectacular uptime is not an easy thing to achieve, but DreamHost has a very reliable infrastructure in place and is ready to compensate users for every hour of interruption. The terms of service state as much in a clear and unambiguous way.
So far, I have had no reason to check how quickly a compensation request is handled as my site with DreamHost is enjoying uninterrupted service for two months already.
| | | | | |
| --- | --- | --- | --- | --- |
| Year | 2018 | 2019 | 2020 | 2021 |
| Average Uptime | 100% | 99.96% | 99.99% | 99.99% |
Verdict: DreamHost records one of the most impressive uptimes I've seen.
2. Excellent Speed
Third Response Time – 0.19s (2nd)
Third Fully Loaded Time – 0.96s (6th)
Third Under Load – 0.30s (4th)
Note: If you run speed tests on my domain, results might fluctuate a bit. Even from the same testing platform two tests normally display slightly different results. My DreamHost site is hosted in Virginia, so I tested it from US locations. All plugins and server-side caching were disabled.
Online, it is the loading speed that makes the difference between the best and the rest. Slow sites, regardless of how informative, valuable, and well-designed they might be, see great abandonment rates. There is no way around it; with the high-speed internet of today, users expect responsive pages that load seamlessly across all devices.
DreamHost sites are fast.
If you decide to host your web page over at DrеаmHost, its speed will be guaranteed. Without any optimization
I am running constant checks on my DreamHost WordPress site and the results are consistently impressive. Among all providers I have reviewed so far, DreamHost is regularly in the top 3 of the fastest to respond and to load fully. I check its performance with three different tools and my basic WordPress site clocks in stellar results on all of them.
What is more, when put under load the DreamHost server handles the barrage of incoming requests with remarkable ease. Back in August, I sent 50 virtual users who generated 288 concurrent connections and the average response time was 0.249 seconds!
I was stunned by the display. So many simultaneous users generating that many connections to the server are more suitable for a virtual private server than a shared hosting plan, but here we are: the DreamHost shared environment handles the load without a hiccup.
| | | | | |
| --- | --- | --- | --- | --- |
| | 2018 | 2019 | 2020 | 2021 |
| Average response time | 0.26s | 0.19s | 0.16s | 0.17s |
| Fully loaded page | 0.76s | 1.05s | 0.96s | 0.83s |
| Response under load | 0.38s | 0.25s | 0.34s | 0.36s |
Vercit: DreamHost is the fastest shared hosting provider I have measured on this site.
3. Excellent Support
Given the benchmarks I've seen so far, it seems that DreamHost has talented system and network administrators. Blazing speed and high uptime are not conjured out of thin air. They are the result of hard work and excellent technical expertise applied to powerful hardware.
However, the techies most users deal with are frontline support. The people who answer the phone, man the chat, and reply to emails are the face of any shared web hosting company, as they interact with the customers the most.
I can tell you right away that DreamHost support is one of the fastest and most knowledgeable technical teams I've seen.
They are courteous and fast and extremely well-versed in all the intricacies of web hosting.
I chatted a few times with them and inevitably got prompt and informative answers. While not as upbeat as the likes of SiteGround, the DreamHost support agents are polite, calm, and attentive. Awesome support, indeed.
If you are curious to learn about hosting, however, you might never really need the help of a tech agent. DreamHost has a splendid knowledge base, a magnificent source of technical information presented in a very understandable manner.
It was a pleasure browsing through it to refresh my knowledge of Linux hosting.
Verdict: Stellar support team and one of the best knowledge bases I have seen.
The Pros of DreamHost
DreamHost is not the only hosting company with magnificent support, fast servers, and impeccable uptime. It may be the only one that empowers the end-user as much, though.
1. The Longest Money-Back Guarantee Available

Compared to the industry standard of 30 days, the DreamHost money-back guarantee is extremely generous.
30 days simply aren't enough to gauge properly how good a web host is. Especially if you are a new, inexperienced webmaster, the better part of the first month will go for setup tasks and barely any promotion. Even with a clear-cut strategy, proper SEO, and solid outreach you are unlikely to see much traffic in the first month.
I am clarifying this because a website behaves one way when it is browsed only by you and your mother – who probably doesn't stray much beyond the home page anyway – and quite different when it is visited by throngs of users. As more users pile on, as new subscribers are added to the database, as more sessions are handled in real-time you can truly see the mettle of a web host.
That's why the extra time to play with things and to test them properly is such an advantage.
DreamHost provides the longest money-back guarantee in the hosting world. Only A2 hosting can realistically compete with that thanks to its policy to offer prorated refunds for prepaid services that are canceled prematurely.
2. Optimized for WordPress
WordPress is the most popular website building platform. Nothing comes even close to its market penetration.
Together with SiteGround and BlueHost, DreamHost is one of the official WordPress hosts. The company has a very powerful managed WordPress hosting (DreamPress), but it also sports WordPress-optimized shared plans.
Among other things, every fresh WordPress installation comes with caching plugins configured for maximum performance. Out of curiosity, I ran a few speed tests (not published here) with the caching enabled and my DreamHost site loaded even faster.
If you intend to use WordPress, DreamHost is definitely among the top hosting providers and not only because of the extra-fast performance. The support team are WordPress experts, while the knowledge base is full of useful information about WordPress tricks and optimization techniques.
3. Transparent Pricing
DreamHost is a breath of fresh air.
So many hosts advertise extremely low introductory prices only to double or triple the fee upon service renewal.
In this regard, DreamHost is a very honest and transparent hosting provider. The moment you go to the plan details you can see how the fee changes: prepaying for one year or more brings the price down, but that's it.
There are no hidden fees, no surprising increases in pricing.
For comparison, the likes of HostGator and GoDaddy attract new clients with an extremely low fee for the initial period and then demand a considerably higher toll.
4. Easy Account Management
Unlike most other popular hosting providers, DreamHost uses a custom control panel (more on it below) that combines hosting management, domain registrations, and billing in one.
In you are a one-man army, such easy access to everything is a great convenience. Hosts that use cPanel (practically all other hosting companies reviewed here) have a dedicated customer area for billing and basic service management and then cPanel for the actual hosting-related operations.
DreamHost combines the two and enables very easy access delegation. The latter is important if you own multiple websites that are managed by different people.
But it gets even better: if you have VPS or dedicated server, you could use the very same control panel to manage them.
5. Free Backups
Digital data and backups must always go hand in hand. As the old saying goes, three things are certain: death, taxes, and loss of data.
DreamHost creates courtesy backups that stretch two weeks back in time. Accessing them directly through the control panel is very easy, even though the options are somewhat limited, as you can get only the newest, mid-range, and oldest available backups. You cannot choose a specific restoration date.
Still, it is much better than having no backups.
There is no restoration fee and the recovery process is very simple.
6. Numerous Technologies Supported
All shared hosting solutions have one intrinsic disadvantage called limited access. There is no way around it, really, because the resources of a single server have to be distributed among hundreds of users.
Without delving into technicalities, take my word that configuring properly such a machine is a complex balancing act between performance and security and, bluntly put, human idiocy.
As a result, many shared hosting platforms impose strict limitations on what scripts and technologies can be used upon them.
DreamHost is not the most generous in this regard, but its shared hosting platform still allows the use of many useful tools and applications.
A full list of what can run on the DreamHost servers can be found here.
7. Excellent Site Builder
Not that long ago DreamHost developed its own website building tool called Remixer.
I must admit that my experience with it is very limited, but from what I saw it is a very decent site builder, with a good variety of themes, very decent functionality, and reasonably lean coding. The latter is important to boost site speed and performance.
8. Free SSL
DreamHost partners up with Let's Encrypt to provide free SSL to all users. That's something we see more and more often, but I am still giddy with the widespread adoption of free secure certificates. Just a few years ago their fees were matching the price of annual hosting.
9. Transparent Website
DreamHost is one of the companies with a very user-friendly website. Information for just about anything is made easily accessible, both in terms of navigation and language.
Everything is explained in just enough detail without crossing over into upsells and glamorous promises.
The Cons of DreamHost
DreamHost is an excellent hosting provider, but it is far from perfect. There are a few shortcomings that prevent it from topping the rankings here at Hosting Tribunal.
1. Paid Migrations Exclusively for WordPress Sites
Generally, DreamHost doesn't provide migration services.
The only exception to the rule applies to WordPress installations moved toward DreamPress accounts, but the transfer of a single site will cost you $99.
Pricey.
The DreamHost self-help center has a relatively detailed article about how to do a manual migration. It covers all the steps for copying files, databases, and emails from one server to another, but that's about it.
On the surface, it seems like a reasonable guide, but the real issues start after the files have been copied over because migrating sites from one host to another (even if both use, say, cPanel) is much more complex than a copy-paste procedure. Usually, it involves a lot of manual tweaking and troubleshooting, even when the migrated sites are small.
2. Very Limited 1-click Installs
Mostly all popular website hosts use Softaculous to provide automatic, simple installation and configuration of tens and sometimes hundreds of commonly used applications. DreamHost grants access to only a handful.
Even popular content management systems like Drupal and Magento must be installed manually.
3. The Control Panel Lacks Certain Functionality
Earlier in this DreamHost review, I said a few good words about the customer control panel. Indeed, this quick and easy to navigate all-in-one solution has its merits but it also lacks certain functionality.
cPanel is the most widely adopted hosting control panel in the world because of its tremendous functionality and degree of control. Even the most inexperienced users can learn how to manage their files directly through the browser in minutes.
Over at DreamHost, the only way to access your files directly is through FTP. Not that this is a bad thing, as FTP clients tend to be faster and more secure than web browsers, but I find the lack of direct access rather odd.
Another thing missing is a WordPress login button. Many control panels either log you straight into the WordPress admin area with the click of a button or, at the very least, send you to the admin login page. Nothing of the sort is available at DreamHost.
Note that the second and third points are not real limitations. Technically savvy users will have no problem setting up the apps they need, and file access through FTP client is much more secure than through a browser.
Still, these are features that practically all of the best website hosting providers have by default, and the absence is worth mentioning.
DreamHost Plans at a Glance
DreamHost has only Linux shared hosting that comes in two sizes.
As the name suggests, this plan is suitable for people with little to no experience that want to host a single website. For $2.59/mo (if you prepay for three years) you get unlimited bandwidth and can enjoy the benefits of SSD hosting. Emails also are tossed in, together with a free SSL.
Again aptly named, the Unlimited plan comes with unlimited storage, databases, hosted websites, a free domain registration, and more.
Managed WordPress hosting that delivers access, optimization, and power to those who need it.
| | |
| --- | --- |
| Bandwidth: | Unlimited across the board. |
| Storage: | Unlimited for the bigger of the two plans. |
| Email: | Free across the board. |
| Database: | MySQL, included in both plans. |
| Domain names: | The bigger of the two plans includes a free domain name registration. |
| Control panel: | Custom DreamHost control panel. |
| Software installation: | Custom 1-click installer with limited apps. |
| Migration: | No migration service, sans a costly WordPress migration. |
| Payment options: | Credit and debit cards, PayPal, electronic checks. |
| Account setup: | Very quick account activation. |
| Upsells: | None whatsoever. |
| DreamHost user reviews: | Users appreciate DreamHost support and technical excellence. |
Do We Recommend DreamHost?
Without a sliver of a doubt, yes!
Thanks to its awesome technical support, speed, and reliability, DreamHost is an excellent website hosting provider.
The two shared hosting plans are very reasonably priced, and the badge of an official WordPress host is thoroughly deserved.
One potential drawback for some may be the custom DreamHost control panel, which is not as functional as cPanel and (potentially) asks for a slightly higher degree of technical aptitude. On the other hand, the DreamHost support and self-help center are superb and learning the essentials of hosting – FTP, basic WordPress management – is easy and will be always handy.
If you are looking for a quick and robust hosting solution that can accommodate the growing needs of any website, and WordPress in particular, look no further than DreamHost. It is a very solid choice.
DreamHost at a Glance
| | |
| --- | --- |
| Support | Very friendly and helpful support |
| Knowledge base | Excellent knowledge base, brimming with advice for novice and expert users alike |
| Shared hosting plans | DreamHost has only two shared hosting plans |
| Control panel | Custom DreamHost control panel that gives easy access to all sites under your account |
| Number of hosted domains | Single domain for the smaller plan, unlimited for the bigger |
| Number of databases | Unlimited |
| Email | Unlimited accounts, up to 2GB per mailbox |
| Backups and restoration | Backups from the last two weeks freely accessible. There is no restoration fee |
| Storage | Unlimited |
| Bandwidth | Unlimited |
| Technology | SSDs across the board, many technologies supported |
| Security | Highly secured data centers and a malware remover tool (paid) can keep your data safe |
| Domain name registration | Paid domain registration with the smaller shared plan and a free one with the bigger |
| Site migration | Paid inbound site migration only for WordPress sites |
| Website builder | Yes, a proprietary site building tool called Remixer |
| Ecommerce | The 1-click installer allows for several ecommerce tools, and the free SSL helps a lot |
| Specialized hosting | DreamHost is an official WordPress host, with a dedicated DreamPress service |
| Windows hosting | No |
| Data centers | Four data centers in the USA: Virginia, Oregon, and two in California |
| Uptime | DreamHost promises 100% uptime and compensations when the promise is broken |
| Speed | Spectacular speed |
| Pricing | Affordable plans when prepaid, no hidden fees |
| Pricing structure | Very simple and transparent, with prices going up when paying for a shorter period of time |
| Guarantees | 97-day money-back guarantee |
| Pro-rated refunds for early cancellation | No |
| Freebies | Let's Encrypt SSL |
| Company website | Lean and easy to navigate site where all information is easily retrieved |
| Company culture | Friendly experts with geeky attitude, DreamHost is a place where knowledge and technological excellence are valued above all else. |
| DreamHost user reviews | DreamHost enjoys overwhelmingly positive user reviews thanks to the quality of its infrastructure and support |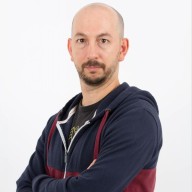 Nick Galov
Unaware that life beyond the internet exists, Nick is poking servers and control panels, playing with WordPress add-ons, and helping people get the hosting that suits them.
Leave your comment
Your email address will not be published.