Bluehost is one of the most famous website hosting providers. A leading force behind the open-source community, it quickly gained notoriety in its early days and now is returning back to its former glory.
Hosting options :
Shared, WordPress, VPS, hosting, plus dedicated servers | MySQL and PostgreSQL in all plans
Host with Bluehost
Strengths
99.99%

Quick hosting

Free Domain, SSL, and Weebly Builder

Recommended by WordPress

Discounts with 36-month plans
One domain only on basic plan
Bluehost is big and famous. It hosts millions of websites and provides the full gamma of hosting services, so it was a natural choice for one of the first entries here, at the Web Tribunal.
My mission to find the best website hosting provider could never be complete without checking out this popular host. In the past, I have created a couple of Bluehost reviews but while working on this one I realized that 2018 has been quite eventful for the company.
Things have changed over at the Bluehost: shared plans, Bluehost.com, and servers have been updated.
But is this change a natural evolution?
Is it a step toward improved service that can put the company in the talk about the best web hosts once again?
What Is Bluehost?
Founded in 2003 in Provo, Utah, Bluehost now manages over 2 million websites. That puts it firmly among the biggest web hosts in the world, and the ranking is no surprise.
This US hosting provider needed only five years to reach 1 million domain names. For comparison, Hostinger was founded just a year later, in 2004, and needed six years to that mark.
The impressive growth Bluehost enjoyed was a testimony of excellence, and in 2010 the giant EIG acquired the Utah-based website host.
Then the Bluehost problems began. The years that followed saw several major service interruptions that marred the Bluehost brand.
I checked the Bluehost Managed WordPress platform not that long time ago and was not impressed and thought to myself that this is just another EIG brand that is suffering the withering affliction of the acquisition. (My Bluehost WordPress review wasn't the most appraising one, to put it mildly.)
To my surprise, the numbers Bluehost clocked in for this detailed, honest review give many reasons for optimism.
So, is Bluehost a good host?
The Essentials – Bluehost Uptime, Speed, and Support
Speed and uptime are the foundation of any successful online presence, but in the long run, support is equally important.
1. Excellent Uptime – 99.99%
Uptime is the bread and butter of web hosting. Literally, anyone can host a website, even on a personal laptop; the challenge is to keep it online at all times.
Bluehost is one of the very few companies among the top website hosting providers that don't give an uptime guarantee. Every other host I have reviewed so far has a 99.9% uptime guarantee (even 100% in the case of Namecheap) but Bluehost doesn't mention anything to this effect on its website.
This struck me as a bit old school. A few years ago nobody was giving uptime guarantees and reimbursements for breached SLA.
In any case, what really matters is not what is promised but what is delivered.
And Bluehost delivers excellently, with 99.98% uptime over the course of nearly three years of monitoring. The lowest it ever reached was 99.97% and that's not low at all!
In fact, these are rock-solid numbers that show strong infrastructure and great reliability.
Average Uptime 2018 – 99.97%
Average Uptime 2019 - 99.99%
Average Uptime 2020 - 99.98%

Average Uptime 2021 - 99.99%
Verdict: Bluehost is a very reliable host.
2. Good Speed
Fast Response Time – 0.46s (8th)
Fast Load Time – 0.98s (6th)
Stable Under Load– 0.65s (5th)
Note: If you run speed tests on my domain, results might fluctuate a bit. Even from the same testing platform, two tests would normally display slightly different results. My Bluehost site is hosted in Utah, so I tested it from US locations. All plugins and server-side caching were disabled.
It can be argued that speed is even more important than uptime. A sluggish response is a serious user-deterrent when it comes to browsing online.
I conducted the first of my Bluehost reviews in 2017 and back then speed and overall server performance were quite disappointing.
To my genuine surprise, the times Bluehost shared servers display rank the company firmly in the top 3 of the fastest providers I've measured here, at Web Tribunal.
The time to first byte is quick enough to position Bluehost in the middle of the pack, while the time it takes for the site to load fully is 0.98 seconds. Overall, these numbers make Bluehost the eighth fastest host I've checked so far.
Not only that but under load my small WordPress site performed remarkably well. No fewer than 50 concurrent users didn't strain the SSD server of the company much, getting responses without any delay.
The speed is not the most impressive one but it doesn't fluctuate at all either, making Bluehost a reliable hosting provider.
| | | | | |
| --- | --- | --- | --- | --- |
| | 2018 | 2019 | 2020 | 2021 |
| Average response time | 0.38s | 0.55s | 0.52s | 0.59s |
| Fully loaded page | 0.96s | 0.95s | 1.02s | 0.92s |
| Response under load | 0.59s | 0.67s | 0.66s | 0.63s |
Verdict: Reasonably fast and durable service.
3. Top Quality Support
In my experience, large hosting companies often struggle to deliver quality customer service. It seems that Bluehost is an exception.
During the research phase of my first Bluehost expert review, I was pleasantly surprised by the courteous and knowledgeable support. Indeed, there were a couple of occasions when they were slow to answer over chat but nothing dramatic.
It is only natural for a company with over 2 million domain names to see the occasional high load of customer requests.
I must say that now, for this 2022 Bluehost review, the support impressed me even more. I got answers with greater consistency, very quickly and courteously. The knowledge base also has been polished here and there, making the overall Bluehost support fairly robust and useful.
Verdict: Excellent support team that is constantly improving.
The Pros of Bluehost
Just one year ago, a comparison Bluehost vs SiteGround or Bluehost vs HostGator would have been extremely one-sided. The Bluehost problems were glaring. Now, Bluehost looks like one of the favorites for the top spot among the best website hosting providers here at the Hosting Tribunal. The company shared hosting platform has received a serious update that makes it very attractive, indeed.
1. Solid Infrastructure
One of the things that shocked me the last time I was reviewing Bluehost was the fact that company servers were running on HDDs. Only one year later, though, things have changed for the better.
Now, all Bluehost servers run on modern solid-state drives that perform orders much faster. This is a significant performance boost that can be felt throughout. The backend of my WordPress site is fast, and the speed tests were very quick.
SSD for the win!
And this is not the only upgrade, as all servers have minimum dual quad cores for processing information.
Sweet!
2. Open Source Leader
Ever since its inception Bluehost has been giving back to the online community. The company is one of the three official WordPress hosts – DreamHost and SiteGround are the other two – and the open-source spirit is strong.
Bluehost has an in-house team of developers that work toward the improvement of more than 80 open source applications. One of the most direct consequences of this contribution is the fact that these applications work better when hosted on Bluehost servers. The apps include WordPress, shopping carts, social network platforms, customer management systems, and others.
The list of available apps is not the most extensive one as nothing can beat the 400+ apps InMotion Hosting delivers, but the selection is very solid and the performance is guaranteed.
3. Free Backups
Uptime and speed are the most important qualities of a reliable web host, but having your data secured is pivotal as well.
Configuring cPanel to create automatic backups is not that difficult, and it really grinds my gears when web hosting providers charge for backups or restoration of sites, or for both.
It is true that the web hosts are service providers and the users are the service managers, i.e. the users are responsible for keeping their files safe, but backing up data automatically is so easy to achieve and so essential!
Bluehost creates courtesy backups regularly and charges nothing for restoration. Users can access the copies through cPanel or ask the Bluehost support team to assist with the recovery.
Whichever option you choose, it is free of charge. As it should be.
4. Free Domain Name Registration
Bluehost is one of the biggest domain name registrars and you can see why; every shared plan of the company comes with a free domain name registration. Pretty sweet, especially if you are just starting up your journey online.
Typically, a new domain name costs more than $10, so having that for free reduces the initial hosting expense by quite some margin.
Mind, the Bluehost domain registration is free, but domain renewals are not.
5. Excellent eCommerce Options
The strong infrastructure of Bluehost is one of the best ecommerce hosting options.
Because of their catalogs, online shops tend to be more resource-heavy than non-commerce sites, but the Bluehost servers don't have a problem with this.
Every account has access to Zen Cart, Cube Cart, OS Commerce, or Agora Shopping Cart, and many more right off the bat; there is no shortage of excellent ecommerce solutions that can see your online business grow from a simple idea to a profitable endeavor.
6. Free SSL
Tied to the previous point, you don't need to spend a penny in order to start trading online. Bluehost provides all accounts with Let's Encrypt SSL.
Let's Encrypt is awesome not only because it is free, but also because it is an SSL that is installed automatically, without the need for manual tweaks and the possibility of human error.
It is a must-have for any website hosting provider today and Bluehost has it.
7. 30-day Money Back Guarantee
Bluehost is one of the web hosting companies that go with a 30-day money-back policy.
All clients who purchase shared hosting from Bluehost for the very first time are entitled to this guarantee. If you are unhappy with the service and cancel within the first month, whatever you have paid will be given back.
One month is not that long a time to test a hosting provider thoroughly but is better than nothing.
The Cons of Bluehost
The company certainly has done much to recover its position as one of the leading web hosting services in the world, but it is not perfect. Here are some of the most notable flaws that reduce the overall Bluehost rating.
1. Paid Migrations
Bluehost might know how to attract new customers with free domain name registrations, but the company can certainly do better when existing sites are concerned.
In case you have a website hosted elsewhere and want to move it over to Bluehost, you'd have to pay. Unless you have the technical knowledge to move an entire cPanel account and troubleshoot potential incompatibility issues, you'd have to fork out $144.99.
That fee is among the highest I have seen. Not to mention the fact that many leading hosts conduct migrations for free. Which makes perfect sense as it is a great way to gain new customers.
Bluehost obviously disagrees with me on this point.
2. No Monthly Billing
How much does Bluehost cost per month?
It doesn't really matter, as you cannot pay for a single month.
The shortest amount of time you can pay for is 12 months. That's not such a bit issue because creating a website is a long-term investment, but it is very odd and removes a certain degree of flexibility.
After all, the shorter the period you pay for, the higher the monthly fee becomes. I cannot wrap my head around the possible reason why Bluehost doesn't allow people to pay the way (and the amount) they want.
Odd.
3. Steep Renewal Fees
Just like all EIG companies, the Bluehost pricing policy is to attract customers with very low initial fees. Upon service renewal, the charges grow considerably. The second of the shared plans increases only twofold, whereas the other fees grow three times, on average.
Such an approach is not reserved exclusively for EIG hosts, but it is definitely typical for the brands owned by the giant.
4. Mixed User Reviews
Bluehost was in the mire for a few years and its reputation was tarnished. It takes ages to establish a positive outlook and just a few months to destroy it completely. When I created this review of Bluehost three years ago, the company seemed to be on a positive trajectory: the support was improving, the infrastructure was being updated, the packages modernized.
But in 2022, user reviews seem to have returned to the post-EIG acquisition period when everyone was disillusioned with the host.
Bluehost Hosting Plans
Bluehost has four shared hosting plans.
| | |
| --- | --- |
| Bandwidth: | Unmetered across the board |
| Storage: | Unmetered; only Bluehost Basic imposes 50GB limitation |
| Email: | Unlimited; only Bluehost Basic comes with 5 emails and 100MB storage for each |
| Database: | MySQL and PostgreSQL, included in all plans |
| Domain names: | A free domain registration included in all plans |
| Control panel: | Customized cPanel, fast and responsive |
| Software installation: | Over 80 applications available |
| Migration: | For $149.99 Bluehost can migrate up to 5 websites and up to 20 email accounts from cPanel hosting |
| Payment options: | Credit and debit cards |
| Account setup: | Fast and simple |
| Upsells: | Nothing that obnoxious but a handful of semi-useful products are promoted while purchasing the account |
| User reviews: | Mixed |
Do We Recommend Bluehost?
We do.
Bluehost has improved its infrastructure and packages a lot lately. Paid inbound site migrations aside, there aren't that many downsides at all to the Bluehost shared platform.
It is fast, reliable, and versatile. There are plenty of optimized applications, free SSL, and plans that scale up nicely, in case you need more resources. The partnership with CloudFlare ensures that sites hosted with Bluehost load quickly all around the globe.
Is Bluehost a legit contender for the top spot?
It seems the upward trend of the giant from Provo has stalled somewhat, keeping the host some distance away from being the number one shared hosting provider.
Still, after three detailed Bluehost reviews and analyses of its managed WordPress hosting and other services, I can finally say that this is one of the top hosting providers.
Do you have personal experience with Bluehost? Drop us a line or two below and contribute to our growing base helpful of Bluehost user reviews.
Bluehost at a Glance
| | |
| --- | --- |
| Support | Knowledgeable support that replies promptly |
| Knowledge base | A decent knowledge base |
| Shared hosting plans | Four shared hosting plans |
| Control panel | Bluehost optimized cPanel |
| Number of hosted domains | 1 for the Basic plan, otherwise unlimited |
| Number of databases | Unlimited |
| Email | 5 inboxes with up to 100MB storage for the Basic plan, unlimited with the rest |
| Backups and restoration | Automatic account backups for the last 30 days. No restoration fee |
| Storage | 50GB for the Basic plan, otherwise unlimited |
| Bandwidth | Unmetered |
| Technology | SSDs across the board running on dual-quad servers that are connected with the world through multiple 10GB connections |
| Security | There is not much to mention. Remember to log out of your Bluehost account because it doesn't terminate inactive user sessions |
| Domain name registration | A free domain name registration |
| Site migration | Free |
| Website builder | No |
| Ecommerce | Many shopping carts are available, together with OpenPGP/GPG Encryption and free SSL |
| Specialized hosting | Managed WordPress hosting |
| Windows hosting | No |
| Data centers | One data center in Provo, Utah |
| Uptime | No guarantee mentioned |
| Speed | Very good speed |
| Pricing | Very affordable when prepaid |
| Pricing structure | Prices go up when paying for shorter billing periods and upon renewal |
| Guarantees | 30-day money-back guarantee |
| Pro-rated refunds for early cancellation | No |
| Freebies | Free domain registration, $200 worth of ad credits, free SSL |
| Company website | Informative, relatively easy to find the necessary info |
| Company culture | Dedicated to open source and WordPress, Bluehost is returning swiftly back to its glorious days |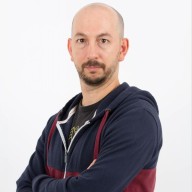 Nick Galov
Unaware that life beyond the internet exists, Nick is poking servers and control panels, playing with WordPress add-ons, and helping people get the hosting that suits them.