BionicWP Review - Complete WP Management Suite
Looking for the next big thing in WordPress hosting? Check out our BionicWP review and see what this newcomer brings to the table.
WORKS ON:
WordPress
Hosting options:
Managed WordPress hosting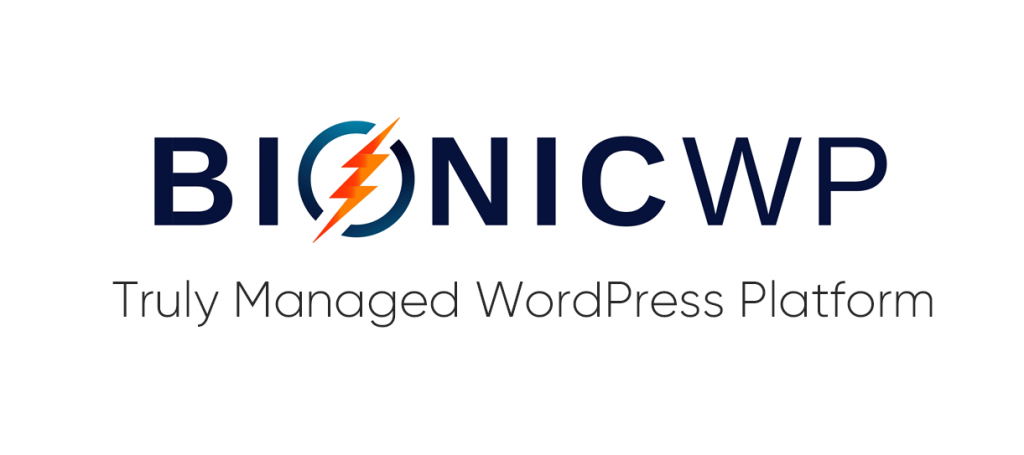 Visit Website
Best for:
BEST FOR EXPERIENCED WORDPRESS USERS
Strengths
Experienced support

Expert WordPress management

Free migrations even before signing up

Awesome performance and robust infrastructure
Overage fees

Exclusively for WordPress
What struck me as peculiar even before starting our BionicWP review was the conversational tone of the host's entire website. It looks more like an email from an old friend than a business landing page. And, I have to admit, it got a few good laughs out of me.
But what's much more striking is the powerful platform hiding under the jovial exterior. The deeper I went into the options, the more remarkable features I uncovered. So, I thought, why not do a detailed, data-driven review of BionicWP hosting?
With a credit card in hand, I signed up for the service and set up a trial website. It was time to see what BionicWP is made of.
Check out my findings in the review below.
What Is BionicWP?
BionicWP is a fresh face in WordPress hosting, having started in February 2020. It's still rolling out big tools and making a name for itself.
Now, we at Web Tribunal are in no way opposed to smaller independent companies. In fact, our research shows smaller companies often outperform some of the more established ones.
BionicWP hosting really fits the trend. It specializes in "truly managed" WordPress services. It spices up the offer further with a ton of tools WP website owners are sure to love. Heck, BionicWP goes toe to toe with WordPress giants like WP Engine and Kinsta!
Let's take a deep dive into BionicWP's offer and see whether it deserves a place among the best WordPress hosting providers.
The Essentials—Uptime, Speed, and Support
As always, let's kick it off with the basics. These are the absolute three biggest factors when looking for a hosting platform. A company should perform well here, or it might spell trouble for its clients.
1. Uptime—99.99%
Few things are as crucial for running a website as server availability. If the infrastructure keeps failing, whatever the reason, your site will be unavailable to visitors. It's easy to see how poor uptime can be a disaster.
Then, what better way to start this BionicWP review?
The first thing I did was hook up my website to StatusCake, the website monitoring tool of choice. It pings the website every five minutes and records any service outages.
The results are in, and BionicWP records respectable results. Over the years of testing, the uptime has never dropped below 99.99%, which is as good as servers get. This is exactly the kind of excellent uptime you get from a platform running on Google Cloud.
Another thing to like is the WordPress host's transparency. It runs public uptime logs of all its services going back 90 days. You are free to go in and check out how servers in a particular region perform.
The logs are in line with our results. There is an occasional hiccup, but nothing that significantly compromises uptime.
Unfortunately, there is no formal uptime guarantee. Having at least 99.9% availability promised in the SLA would provide additional peace of mind.
Verdict: BionicWP uptime is fantastic, but an uptime guarantee would be a nice bonus.
2. Fantastic Speed
If you think uptime is a big deal, wait till you hear what a slow server can do to your site. Poor load times practically drive away visitors, reduce time spent on-site, and are a general UX nightmare.
I tested the speeds of the WordPress hosting service to see if it will boost your app or hold it behind.
I have to say, BionicWP is no slouch.
The provider recorded an average TTFB of 0.190 seconds. It's a solid response time that you would expect from the GCP cloud infrastructure.
What really struck me was the time to load up a page fully. I picked a standard theme for WordPress and ran tests on the default front page.
It loaded up in 0.61 seconds. And that's without BionicWP's optimization tools and server-side caching. I got similar results over the course of four months of testing.
For comparison, WP Engine clocks in 0.57 seconds on average and costs about $10 more.
BionicWP hosting is simply blazing-fast!
The last part was the backend test. You kind of expect the Google Cloud infrastructure to hold under heavy traffic, but a lot depends on the provider's code and configuration.
I ran a Load Impact test and hit my website with 50 virtual users making 37 connections per second for a total of 11k+ requests. The response times hardly budged at all, meaning BionicWP is extremely reliable under heavy traffic.
All metrics put together, the provider performed exceptionally during the making of this BionicWP review. The tests are ongoing and we'll report any deviations if such occur.
Verdict: BionicWP is one of the fastest providers ever tested on HostingTribunal, recording excellent results across the board.
3. Awesome Support
Support is the third significant factor to check out. In fact, it's twice as important when you're going for a service that pushes tight WordPress management as a selling point.
I tried the BionicWP support multiple times, and I got impressive results.
I started with a few simple queries asking for info about the platform and the supported technologies. I always got a quick and to-the-point answer.
So far, so good.
I went to more technical tasks and asked a support agent to change settings in the server config files. I fully expected them to open a support ticket and escalate it to the sysadmins, as this is what usually happens. However, a few minutes later, they implemented the change.
BionicWP obviously runs a well-trained and attentive support team. I even got to chat with one of the founders behind the WordPress web hosting provider—who answered all my questions politely and really knows his stuff, I might add.
As for DIY tutorials, BionicWP has a few in its blog but no formal knowledge base. Admittedly, the support team handles most things you would typically need a knowledge base for. Naturally, the lack of one isn't ideal if you prefer to take a crack at issues yourself.
Verdict: BionicWP has an incredibly well-trained and attentive staff.
The Pros of BionicWP
BionicWP has plenty of features worth praising. Here are the biggest advantages I discovered during the making of my 2022 BionicWP review.
1. Google Cloud Infrastructure
Would you like to host your website on the same platform Google uses? This is actually possible. You just need to sign up for Google Cloud. The only problem is that cloud servers are a massive pain to manage, even for developers, let alone your average website owner.
Fortunately, BionicWP makes GCP available to everyone. It built its platform on top of Google's infrastructure, letting you harness the power of the cloud without being a trained system administrator.
This adds multiple advantages to BionicWP WordPress plans, including getting insanely reliable and fast servers. Since Google loads in 0.2 seconds, you can be sure of no infrastructure bottlenecks.
GCP also offers data centers in a whopping 24 regions. BionicWP currently supports deploying a website in South Carolina, Oregon, and LA. You can expect it to roll out to other locations as well, though, based on demand by customers. For now, if you need to host a website in an unsupported region, you can request it from the support.
Even better, BionicWP cloud infrastructure is based on C2 instances, which run more powerful CPUs than standard virtual servers. Factor in Google's Premium-tier network, and you can expect a significant performance boost
With such a robust server infrastructure, we're off to a great start.
2. Truly Managed WP Hosting
This part is possibly one of the best things about the service. It's also what most BionicWP reviews inevitably focus on.
BionicWP phrases it as "truly managed" hosting. This actually means the provider takes things a bit further than your typical managed platform.
You still get all the features you would expect, like auto-updates, managed backups and security, cloning and staging tool, etc. The tech team ensures everything is running in tip-top shape so you can focus on your website.
But that's not all.
BionicWP has an add-on that gets you minor unlimited edits done on your website. This covers basically anything requiring under 30 minutes—content updates, plugin installation, CSS changes, and similar tasks.
That's a higher level of assistance than you would expect, even from the best managed WordPress hosting companies.
You can request as many edits as you need. It's a great time-saver, and it can be a massive help if you're unable to implement an edit yourself.
The service costs $25/month extra. That said, this level of support borders on professional CMS maintenance. A third-party provider would charge you around $40-$50 per month, so BionicWP offers quite decent value.
Plus, you can really get your money's worth if you run a large website with high infrastructure costs.
3. Very Easy to Use
As soon as I signed up, I was pleasantly surprised with a clean and easy-to-navigate customer dashboard.
The main BionicWP control panel gives an overview of the most important account and billing stats—like resource expenditure, time till the next billing period, and the number of set-up websites—along with basic reports on backups and security scanning.
Once you set up your first website, things get even better. You can find management tools for everything, including backups, DNS records, CDN, SSL certificates, and various technologies. The management options are arranged into neat tabs for easy access.
A really nice touch is that you can manage WordPress core, theme, and plugin updates from the account admin dashboard. You can also log into the WP dashboard with a single click, which simplifies running multiple websites.
You'll surely enjoy easy site management with BionicWP.
4. Impressive Security Levels
BionicWP's security game is on point too.
Aside from handling updates automatically, managed WordPress hosting comes with Let's Encrypt SSL certificates, WordPress hardening, and a web application firewall. The measures stop all sorts of threats, from man-in-the-middle attacks to SQL injections and cross-site scripting.
BionicWP also runs continuous security scans and malware cleanups powered by Malcare—one of the top WP security companies. In the unlikely event something does happen, BionicWP guarantees it will bring your site back to operational condition.
The website security measures were one of the best surprises when doing the BionicWP review. What's more, the hack-fix guarantee provides extra peace of mind.
5. Daily Backups
Backups are the safety net every hosting provider should lay out. If something happens to your website, you can roll back to an earlier version and sidestep the problem.
BionicWP handles this well, offering automatic daily offsite backups. The provider saves backup versions for 30 days, which is solid. You can also take a snapshot of your website from the client area.
Pretty decent automatic and on-demand backup options, all in all.
6. Migrations Galore, Even Before Signup
The managed WP hosting means BionicWP will migrate an unlimited number of sites for you. You can request a migration whenever you launch a website, making BionicWP an excellent choice for slowly transferring your entire setup.
Possibly the best part, though, is that the techies will transfer a website even if you're on the free trial. That lets you ensure the WordPress migration is done correctly. It's a great chance to see how your site performs on BionicWP compared to your current platform before you commit a single cent.
BionicWP offers free migrations and even takes it up a notch—fantastic for owners of existing websites who want to improve their performance.
7. Speed Optimization
The speed test results from this BionicWP WordPress review weren't conjured out of thin air.
The benefits start with using LXD containers instead of traditional virtualization. Aside from being very secure, the containers reduce overhead, offer easy scalability, and are fast to deploy and migrate.
The server stack features the Nginx web server combined with FastCGI, which goes a long way in making the platform scalable and fast, especially when delivering static content. Combined with the latest version of PHP, it amounts to a fast setup.
But that's not all!
BionicWP includes robust server-side caching, a free CDN with at least 50GB bandwidth, and other optimizations.
You can opt for the BionicSpeed add-on. For $9/month, this gets you access to NitroPack, which is a speed optimization plugin. It adds more advanced WordPress caching, script minification, image compression, and lazy loading, and more. The plugin otherwise starts at $17.50/month, so the managed WordPress hosting service offers quite a bargain.
The goal is to raise the Google PageSpeed Score as high as possible. BionicWP is so confident it promises to get you a score above 90%. It monitors every website's performance so it can keep optimizing until the goal is met.
It's clear why BionicWP is one of the fastest providers out there.
8. Reseller-Friendly
Ever wanted to start your own hosting company? Or are you a developer who wants to host a website for customers after you've built it? Then you might want to look into reseller hosting.
You can easily resell the BionicWP WordPress hosting plans with your own branding. The tech team will even answer mail from your own business email address.
Keep in mind, the white-labeling of the plans would cost you $150/month, plus whatever you spend on the hosting itself. The cost includes unlimited website edits for all your clients, though, so you get relatively good value.
Still, BionicWP reseller hosting is best if you already have a few steady clients lined up. As long as you know they would appreciate the strong WordPress hosting service, it's a great deal.
9. Flexible Deals
BionicWP plans are customizable. You can start on the smallest single-website plan with 2GB storage, 15-day backup, and 20k visitors. Each subsequent level adds more resources. The Google plan is the biggest.
If you need resources closer to 500GB of disk space or 2 million visitors, which is quite something, you can request a custom plan.
You can also pick and choose which sites need add-ons like speed optimization tools and content edits. That way, you can take advantage of the advanced services only on essential sites and not waste any money.
In other words, you get quite a bit of flexibility in terms of resources, managed WP hosting features, and pricing.
10. Unlimited Free Trial
While most providers give you a 30-day free trial or a limited-time money-back guarantee, BionicWP has a unique strategy.
You can try out BionicWP for one site indefinitely—that's right, you can use it forever. Better yet, you get free access to all the features and add-ons free of charge.
The catch is that you can only run the site in a staging environment. As soon as you attach a domain name and bring in visitors, you move into a paid subscription. Anyone can start the trial, but BionicWP requests a credit card to launch a site, which is an understandable strategy to prevent abuse.
The upside is that you have indefinite time to test out the platform and see how your website performs on it. It completely eliminates WordPress hosting costs before your site is ready to go live.
One detail is that you can't really see how your website performs under traffic (testing tools aside). However, BionicWP doesn't limit access to resources, so this shouldn't be a problem.
All in all, it's a generous offer that gives you plenty of time to test everything out.
The Cons of BionicWP
BionicWP offers little to complain about. Still, there are a few things you should be aware of before you jump into the service head-first. Here's what other BionicWP reviews won't tell you.
1. Website Needs an Update
The BionicWP website is not bad by any stretch; in fact, it's quite charming. That said, a few things could be gussied up a touch.
For instance, there is conflicting info about the length of backups. The site footer says 90 days, but the provider actually just saves backup versions for 30 days.
There is also a bit of confusing info about the migrations and the staging area. BionicWP will actually migrate your website for free before you even sign up, and you'll be able to compare the speeds to your current WordPress host before making the switch.
This is an awesome selling point, but BionicWP doesn't do a great job of explaining it.
It would be very nice to see the provider add more accurate info about various facets of the service and potentially work on a knowledge base. It's understandable that BionicWP is still polishing some stuff, but it would only improve an already reliable service.
2. Overage Fees
There is a strict visitor cap on the BionicWP WordPress plans. Mind, your speeds won't dwindle, and you won't get HTTP errors if you go over your resource allotment, but BionicWP will charge you overage fees.
There is currently no set pricing for overages. Mr. Abdul Qadir, one of the founders, says we can expect them in the first quarter of 2022.
The planned fees should be around $2 per 2,000 visitors. The costs are the same when comparing BionicWP vs. Kinsta or similar higher-end providers, making the offer competitive.
Overage fees are not a huge issue—it's either that or limits on your resource cap. Still, you should keep an eye on your website traffic, or you might be surprised by your next invoice.
3. Only WordPress Hosting Services
BionicWP is a WordPress web hosting provider exclusively.
That means you would have to get services like domain registration elsewhere. And the same goes for email hosting.
There is a strong case to make for purchasing these services from separate companies anyway, but it's also something to factor into your end cost.
4. Newcomer to Hosting
This is not really a con but is worth taking into account. BionicWP got established at the beginning of 2020, so it's quite fresh. It doesn't have numerous clients, nor are there that many BionicWP reviews by end-users.
UPDATE 2022: Two years in, and we can say with certainty that BionicWP is putting in the effort. Its customer base is steadily growing, while the service levels remain constantly excellent.
BionicWP Plans at a Glance
BionicWP plans scale up as you go. Starting with the basic "Lite" plan, up to the "Google" plan. The higher the tier the tighter the security and the bigger the allowances. All prices are monthly costs for the annual payment plans.
2GB storage, 15 day backup, 20,000 visitors.
2GB storage, 30 day backup, 20,000 visitors.
2GB storage, 30 day backup, 20,000 visitors, Bionic Speed & Management.
BionicWP is more expensive than your basic shared hosting provider but in line with other premium WordPress services. The prices make it more suitable for users with a plan to build a high-earning website.
Do We Recommend BionicWP?
Our detailed review can have only one outcome:
We strongly recommend BionicWP for users who want to save time and receive powerful optimization and content management services. It is an advanced, comprehensive service for WordPress website owners and developers.
Its WordPress optimization is spot on, security is tight, and it's one of the fastest providers I've had the good fortune to stumble upon.
Even better, the provider practically borders on maintenance service, offering unlimited 30-minute website edits. To top it off, you get free migrations, daily backups, and a chance to test out the service indefinitely.
The premium service does come at a premium price, though, and would set you back at least $21.90/month. If you're confident in monetizing your project, though, it can be well worth it.
So, is BionicWP WordPress hosting the next big thing?
It might be a bit early to make definite predictions, but the offer sure looks promising. You heard it here first—BionicWP is well on its way to being the next rising star in the world of WordPress.
FAQ
Is BionicWP better than WP Engine?
There are no clear winners in the battle of BionicWP vs. WP Engine. Both providers offer managed hosting with comparable features, flexibility, and pricing. That said, WP Engine is one of the most established companies in its niche, an absolute beast for WordPress hosting and development, and includes some cool freebies like StudioPress themes. BionicWP might be new, but it has several distinct advantages, including a speed guarantee, malware removal guarantee, and free website edits. If BionicWP keeps it up, it might edge WP Engine.
BionicWP is highly secure and guarantees its speed optimization will get you a Google PageSpeed score above 90%. Aside from that, it has reliable support, uses Google Cloud infrastructure, and offers a ton of great features. The support even handles various tasks for you, like adding plugins to your site. The offer, as it currently stands, is entirely respectable. The company might be young, but that only gives it time to surprise us even more in one of my upcoming BionicWP reviews.
BionicWP is a managed WordPress platform. It specializes in "truly" managed hosting, meaning the provider takes care of full infrastructure management, patches, security updates, and speed optimization. The tech team even performs tasks like content updates, plugin installation, and really anything else that takes under 30 minutes. This makes the provider a solid combo of managed hosting and a WP maintenance service. In other words, you get hosting and a ton of help with your WordPress site. Check out our comprehensive BionicWP review above for more info.
Branko Krstic
Branko is a round-the-clock tech geek and loving it. His ideal vacation destination is the Akihabara District (or really any place he can take his computer). If there's a server out there, count on him to find out what it's made of… and tell you all about it.
Leave your comment
Your email address will not be published.