YAY Images Review—Stock Photos That Meet All Needs
With over 13.5 million royalty-free images, 2.5 million vectors, and 250K videos, Yay Image is among the biggest stock media content platforms. Join us for an in-depth Yay Image review to find out if this is the platform you have been looking for.
Formats:
Image, video, vector
Payment type:
Subscription
Visit Website
Best for:
Price-quality ratio
Strengths
Unmatched price-quality ratio

Unlimited downloads

High-quality content

High-quality content
Only JPEG images

No audio content
Are you looking for royalty free images for a work project, a university presentation, or a creative for your business?
Then, what you need is a stock photography database.
But how do you choose one?
Often, the biggest stock photography sites charge high fees. And the small ones might not have what you're looking for.
Well, Yay Image offers a wide variety of photos, vectors, and footage at affordable rates.
Is it the right solution for you?
In this thorough Yay Image review, we gather all of the information you need to decide.
What Is Yay Image?
Yay Image is a stock image website aiming to improve the distribution and use of royalty-free content. It provides free high-quality stock photos, vectors, and videos.
The service has a good quality-price ratio, an easy-to-use interface, and a convenient filtering system.
What's more, end-users seem to appreciate it, judging by the numerous positive comments in Yay Image reviews.
Let's see what else the stock photo company offers.
Yay Image Best Features
In this section, we dive into the most useful Yay Image features, if the numerous reviews by end-users are any indicator.
We tested them thoroughly and present our findings below.
Ease of Use
The search for royalty-free content on the internet could be a nightmare. Luckily, with Yay Image, you can complete this task quickly and efficiently.
The platform is extremely easy to navigate, even if you are not a tech genius.
In the upper left corner, you can specify whether they are looking for Yay Image videos, stock photos, or vectors.
You can find all features in a drop-down menu.
This includes your download history from the moment you signed up.
What's more, if you're an affiliate or a contributor, you can access your personal panel view from the Partnership section of the website.
Filters
As we mentioned above, only the stock photos on Yay Image go over 13.5 million.
That said, with such great variety, finding the right content could be overwhelming and time-consuming.
To avoid that, Yay Image added useful filters. They allow you to sort images by, say, their orientation, number of people, or color.
Judging by the comments in Yay Image reviews, end-users appreciate the efficiency of this option.
They're even more convenient in combination with the search features we discuss in the following segment.
Search Options
Yay Image' search options are extremely convenient and often praised by satisfied end-users. Most notably, you can search for an image by uploading an existing, similar photo.
Imagine you're looking for beautiful scenery, which is hard to describe with words.
What do you do?
You simply upload another photo as an example. The platform will quickly generate similar, unique stock photos.
But that's not all!
Yay Image is also very sensitive to keywords.
Even the vaguest explanations deliver satisfying search results.
High Quality & Resolution
The best stock photography platforms deliver images of high definition and resolution. The tricky part is as quality rises, subscription prices rise as well.
Luckily, that's not the case with the Yay Image pricing. The solution offers great value for money.
The videos, vectors, and images on Yay Image are of excellent quality and resolution.
And, as you can see in the Pricing section below, they're still very affordable.
Variety of Formats
The platform supports a variety of formats—JPEGs for photos, EPS or SVG for vector files, and MOV or MP4 for videos.
Royalty free audio is still not available on Yay Image.
But judging by the recent addition of vectors and footage, we might see an expansion soon.
Royalty Free License
All stock images on Yay Image have a Royalty Free license. This permits people to use the photos without any restrictions to size, circulation, type of media, or the number of times they use them.
For example, imagine you have purchased a Yay Image stock photo to be on your business card
You can then resize the image and use it in your creatives, on social media, and in blog posts at no extra costs.
Yay Image Signup
The signup process is fairly simple. You can complete it in a few steps.
First, press the sign up/log in button in the top right corner of the website. To register, you need to fill in your full name, email address, and password.
In case you are registering for a business, you can add the company's name. While this field is not mandatory, it is important for the Royalty Free license, which is not transferable.
Once that's done, you are free to browse images on Yay Image.
When you find what you need, you can subscribe to one of the plans and download it.
Editability
Yay Image allows in-browser editing. In detail, you can add filters and frames, crop and resize images, and draw directly on the image.
Plus, you can add text and stickers—slogans, headings, speech bubbles, you name it.
This function removes the need for additional image editing software, such as Photoshop, at least partially.
If you only need to add a few minor details, Yay Image is more than enough.
Subject Variety
The platform has a wide range of collections.
The Yay Image library includes images of:
Animals

Wedding stock photos

Christmas

Family

Work environment pictures, and many more.
For users' convenience, the most popular categories are listed on the main page.
This makes browsing through the images a breeze.
What We Disliked
Yay Image is one of the most popular stock image platforms in 2022, but there are some negative Yay Image reviews by end-users.
In this section, we discuss customers' criticism and some downsides we noticed.
No PNG or JPG photos

—The images on the platform are

only in JPEG

. Oddly enough, the

Yay Image

vectors and videos are available in more formats

.

The stock library doesn't integrate with third-party design tools

—This is probably done to promote the in-browser editing feature. Still, an integration would make the use of, say, Affinity or

Adobe

, a bit easier.

The live chat feature redirects users to the ticket system

—After you explain your issue, the bot prompts you to give your email address. It notifies you that you'll receive a response from a support agent. The promise of receiving a reply in 24 hours is rarely kept, though.
Plans and Pricing
Yay Image gives you access to the best free stock photography.
You can register and view all files without paying.
But to download them, you need a subscription.
Luckily, the Yay Image plans are very affordable.
You can choose between two options:
The unlimited stock photos subscription allows you to download as many files as you want. You get access to: 200,000+ HD videos 2,500,000+ vectors 12,000,000+ images
With this subscription, you get cheap stock photos for life. All you have to do is pay a $199 one-time fee. This gives you access to the entire collection of content. That said, it allows only 10 downloads per day.
Yay Image User Reviews
To be more objective in our judgment, we checked the Yay Image reviews on Reddit, Trustpilot, and G2.
Yay Image has a decent 4/5 rating on Trustpilot based on 97 reviews. In comparison, on G2, the platform boasts 4.9/5 stars generated from 56 reviews.
All in all, users are pleased with the platform's features and price-quality ratio. Plus, they praise the stock image website for its ease of use, filters, search options, and high quality and resolution.
That said, we also came across some criticism in Yay Image reviews.
Like us, users feel the customer support team could be more responsive.
Plus, the only way to get in touch is via the ticketing system.
Is Yay Image Worth It
Yay Image is among the most diverse royalty-free content platforms on the market. It contains more than 13.5 billion stock photos from different categories.
As we mentioned above in the Yay Image review, the platform offers an affordable unlimited subscription, high quality and resolution, an easy-to-use interface, and various search options.
The built-in image editor is a nice touch for users who don't want to use specialized image editing software.
The only downsides of Yay Image are the subpar customer support and the lack of more image format options.
Still, it is one of the most affordable options on the market
Best of all, it provides some of the best stock photos, vectors, and videos in terms of quality and variety.
Yay Image Alternatives
Yay Image is great, but you might want to check out other options too.
To help you make an informed decision, we assessed three of Yay Image' biggest competitors.
Let's see how they perform.
Yay Image vs Shutterstock
Shutterstock has a wider range of services than Yay Image.
In addition to images and videos, it provides royalty-free music.
However, the platform's online reputation is not stellar. Plus, Yay Image is more affordable.
Shutterstock's highest-tier subscription allows you to download 750 images for $199/month. In comparison, Yay Image' unlimited downloads plan is only $8/month.
Yay Image vs Getty Images
Getty Images is one of the most popular royalty-free platforms on the market.
Unlike Yay Image, it offers music and editorial services. That said, it doesn't have an unlimited subscription.
Instead, it charges as much as $499 per download for high-resolution images. The cheapest package is $150 per download for 10 low-resolution files.
Apart from being much cheaper, Yay Image also has higher user ratings.
Yay Image vs Dreamstime
Dreamstime provides stock photos, illustrations, editorial, video, and audio.
It offers a wider range of items than Yay Image.
But what about the overall user experience?
Dreamstime might be more popular, but Yay Image has higher user ratings.
The next important feature to compare is, of course, pricing.
Dreamstime doesn't offer an unlimited package. The largest number of downloads per month is 750 for $219/month or $2,028/year.
It costs almost 30 times more than Yay Image' unlimited plan.
Final Verdict
We tested the solution thoroughly and read numerous Yay Image reviews to assess its quality.
So, we can confidently say that it is one of the best royalty-free content platforms.
It has a great price-quality ratio, a wide range of stock photos, vectors, and videos, and even a built-in editor.
It's an excellent solution if you are on a budget and looking for a diversity of non-cheesy stock photos.
FAQ
What is Yay Image used for?
Yay Image is a royalty-free platform providing stock photos, vectors, and videos.
Read our in-depth Yay Image review above to learn about everything it offers.
Yes, Yay Image is a trustworthy solution. In fact, it is trusted by companies like Doublesix LLC, AppSumo, and Vimeo, among others.
Is it safe to download from Yay Image?
Yes, downloads at Yay Image are risk-free! Plus, with the monthly plan, you get unlimited downloads.
What is the best stock photo site?
Yay Image is one of the cheapest stock photo sites with a great diversity of content.
To see how it compares to other solutions, check out the Alternatives section in our Yay Image review above.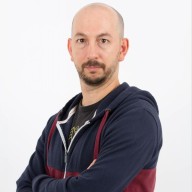 Nick Galov
Unaware that life beyond the internet exists, Nick is poking servers and control panels, playing with WordPress add-ons, and helping people get the hosting that suits them.