PicMonkey Review - Image Processing for Everyone
With its numerous beginner-friendly features coming at an affordable price, this is a great image processing tool for non-designers. Check out our detailed PicMonkey review to see how it fares against its competition, where it excels, and where it falls short.
Free version:
7-day trial
Supported formats:
JPG, PNG, GIF, SVG, MP4, PDF
Templates:
Well-sorted and easily searchable
Versatility:
Designs for various platforms
WORKS ON:
iOS
Edge
Opera
Chrome
Safari
Android
Firefox
Key features:
Themes, collages, animations, ads, thumbnails, etc.
Visit Website
Best for:
UNPARALLED EASE OF USE
Strengths
Very versatile

Easy to use

Free mobile version

Solid price
Slow export

Negligible free web version
What Is PicMonkey?
PicMonkey is an easy-to-use online graphic tool intended for non-designers and, primarily, business owners.
It is great for lightweight graphic design and image processing.
Devices and Operating Systems
This digital art software works on:
Windows

Mac

Linux

Chrome OS
The supported browsers are:
Chrome

Firefox

Internet Explorer

Microsoft Edge

OSX versions of Safari
Something to note, there are reported issues with Safari, but this is not so uncommon, as Safari is a radically different compared to pretty much any other browser.
Mobile Version
PicMonkey also offers free Android, iPhone, and iPad apps, but these are not as advanced. They do not offer much else other than typical image editor functionalities.
Although the mobile version of this app is a mere photo editor, PicMonkey has done well here; think Instagram's editor but with way more functions.
It lets you doodle around with its brush tool, as well as use the brush to apply various effects, similar to the web version.
Thanks to a bigger screen, the Picmonkey app for iPad is considerably easier to work with.
Ease of Use
When you run the web application for the first time, it will walk you through the basic features and offer tips when trying some.
If that doesn't help, there are numerous video tutorials, both on the official YouTube channel and fan-made ones.
PicMonkey barely has a Reddit mention, but considering its simplicity, that is no big deal.
User Interface
The user interface is very beginner-friendly as you can access most of its functions just by using the toolbar on the far left.
PicMonkey treats objects as separate layers, which many non-designers will surely appreciate. Additionally, every object can be rotated, scaled, and flipped with just a single click.
This layer system might come off as discouraging for Photoshop users, but that just proves that they are not the target audience.
One of the biggest Picmonkey cons is a lack of typical menus such as File and Edit, but once you get used to it, you will forget about them.
PicMonkey Features
The focus of all PicMonkey reviews is an overview of its main features, and this one is no exception.
Templates
When starting off a new design, we at Web Tribunal recommend that you use one of the many PicMonkey templates to get you going in the right direction.
The great thing about them is that they are completely editable. You can write anything you want in place of an existing text element, or change the provided image or video.
PicMonkey templates get positive reviews because they are well sorted, and a search bar with an autocomplete function further helps by showing search results as you type.
With the right approach, some PicMonkey templates can be used as an alternative to PowerPoint.
Collage
If you don't like templates but still need help with your design early on, consider creating a collage.
With around 60 different collage templates, you'll surely find the right one.
If that's not enough, you can rotate the pictures inside, scale, flip, and even round their corners.
Themes
For more consistent designs focused around a certain subject, PicMonkey image editor offers themes.
These are collections of visual elements such as textures, graphics, and fonts.
Animation
The web version isn't just an image editor, as it supports .mp4 videos and animated .gif images.
Once they get uploaded, you can use the Play button to see how the result will turn out once exported.
Both animations and videos can be cropped, while videos can also be trimmed.
PicMonkey Photo Editing
There are three main groups of editing features in PicMonkey: Edits, Touch Up, and Effects.
Edits consist of brightness and contrast settings, color balance changes, etc.
Touch Up is a group of beauty effects specifically made to make the human face more appealing, while Effects are the equivalent of Instagram filters.
In other words, they are a combination of multiple edits.
Logos
PicMonkey can also serve as a logo editor. Even though there are no particular logo-making tools, editable logo templates more than make up for this.
These are helpful if you are a beginner or you don't know where to start, as they show you what a logo should look like.
Not bad, considering that logo design is not this software's main priority.
PicMonkey Pro Features Review
By upgrading to a Pro or Team plan, you get the following:
Smart Resize
Are you creating a design for a specific social network, online ad, or video thumbnail?
This feature helps you immediately resize the canvas to suit your project's needs.
Brand Kit
Great for businesses, Brand Kit lets you create a theme and save it.
This feature acts as a bookmark for your own graphics, fonts, or even templates.
Background Remover
If you need to remove the background around a certain object or person, this PicMonkey image editor feature helps you do that with just a few clicks.
Plans & Pricing
Picmonkey is not free, but it offers a free seven-day trial that enables most functions that the Pro version offers.
Before you activate the trial, you can doodle around but cannot save your projects. There are three paid plans.
There is no typical money-back guarantee for any of these, but you can request a refund in the first 14 days.
Each plan can be canceled at any time.
The first plan already lets you use all of the essential PicMonkey photo editing features. It gives you a gigabyte of cloud storage, lets you add videos, and save your work as a .png, .jpg, .gif, or .mp4 file. All of this can be yours for $7.99 per month, or $72 per year.
The Pro plan removes the cloud storage limit, as well as lets you upload stock photos from Getty and custom fonts. On top of that, you get priority email support and the previously mentioned Pro features. This PicMonkey plan has a cost of $12.99 per month, or $120 if you go for a one-year subscription right away.
Gives all Pro plan benefits, but with a discount for groups of three or more. This way, you can use PicMonkey to review permissions for other team members for $23 per month. The yearly subscription costs $228.
Support
This software is very easy to use, but if you have any questions, you can check the FAQ section on the official website or contact the support team by filing a ticket.
The PicMonkey support team is kind, but, while you can be sure that they will help you out, it's not the fastest. There is no phone number available, and, according to their own words, it usually takes them a workday to reply.
No great, not terrible.
There is a priority email support option, but it is only available with a Pro plan subscription.
PicMonkey User Reviews
Most users love this software for what it does, calling it a simple program with a great amount of premade templates that can be utilized. Business owners praise it for having team management options and a resize tool that's suitable for social media.
There are not many PicMonkey reviews on Reddit, but those that are present mainly focus on the positives.
Since its revamp, this program is mostly oriented towards businesses, which seemed to irritate some other non-designers. Also, the free version is barely worth mentioning and was made useless after getting rid of the save option.
The biggest issue users had with PicMonkey is that the save option is not working, even with paid plans.
It can even crash the program in the process, though we've had no such issue.
When to Use PicMonkey
Its ease of use and business options.
While it may not have overly advanced features, we hope this PicMonkey review proves that it is a great choice for entrepreneurs and everyone who doesn't want software that relies heavily on user creativity.
PicMonkey Alternatives
Knowing the industry, finding a PicMonkey alternative is not difficult but is any other online picture processor better?
PicMonkey vs Canva
While Canva is a better design tool, PicMonkey is much better for photography, while not falling behind that much on design.
Comparing these two programs is not fair due to their different uses, so it all depends on your needs.
If you're looking for a design tool, go for Canva.
In any other case, choose PicMonkey. If you need more info, check out our Canva review.
PicMonkey vs Visme
Visme is much more advanced than PicMonkey, so these two can't be effectively compared either.
Both have limited free versions, but with a monthly fee nearing Photoshop's, Visme may be too expensive for what it offers.
It's great for creating business charts and infographic design, but that's a pretty narrow niche, so we'd say PicMonkey wins here.
PicMonkey vs DesignEvo
Being able only to design logos, DesignEvo doesn't stand a chance against PicMonkey. The latter is solid for logo design itself, and it still can do so many other things.
The only major advantage that DesignEvo has over PicMonkey is its price, as you only need to pay for it once.
Go for it if all you want is logo making.
Final Verdict
Although there is no free version, PicMonkey has solid pricing considering what it is capable of.
It is the best online graphic tool for non-designers and everyone else who doesn't feel confident in being creative.
If money is no issue, we highly recommend that you go for a paid plan.
Older users criticized the software for a lack of new options in most negative PicMonkey reviews of 2022, but the current target audience shouldn't have to worry about that anyway.
FAQ
Yes. Being an online app, PicMonkey itself can do you no harm.
There is a free version, but since you can't save your work, it is nearly unusable.
Which is better, Canva vs PicMonkey?
Although both are graphic design tools, these are so different that they can be used simultaneously to great result. If you're strictly about graphic design, Canva is your pick, but if you like your software versatile, PicMonkey is better.
What can I use instead of PicMonkey?
All of the alternatives listed here are solid options. Try Canva if you're into graphic design, Visme if you need a complex business design tool, or DesignEvo if you only need logo software.
Is PicMonkey as good as Photoshop?
No, it's not even close, but PicMonkey is much cheaper. Photoshop is extremely complex. If you are not a designer and are just looking for a simple online graphic tool, many PicMonkey reviews by users who have used both tools suggest it is even better.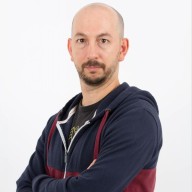 Nick Galov
Unaware that life beyond the internet exists, Nick is poking servers and control panels, playing with WordPress add-ons, and helping people get the hosting that suits them.