Systeme Review—How Good Is Systeme.io For Marketing Automation?
Edited by
Aleksandra Yosifova
Systeme offers sales tools, email automation, and funnel builders, but that's not all. You can create webinars and membership sites, set up affiliate programs, and even build websites. Curious to learn more? Read our thorough 2022 Systeme review to see where it truly excels and where its limitations lie.
Free: Yes:
free plan & free trial
Drag-and-drop editor:
Yes
Visit Website
Best for:
BEST FOR CREATING WEBINARS
Strengths
Free plan

Excellent customer service

Positive reputation

Blogging tools
No CRM & analytics

A bit cumbersome
Systeme.io saves you the hassle of switching between multiple apps to complete a single task. It puts all the tools you need to run a marketing campaign, an ecommerce store, or an online business.
In this thorough Systeme review, we analyze its pros and cons, pricing, user feedback, and more.
Stick around to find out how to take full advantage of the solution.
What Is Systeme?
Systeme.io is a funnel building, email marketing, and sales automation service.
The Systeme software helps you create sites seamlessly, manage your army of affiliates, and set up membership pages.
And the list goes on.
It also provides valuable tools for course creators, freelancers, and consultants. You can even run webinars.
But how easy is it to use all these tools?
Let's find out.
Ease of Use
Systeme.io is simple and user-friendly. It has an intuitive interface and drag-and-drop tools.
What's more, you can easily set up sales funnels using the Systeme website builder. In fact, the whole process will take you no more than a few minutes.
Better yet, you don't need coding or HTML to design attractive landing pages. You can use the simple yet flexible Systeme landing page templates.
That said, it has a steep learning curve. Beginners might find the onboarding phase challenging. But Systeme offers a simple solution—video tutorials.
Once you sign up, you'll receive tutorials on how to use the features via email.
You'll also find a wide range of resources, such as step-by-step guides and blog posts, on the website.
Systeme Features
In this section, we analyze the functionality of the Systeme landing pages, marketing, and automation tools.
Pre-Built Funnels & Templates
According to Systeme's website, you can create an effective sales funnel in 30 seconds with only three clicks.
Thanks to its quick and intuitive interface and drag-and-drop techniques, that's possible.
On top of that, Systeme provides pre-built formats and templates for funnels and landing pages.
They are professionally-looking, eye-catching, and masterfully optimized.
All this is meant to help increase your conversion rates.
Email Marketing
In addition to the landing page builder, Systeme provides a strong suite of marketing tools.
For example, you can expand your mailing list and design better campaigns with minimal effort. Plus, you can send unlimited emails and follow-ups to promote your products, services, and events.
With the time-saving autoresponders, you can reach your subscribers' inboxes in a matter of seconds.
Last but not least, you can create squeeze pages. They'll help you convince visitors to subscribe to your email list.
Business Automation
A common point of praise in many Systeme reviews by end-users is the service's automation functionality.
Systeme helps you with conversion optimization and workflow management. You can automate the sales process while keeping an eye on key metrics.
For optimization, it offers A/B testing, so you can create different campaign versions and compare their performance.
Systeme Affiliate Management
Systeme helps you create and manage affiliate programs. You can scale your business by involving third parties in your marketing efforts.
It lets you create multi-tiered commission programs for your affiliates and track your progress toward certain sales milestones.
If you're an affiliate yourself, you can customize your programs, increase traffic to your website, and monitor click-through rate and visitor engagement.
eCommerce Options & Drop Shipping
Whether you sell digital or physical products, Systeme has you covered.
Thanks to the online store features, you can attract more customers, increase your upsells and bottom line, and take your business to the next level.
By using Zapier, you can add analytics to harness the full power of the built-in testing tools and craft the perfect ecommerce pages.
The same holds true if you're selling physical goods, as the platform offers a robust set of drop shipping automation.
Membership Sites
If you're a course creator, you don't have to look for third-party apps to distribute your content.
You can upload and manage your online courses with Systeme. The software provides all the necessary tools to create membership sites.
Plus, there's a handy all-in-one dashboard from which you can easily manage your content.
Further, you can collect money from your students via PayPal, Stripe, and most credit and debit cards.
Blogging Tools
Sure, having efficient funnels and shopping carts is essential. But it usually isn't enough on its own.
To drive more organic traffic, many ecommerce and business websites feature blog sections.
Luckily, Systeme gives you the means to build a blog and upload new content seamlessly.
It simplifies the publishing process by providing convenient templates.
Evergreen Webinars
Last but not least, the Systeme software offers a platform for creating evergreen webinars.
This can help immensely with lead generation and sales.
Once you have your content ready, you simply upload it and watch it generate profit.
Since your customers can access your content at any time, it could even be a continuous source of income.
Plans & Pricing
In this section, we discuss the Systeme pricing structure.
Let's see what service the bundle offers.
The Free Plan—$0
This plan includes the following tools:
A list of 2,000 contacts

Unlimited emails

Three funnel templates

Blog builder with unlimited blog posts

One membership site with unlimited members

Systeme integrations

with PayPal & Stripe

Unlimited storage space

One automation rule

One email campaign structure

Split testing

One coupon code

Affiliate program manager

One

Systeme custom domain

24/7 email support
The free package is great to start out, but the paid Systeme plans offer way more features. Plus, they're quite affordable.
The Startup Plan—$27/month
This subscription includes everything from the previous bundle, plus:
5,000 contacts

10 sales funnels

Five blogs

Five membership sites

10 automation rules

10

email campaigns

10 A/B tests

10 coupon codes

Three custom domains
The Webinar Plan—$47/month
This one is particularly tailored for consultants. It contains:
10,000 contacts

50 sales funnels

20 blogs

20 membership sites

100 automation rules

100

email campaigns

50 A/B tests

50 coupons

10 domains

10 evergreen webinars
The Enterprise Plan—$97/month
This plan is geared toward large organizations and corporations with advanced marketing needs.
For this price, Systeme provides:
15,000 contacts

Unlimited funnels, blogs, and membership sites

Unlimited automation rules and

email campaigns

Unlimited A/B tests and coupons

Unlimited domains and webinars

Free migration

One-to-one coaching sessions
Lastly, you can test all plans for free with the 14-day Systeme free trial.
Support
In this section of our Systeme review, we focus on the company's support channels and resources.
As we mentioned, all Systeme subscriptions come with 24/7 email support included. If you are not a paying client yet, you can submit a ticket through the "Contact Us'' page.
Alternatively, you can check out the comprehensive knowledge base. There, you'll find informative articles and step-by-step guides.
Perhaps the best part of Systeme customer service is the video tutorials section. The videos are short yet extremely useful and detailed.
Overall, Systeme's support service is great. Plus, it's rich in informative content for all customers.
Systeme Reputation
To learn how other customers feel about the service, we read numerous Systeme reviews online.
On G2, the service has a 4.5/5 rating from only 21 reviews. Capterra gives the company 4.8/5 stars based on 281.
Users praise the quality of customer service and the migration option.
Some complain about the steep learning curve and complicated website design. Systeme's customer relations agents listen to users' feedback, as evident by the amount of effort put into improving these areas.
By far, the most positive Systeme reviews that we found were on TrustPilot. As of May 2022, it shows an incredible 4.8/5 rating from 947 reviews. Most users describe the service as fast, convenient, effective, and affordable.
As for Systeme reviews on Reddit, other than a few promotional comments by the company, we couldn't find a single independent evaluation or user-initiated discussion.
Who Is Systeme For?
All-in-all, Systeme.io is a solid funnel builder with excellent email marketing and automation features.
It has a wide palette of features, affordable pricing, a user-friendly interface, and stellar customer service.
That said, Systeme is not without its shortcomings. For instance, it lacks a CRM tool and doesn't offer advanced analytics.
Overall, Systeme's automated marketing emails and convenient funnel builders are enough to render the service worthy.
It's perfect for freelancers, growing business owners, course creators, and consultants.
Alternatives of Systeme
To give you a larger range of options, let's compare Systeme to some of its fiercest rivals we've already reviewed on Web Tribunal.
Kajabi vs Systeme
Kajabi is more focused on building membership sites for course creators. Although Systeme offers this option too, it's not as popular as that of its counterpart.
That said, Systeme.io fights back with a free plan and lower overall rates.
GrooveFunnels vs Systeme
While Systeme is a versed and experienced player, GrooveFunnels is still developing its feature set.
Still, GrooveFunnels excels when it comes to analytics and integrations. Systeme, on the other hand, has a better customer support and user feedback.
GoHighLevel vs Systeme
GoHighLevel is a relatively recent yet highly-rated online marketing solution.
Its biggest advantage is its handy pipeline feature—the "HighLevel CRM."
In contrast, Systeme.io lacks CRM tools, but it's much more affordable than GoHighLevel.
Final Verdict
Let's do a quick recap of Systeme's main pros and cons.
It excels at email marketing automation and funnel creation. Plus, it offers an affiliate program organizer, membership site builders, and even webinars.
Granted, it could improve its usability and analytics, but nothing's perfect.
All the same, this is a reliable solution that excels at what it sets out to do.
Systeme.io is a powerful, streamlined tool that can boost your conversion rate.
FAQ
Systeme.io offers a free plan. Check out the Pricing section above to see what it includes.
Besides, it provides a 14-day free trial for all paid subscriptions.
Systeme.io is a great marketing automation and funnel-building solution. It's perfect for small-to-mid agencies, bloggers, consultants, and course providers.
Yes. Systeme was launched in 2010 by Aurelien Amacker—a tech specialist who understood the need for an all-in-one marketing solution.
In 2022, it continues to receive a lot of praise from end-users online, so there's no reason to doubt its integrity.
Yes, Systeme is a fully-functional all-in-one marketing platform. You can learn more about what it does in our detailed Systeme review above.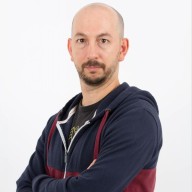 Nick Galov
Unaware that life beyond the internet exists, Nick is poking servers and control panels, playing with WordPress add-ons, and helping people get the hosting that suits them.