GetResponse Review - Testing the Top Email Automation Tool
A leader in the email automation industry, GetResponse excels in ecommerce. With a GetResponse deliverability rating of 84%, a wide range of tools to generate leads, and great customer retention you're set up for success. Find out more in the GetResponse review that follows.
Maximum subscribers:
100,000+
Emails per day:
Unlimited
List segmentations:
Custom configurations
Reporting & analytics:
Good
WORKS ON:
iOS
Edge
Opera
Chrome
Safari
Android
Firefox
Key features:
Email automation, ecommerce support. custom list segmentation, A/B testing, social media tools, etc.
Visit Website
Best for:
TOP ECOMMERCE TOOLS
Strengths
Good email automation

Intuitive workflow builder

Strong ecommerce functionality

App focused on social media advertising
No free plan

Templates aren't easily customizable
With an estimated two billion people now shopping online, ecommerce is stronger than it's ever been—and will keep growing.
If you own a brick-and-mortar business and you're looking to go digital, building a website is only the first step toward success. You need the know-how.
You need GetResponse.
Check out our full GetResponse review below for everything you need to know.
What Is GetResponse?
GetResponse is an email marketing platform that combines pay-per-click advertising with tools that generate leads organically, like landing pages. Its main focus is ecommerce.
It has a smooth and expansive interface that enables you to create newsletters, landing pages, forms, and surveys.
Moreover, it allows you to build entire visual workflows and sales funnels for a solid overview of your strategy and implementation.
Let's take a look at these features so you can understand how to use GetResponse.
GetResponse Best Features
For the best results in ecommerce, you need both knowledge and tools. GetResponse has you covered on all fronts.
Access the help center for some insight into what you need to get started. Then you can begin building.
Once you put yourself out there, you can use analytics to monitor your email campaign performance and further adjust your strategy for great conversion rate optimization (CRO).
GetResponse Integrations
Nearly all of GetResponse's 30 native integrations are geared toward ecommerce.
Amazon Payments, PayPal, Stripe, and Shopify are all supported, among others.
Google Analytics and Facebook Pixel are available for all your tracking needs.
If you want even more functionality, you can connect to Zapier for additional integrations.
What's more, GetResponse even allows you to connect any app you've created yourself.
GetResponse Interface
The GetResponse dashboard features a quick actions menu, access to the knowledge base, and an affiliate marketing portal. From there, you can access all GetResponse pro tools.
You can also customize it to your liking with a host of widgets that allow you to immediately launch stats panels, the landing page builder, and the automated workflows builder.
The visual workflow builder is extremely smooth. You simply have to move the tiles, which represent workflow triggers, then link them with "wires."
This tool comes with a short tutorial, but it still takes some time to get used to. New users could be overwhelmed by the sheer number of options available.
GetResponse Templates
So far, we've discussed what's going on behind the scenes.
Let's take a moment to consider what your visitors will see, the landing pages and emails, and, more importantly, the templates you'll be using to create them.
GetResponse's template library has over 1,000 options available. The autoresponder software boasts quality and quantity, as they all look great.
When previewing email templates during our GetResponse review process, we at Web Tribunal were happy to see the desktop and mobile views displayed side by side. Landing page templates are automatically paired with a corresponding thank you page.
There is a tradeoff, however, which we circle back to later on.
Email Automation
With GetResponse, your email can be automated based on time and activity. The time-based autoresponder can be configured to a calendar to send out emails on a regular schedule.
GetResponse offers a feature called "perfect timing." With it, GetResponse reviews the activity of your contacts to figure out when they're most active.
When it has its active hours pinned down, it will send emails to particular contacts during those times. This ensures maximum exposure for your content and lessens the risk of it getting buried.
The action-based GetResponse autoresponder will send emails based on your contacts' follow-up behavior. For example, if they make a purchase, they'll get an invoice.
Email segmentation allows you to divide your mail list into various demographics and place contacts in them via tagging. That way, you can send relevant information to interested groups.
The GetResponse email marketing tools don't include preset segmentation lists. It's up to you to create as many as you need based on your data.
Split Testing
You can launch split testing directly from the GerResponse email editor. You can test either the subject line or the content of your email.
While many services only let you check the performance of two to three variations, GetResponse allows for a maximum of five.
Guess we'll call it A/B/C/D/E testing.
Analytics
Keep track of your GetResponse campaigns with the reporting features available.
You can choose to view the analytics in table form or as line graphs (or a neat world map for location data).
It is possible to filter the information by email type, so timed or action-based and any combination of mail lists can be included in the reporting.
For a more precise focus, you can track click performance within emails. And with the GetResponse WordPress integration for WooCommerce, you can monitor your site visits and use that data in your GetResponse analytics.
Speaking of commerce...
eCommerce
GetResponse puts a lot of emphasis on ecommerce.
Along with the already mentioned features, the automated responder also lets you structure your campaigns through the use of funnels. At the time of writing this review, the GetResponse autofunnel is known as the conversion funnel.
These are basically templates that suggest a set of tools depending on goals. In most cases, you'll aim to achieve higher conversion rates by getting visitors to answer your call-to-action.
This could be getting visitors to sign up for your mailing list, in which case you'll create a leads funnel. If your call-to-action is to get visitors to purchase a product, you'll use a sales funnel.
Funnels geared toward webinars are also available.
These are unique GetResponse automation instruments.
Other ecommerce-focused features include the ability to create or add stores through Shopify, Etsy, and Prestastore. Paid Facebook/Instagram ads, as well as Google Ads, are also currently available in beta form for continuous advertising to leads across multiple platforms.
GetResponse Mobile App Suite
GetResponse offers two mobile apps, so you can get a response with the autoresponder on the go.
The first is a basic app that allows you to monitor your campaigns, gather leads, send autoresponse emails, and view statistics. It's available for iOS and Android.
The GetResponse reviews for this app average a 3.4-star and a 4.4-star rating in the respective stores.
The second, more interesting app is called the GetResponse Social Ads Creator. It does just what the name implies—allows you to create video and banner ads for social media.
Although it's not created for one app, in particular, it has 200+ templates for Instagram, so you'll most likely be using it for this platform.
GetResponse Free Plan
While most email marketing platforms offer free versions, this email automation tool used to go the route of a 30-day trial.
For some time now, GetResponse has a free forever plan that is quite decent. It works for up to 500 contacts and allows you to start yous sales funnel by building a landing page.
You can augment the user experience with the GetResponse site builder as well.
What's more, quite unlike most services, GetResponse doesn't count inactive subscribers toward your contact limit.
What We Disliked
With all the upsides laid out in our GetResponse review, what are some of the downsides?
Scrutinize as we might, there really aren't many.
Most of our criticism is regarding the cost of the service.
Stiff GetResponse Landing Page and Email Template Customization
Remember that tradeoff we mentioned when we discussed the GetResponse templates? Although they all look great, they're quite stiff when it comes to customization.
While working with them, we found that changing one element could upset the balance of the entire template.
Luckily, there are many options available. It's just a shame that if you want it to personalize them, you'll most likely need to start from scratch over and over again.
GetResponse Price Plans
GetResponse offers four paid plans with monthly, 12-months, and 24-months billing options.
The 12-month plan grants an 18% discount, while the 24-month plan takes down 30% off the price. Nonprofit organizations can contact GetResponse for a further discount of up to 50%, judged case by case.
There is a free plan as well.
All plans have a default list size of 1,000 subscribers. To increase that number, you'd have to pay a few extra dollars. The cost varies depending on how many you want.
For example, the monthly basic plan comes with 1,000 contacts for $15. 2,500 subscribers will set you back $25/month, 5,000 will cost you $45, and so on up to 100,000 for each plan.
GetResponse Customer Service
The GetResponse customer support is great. We corresponded with the team multiple times through the ticket system and the 24/7 live chat.
The agents sent us promptly and in-depth responses to the tickets we submitted. But we were most impressed by the service we received through the live chat.
When we first used it, we had a question about segmentation. We clicked the chat icon only to find that an agent was already connected and waiting to assist.
Fantastic service!
Do note, however, that this isn't always the case. Busy periods will see you waiting a little longer—in our experience, not by much.
GetResponse User Reviews
To present a more unbiased review of GetResponse, we give you an overview of what others think of the platform.
The outlook on the service is mostly positive, rendering it the best autoresponder for 2022. Users enjoy the ease of use of the tool, as well as the variety of features it offers.
A GetResponse review or two on Reddit emphasize how streamlined the service's workflow creation is.
The main criticism we found in these GetResponse reviews is about the lack of a free plan. Some users also shared our frustration with the stiffness of the templates.
Quite a few users also wished for more in-depth analytics.
Is GetResponse Worth The Cost?
GetResponse is easily the best WordPress autoresponder on the market.
It's an email marketing platform with a great focus on ecommerce. It accommodates both organic lead generation and more traditional practices employed by bigger businesses, like pay-per-click advertising.
That said, the lack of a free plan is disappointing and the rigid structure of many of the templates can be annoying.
It may not be the best free autoresponder in 2022, but with its sales funnels and webinar capability, it's an all-in-one tool suitable for everyone.
GetResponse Alternatives
If you're still shopping around and would like to know what else is on the market, consider some of these alternative services.
Read on to see the performance of different autoresponders compared.
MailChimp vs GetResponse
MailChimp is considered to be the best email software by many. The two platforms are mostly on par price-wise, depending on the plan you're looking at.
MailChimp beats GetResponse in that it offers a great free plan and multiple users on entry paid subscriptions. GetResponse doesn't count inactive contacts toward your limit, though, while MailChimp does.
If you want a free WordPress autoresponder, MailChimp is the obvious choice.
But if you're ready to pay, it'll come down to your personal preference.
Constant Contact vs GetResponse
GetResponse is slightly cheaper than Constant Contact. The former also offers conversion funnels. The biggest difference between the two is that, unlike GetResponse, Constant Contact offers website building and web hosting.
If you have/want a website, Constant Contact is the obvious choice. Otherwise, GetResponse might be the better option.
GetResponse vs AWeber
The comparison between GetResponse and AWeber comes down to the price and the question of scaling. GetResponse is the cheaper option, for starters. But the more you want from the service, the more the cost increases.
This makes AWeber the cheaper option for more advanced features.
Ultimately, you'll need to consider what tools you need and budget accordingly.
Our Final Verdict
With a range of ecommerce tools, an intuitive workflow builder for email automation, and conversion funnels designed for lead generation, GetResponse is a solid choice for all your email marketing needs.
The biggest limitation we found throughout our research process for this GetResponse review for 2022 is the lack of a free plan.
This makes it less desirable for independent users, but you can check it out anyway with the 30-day free trial.
FAQ
What is GetResponse used for?
GetResponse is an email marketing platform with a strong focus on ecommerce. You can use it to automate emails, gather sales leads and then market to them accordingly.
It's easy to use and has a smooth workflow builder that provides a great overview of the processes as you put them together.
Is GetResponse better than AWeber?
At first glance, GetResponse looks like the better choice, as its basic plan is cheaper. But if you opt for more advanced plans, AWeber is more affordable—it provides similar features at reduced costs.
It's definitely in the top tier of email automation services. While we wouldn't declare it the best overall, it's definitely the best platform for ecommerce. Still, it's not ideal for blogging or outreach for an offline business.
How much does GetResponse cost?
The standard cost of GetResponse is $15 a month. If you choose the 12-month or 24-month payment plans, you can expect to pay as low as $10.50 per month for the service. Please see the pricing plan of this GetResponse review for the full details.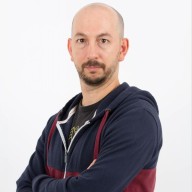 Nick Galov
Unaware that life beyond the internet exists, Nick is poking servers and control panels, playing with WordPress add-ons, and helping people get the hosting that suits them.
Leave your comment
Your email address will not be published.