Benchmark Email Review 2022: Pro/Cons, Features
Edited by
Denitsa Pilkova
Being so excessively easy to use, Benchmark is a great option for email marketing beginners looking for a seamless introduction to the field. See what else makes it good in this in-depth Benchmark email review.
Maximum subscribers:
200,000+
Emails per day:
Unlimited
Visit Website
Best for:
EASY AUTORESPONDER MANAGEMENT
Strengths
As easy to use as it gets

Great segmentation

Excellent automation

Clean user interface
Nearly no templates

Basic reporting only

Terrible delivery rate
Entrepreneurship has always been popular but nothing can be compared to its last couple of years of steep rise. The popularity of commerce and online services calls for email marketing, which is what autoresponder software is necessary for. At the core of continuous advertising and community building lies software that can send emails—promotional or otherwise—for you.
This is where Benchmark steps in. It relies on its segmentation and automation tools to keep your CRO good and your customer retention high. Join us as we discuss whether it succeeds at this in the following Benchmark review.
What Is a Benchmark?
Benchmark is a very easy-to-use autoresponder with great automation and segmentation features. Due to this as well as its supported contact list sizes, it's best for smaller (or medium-sized at the most) businesses.
Benchmark Best Features
Benchmark boasts some pretty high highs, so it's not that difficult to pinpoint its best ones.
Landing Page Builder
Despite the lack of templates, which we'll discuss later in this Benchmark review, we were really pleased with its page builder. Just like the rest of this email autoresponder, its user interface is modern yet very user-friendly.
It's not crammed with features and provides superb functionality. Also, it doesn't require any prior coding experience whatsoever!
Not only is it powered by drag-and-drops, it also has both desktop and mobile versions. When you make an element change on one of these, it automatically transfers to the other as well.
Other Customer Relation Methods
When creating Benchmark campaigns, it's important to note that the process isn't just about designing a landing page. Signup forms, surveys, and polls can be just as important for mail list building. This automatic email response software lets you do all of that, guiding you through each step of the process.
All you need to do is create or choose an existing contact list and then design the elements.
It doesn't leave much options for the latter but what's more important here is how quickly you can make all of this—it shouldn't take you more than a few minutes.
Email Segmentation
What each email campaign also needs is great segmentation, something that this automated responder handles with ease. There are around 30 Benchmark email segmentation criteria to choose from, most of which can be further customized for creating a highly-targeted sales funnel that will build trust.
Some of the criteria include names, places of residence, phone numbers, etc. There are also slots for creating custom ones, but you'll need to manually type their conditions. Although it sounds a bit tedious, the result would be much more professional if one puts an effort.
Integrations
Benchmark has a great integration count, with or without Zapier.
With it, the number reaches over 1500, without—around 30. All are well-curated and include Shopify, Slack, Google Sheets, LinkedIn, and Twitter. The Pro version even integrates with Facebook Business.
Of course, there is also a Benchmark WordPress integration. What's particularly impressive about that one is how you can integrate a WordPress site with not just one but up to five Benchmark accounts. You can also build mail lists and send blog posts as formatted emails. All of this makes for a pretty decent WordPress autoresponder.
Templates
We were quite disappointed with the Benchmark templates selection since there hardly are any.
Sure, the landing page builder is so simple to use that it kinda makes up for it, but there isn't any real excuse for such a low number.
With just six pre-built templates and three custom ones, this has to be the lowest point of this Benchmark review. To mitigate the poor offering, third-party services can fix this problem by offering additional templates.
Email Automation
Here's where the quality design and functionality of the fabled Benchmark tools begins to shine.
There are two versions of automation tools—Lite and Pro.
The first only offers a few workflow triggers and is no good for follow-up emails.
You can make a contact on a regular basis—annually, before/after/on a certain date, when people subscribe to your service. While these options are highly customizable, they are still quite limited and don't offer the functionality and freedom one would expect from an automation tool.
Probably because it's the only one available within the free plan.
The Pro Benchmark email automation tool, on the other hand, does everything you'd expect it to. It helps you create automated workflows with great ease, even offering great workflow templates.
We were particularly impressed with this part, as it can help you figure out how to use Benchmark much easier, especially if you're new to email automation tools.
Split Testing
The split testing feature in this automated reply email app is only available for those using the paid plan. Not quite beneficial for our Benchmark review grade but at least its AB testing tool is very good.
Like other tools in this autoresponder software, it's very easy to use. Also, a feature unique to the Benchmark app and worth mentioning is the points system. It lets you choose how important a certain customer action is to you, namely opens and clicks.
The winning email can then be determined by the sum and sent automatically or manually.
Usually, there can be two or three testing groups but you'll need to make a draft before performing the test itself.
Analytics and Deliverability
Benchmark isn't targeted towards email marketing buffs, per se, as its reporting is pretty basic. Not much to report and see here, just generic numbers—the number of opened/unopened emails, link clicks, etc. The social media share statistics and geo-tracking better the situation a bit, though.
Unfortunately, we have to report that Benchmark has the worst deliverability on the market. According to EmailToolTester, it only delivers around 75% of all emails… and that's after receiving updates and improvements.
What We Disliked
It might be good, but the Benchmark autoresponder is far from being the best autoresponder of 2022. Why is that?
Questionable delivery rate—Most other autoresponders have greater deliverability compared to this one.
Too few templates—While integrations mitigate this limitation, the fact that Benchmark has only a handful of templates remains.
Limited analytical tools—It lacks some advanced features, especially when it comes to analytics, a must for every good autoresponse emails software. Again, integrations can offset the lack.
Plans & Pricing
While Benchmark can be construed as an easy-to-use cheap autoresponder, there are cheaper ones that may even give you more bang for your buck. Still, considering Benchmark's cost, it can be seen as valuable and useful. Let's see exactly how much it costs:
It gives you basic automation and reporting features, coupled with a 250 emails limit. You'll generate less leads with it, but at least it doesn't limit the amount of subscribers you can have. Interestingly enough, it's the only one that puts a limit on the number of emails instead of the subscribers, as all its paid plans do the exact opposite.
For $15/month ($13 with an annual subscription) you get 500 subscribers and a larger client's contact lists (the Benchmark's discount also increases with each bigger list). As we've already mentioned, the number of emails you can send per month isn't limited. This option also lifts all the restrictions of the Benchmark Free plan. Additionally, you get premium support through live chat and phone.
If your contact list exceeds 100,000 members, you'll have to upgrade to the Enterprise plan. Other than a maximum contact list size of 200,000 members, you basically get all the platform offers without any limit. You also receive a dedicated IP to improve the deliverability, as well as email whitelabeling. The starting price of this Benchmark pricing plan is $719/month for up to 125,000 contacts, or $611 if you subscribe for a year. Custom - Finally, if you have even more than 200,000 subscribers, you'll have to contact the sales department to get a quote.
Benchmark Support
Benchmark's customer service is pretty great—it gives straight-to-the-point replies with their own links and screenshots for additional reference! Moreover, if you communicate during business hours, you'll get a reply in minutes.
The same cannot be said about its knowledge base, though. First, it's not even available in the free version. There won't be a second since that's plenty enough to make it yet another part of this Benchmark email review that disappoints. If you'd like to see, for example, the best autoresponder email examples or an email marketing guide, you would have to pay up. For comparison, most of the best email software offers this for free...
Benchmark User Reviews
Benchmark has been very well received by the general public. The reviews are predominantly positive as it's extremely easy to use, with a simple, yet intuitive interface, and offers great customer support. Only things people are complaining about are bugs and some minor drag-and-drop editor details.
Finding even a single Benchmark review on Reddit proved impossible so it's rather hard.
Still, what matters is that most users seem pretty satisfied with the platform.
Is Benchmark Worth It?
All said and done, Benchmark is a solid autoresponder.
While conducting this Benchmark 2022 review, we found some shortcomings, but that doesn't make the service poor.
It has lots of positives, especially its nearly unparalleled ease of use. Also, almost every user-written Benchmark email review is positive, which tells you a lot about its reliability…
Benchmark is a great option for beginners with smaller budgets wanting a no-frills experience.
Benchmark Alternatives
After all, we have discussed, all that's left is to see how it compares to some of its competitors. So which is better—Benchmark or…
Benchmark vs MailChimp
Overall, MailChimp is a much bigger tool with great ecommerce features. It has more templates and an additional SMS marketing service, though Benchmark is much better at email automation. Since this is what email responders are mainly about, the end result is much closer than expected… the winner being a matter of your own preference.
Benchmark vs GetResponse
The GetResponse autoresponder doesn't support contact lists as big as Benchmark does, but it boasts more advanced features.
It doesn't have a free plan, just a 30-day trial for most of its services, which is also bound to turn away many customers. Still, GetResponse has more templates, making it a worthy contender.
Overall, it's a close call since both have similar pricing and lots of integrations… and once again, boils down to personal preferences.
Benchmark vs AWeber
Apparently, Benchmark offers pretty competitive service. Both of these have similar free plans, primarily targeted towards smaller businesses.
AWeber offers only one paid plan with more limitations but has more templates and is cheaper.
Benchmark's better for automation and segmentation, though.
Final Verdict
Its user reviews are pretty significant and persuasive—Benchmark is a pretty good service.
Indeed, there are more complex suites out there, but this software does what it is designed to do perfectly. Ifs focus on simplicity and ease of use still provides enough depth and control. Our detailed Benchmark email review will end on a positive note:
If you're a small business owner looking for an autoresponder that will lead you through all the steps of the sales funnel and won't break the bank, it is an excellent choice.
FAQ
What is Benchmark used for?
Mainly for creating automatic email responses that trigger when a person interacts with your service's website or landing page. It's particularly good for email automation.
How much does Benchmark cost?
It offers some of its services for free, but if they don't cover you, you can opt for a paid plan with prices starting at $15/month.
Is Benchmark better than AWeber?
It's definitely better than AWeber for segmentation and automation. It has fewer templates, though. Their free plans are basically identical, so we highly recommend you test them for yourself.
Benchmark is one of the best options for what it is designed to do. See our full Benchmark review for the detailed information, but as we've already pointed out—it's great for beginners that want to build a comprehensive sales funnel on a limited budget.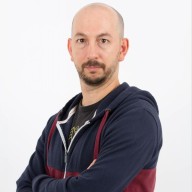 Nick Galov
Unaware that life beyond the internet exists, Nick is poking servers and control panels, playing with WordPress add-ons, and helping people get the hosting that suits them.