iSpring Review—PowerPoint Simplicity Meets LMS Complexity
Edited by
Denitsa Pilkova
If you want to take your PowerPoint course-creation skills to the next level, there's no better place to start than iSpring. This elegant tool can turn your regular slides into gorgeous and information-rich materials. Read our in-depth review below and see for yourself!
Suitable for:
Employers, tutors, teachers
Mobile app:
iOS, Android (for end-users)
Starts at :
$2.82/month for 500 users
Visit Website
Best for:
BEST CUSTOMER SUPPORT
Strengths
Enormous content library

Powerful converter

Stellar customer service

Bullet-proof reputation

30-day guarantee
Sometimes buggy

Not the most affordable

Largely dependant on PowerPoint
As of 2022, iSpring is one of the most comprehensive elearning tools for all types of educators and trainers.
Its excellent reputation shows in hundreds of iSpring reviews that attest to its legitimacy.
Throughout this text, you will learn the reasons for its success, what tools it offers, how it operates, and how much you'll need to pay.
Let's see exactly how iSpring can help you.
What Is iSpring?
iSpring launched back in 2001 as a PowerPoint extension.
It was meant to help you seamlessly enhance your presentations and deliver online courses. To a certain degree, iSpring is still a Microsoft PowerPoint tool, but twenty years down the road it offers much more.
In this iSpring review, we will discuss its particular features, cloud and sharing capabilities, integration with the most robust learning management systems, and everything in between.
So without further ado, let's start with what makes iSpring truly unique and outstanding.
iSpring Features
We at Web Tribunal did extensive research so we could outline every relevant detail about the service and its functions.
While reading this, keep in mind that iSpring is still a PowerPoint-based solution.
Hence, most of the following features will be reliant on Microsoft's system:
Content Library
What iSpring does best is offering you a plethora of beautiful and professional templates for your PowerPoint presentation.
You can find them by opening PowerPoint and going to the iSpring tab and ribbon.
You'll have over 89,000 templates to choose from, so you can transform your courses into attractive iSpring products.
You can also enjoy other elements from its vast content library, such as images, icons, and other exciting objects.
Quiz Maker
This is one of its oldest and most reputable features. Even with its free version, you'll be able to design a multitude of quiz types for your students and stakeholders.
For example, you can create survey-style questions to collect data or grade tests. You can also make these tests as interactive as you want, choosing between 14 different question types like multiple-choice, drag-and-drop, or essays.
What's more, the "Import" option allows you to embed quizzes from your Excel sheets onto your presentation.
Narration & Screen Recorder
If you want to disseminate high-quality courses with iSpring, it's not enough to design compelling slides and write content.
That's where the solution's advanced functionalities come to the table. The "Narration" option can be used to record yourself while you narrate the slides and go through them.
Then, you can edit the recording using the additional built-in tools.
"Screen Recorder" has a similar role, helping you demonstrate software-based skills and tutorials in a visual and dynamic manner.
Dialogue Simulator & Other Interactions
iSpring turns tutoring and learning into pleasant and interactive experiences. This is demonstrated by its interactive tools, such as the "Dialogue Simulator."
The tool enables you to create dialogue simulations between avatars and learners. It will teach your students or employees which reply options are most suitable for specific social situations, helping them become good salespersons or support reps.
Other interactions include timelines, pyramids, guides, catalogs, and FAQs.
iSpring Pro Converter
One of the most crucial functions available is converting PowerPoint files to other formats, which are more accessible to students and employees.
This is why iSpring Converter Pro helps you turn PowerPoint presentations into HTML5 and MP4 files. It also supports:
cmi5

SCORM 2004

SCORM 1.2

xAPI

AICC
From all these, HTML5 seems to be the safest bet.
It preserves most of the original effects and elements and is accessible from any device with a browser. MP4, on the other hand, is less interactive but more universal as a video format.
iSpring Flip
By virtue of iSpring's conversion capabilities to HTML5, you now can turn your PowerPoint course into an eBook—or flipbook, in iSpring's terminology.
Many iSpring reviews contain praises for this feature. And no wonder because it allows you to publish your work to any website or LMS you want.
The only downside is that you'll lose the interactive features that would otherwise be part-and-parcel of a PowerPoint presentation.
iSpring Learn
The service is compatible with most of the major learning management systems in the game.
This means that you can upload your iSpring courses to platforms such as Moodle,, CourseMill, or Digital Chalk, once your content has been converted from PowerPoint.
What's more, it even has its own LMS solution, which can be purchased separately—iSpring Learn.
With this platform, you can track relevant metrics, assign different permissions and roles to your students, create individual profiles, and set up notifications and alerts.
To top all these, iSpring Learn is also very mobile-friendly, thanks to its iOS and Android apps.
iSpring Space
If you're not impressed yet, it's time to tell you that the software provides a native cloud service called iSpring Space.
In essence, iSpring Space is like a hub where you can share educational materials with your students and collaborators. It includes 20GB of storage and an iSpring online authoring tool that allows you to create courses and quizzes directly in your browser.
You can even manage your entire team from there, granting differential access and roles to your members and sharing content via email links.
Use Cases & Ease of Use
As we mentioned earlier in our iSpring review, the service can be used by any category of educators.
For example, if you're an employer, you can deliver online courses to your newly-hired employees to assist with their induction training. As for employees who already have some experience and are in the midst of their daily tasks, you can enable microlearning by regularly sending them small bits of information.
You also have the opportunity to educate your employees regarding compliance issues, software knowledge, or product research. Moreover, they can access your content on the go thanks to the mobile-friendly nature of iSpring.
But this software is not just for employers and entrepreneurs (although it recently launched an online selling solution—more on that later). You can also use iSpring for coaching, tutoring, and even as part of your job as a school or university teacher, thanks to its LMS capabilities.
When it comes to ease of use, iSpring is definitely one of the most streamlined and intuitive online learning solutions. It can be accessed directly from Microsoft PowerPoint's menu (as we described earlier), or you can open the Suite by itself and enjoy iSpring Space's capabilities and non-PowerPoint tools.
Finally, it also provides standalone solutions such as the Audio-Video Editor or Flip, which we already discussed. We will analyze their pricing structures in the next section.
iSpring Pricing
It's time we took a closer look at iSpring's pricing structure and offering.
The software offers a 30-day money-back guarantee, during which you can get a full refund if you're not satisfied. The paid plans are as follows:
iSpring Suite
$770/year for businesses ($470 for academics and non-profits)
For this iSpring cost, you'll get the core functions included in the iSpring Suite bundle. It's basically an all-in-one authoring toolkit that contains the Pro Converter, Quiz Maker, options for video lectures, screencasts, role-plays, interactions, and the flipbook feature. It also provides 24/7 customer support. This package can be used by up to five authors, though the price will increase once the limit is surpassed.
This is the iSpring Suite plan on steroids, as it includes everything from the previous package and adds even more tools to the mix: the text-to-speech feature, the content library, and the online collaboration app (iSpring Space). Considering these helpful add-ons, there's no wonder that the iSpring Suite price is exceeded by the cost of this bundle.
The price for the iSpring Learn solution is separate:
$2.82/user/month for 500 users
$3.00/user/month for 300 users
$3.66/user/month for 100 users
Apart from this, the software recently launched an online selling solution for courses called iSpring Market. So far, this tool is pretty popular in most iSpring reviews. It starts at $77 per month for 500 users and can go up to $277 per month for 2,000 users.
There's also a special tool for software developers—iSpring SDK, which you can try for free and then ask for a quote from customer service.
Finally, iSpring authoring tools can be purchased separately, although they are also part of the main bundles. The good part is that they can be tried for free before making a purchase decision if employed separately:
iSpring Presenter (for creating courses, quizzes, and video tutorials)—$470/year
iSpring Cam Pro—$227/year
iSpring Page for micro users—$97/year
iSpring Support
iSpring offers excellent support in terms of knowledge base and onboarding. It bombards you with useful tutorials and wizards at every step of the process. It also puts lots of thorough guides and online webinars at your disposal.
Its Community section includes a blog and a forum. However, at the heart of iSpring's support service lies the Support Center, where you can submit tickets, check out informative videos, and read FAQs. Alternatively, you can use the live chat option to get quick and effective answers to your inquiries.
But where is iSpring located? The answer is Virginia, US. Other contact information includes the support team's phone number (+1 800 640 0868) and email address—[email protected].
From our experience, but also according to many other iSpring reviews, the support crew is extremely responsive, knowledgeable, and fast. This and the 24/7 availability make this provider one of the industry's finest in terms of support.
iSpring Reputation
In this part of our iSpring 2022 review, we're looking at the service's customer feedback, ratings, and reviews.
On G2, iSpring enjoys a solid 4.7/5 rating out of more than 300 independent reviews. Many satisfied users mention intuitiveness, customer care, and efficiency as the service's strongest points.
Looking at the TrustRadius rating, we find an impressive 9 out of 10 score and an overwhelming majority of positive opinions. On Capterra, the software's rating is also excellent—4.6 out of 5 stars.
The few complaints we found revolve around occasional bugs and interruptions, but these are common to any software.
The iSpring Reddit reviews are also positive, although Redditors are more hesitant to use big words when describing the service: "Simple, fast and easy—that is all I can say about iSpring Suite ;)"
All in all, iSpring's online reputation is a more-than-decent one, with tons of praises and only a few complaints.
Is iSpring Worth It?
iSpring is a solid addition to Microsoft PowerPoint as it helps you design more impactful presentations. It gives you the necessary tools to integrate multimedia into your courses and effectively educate your students and employees.
In this iSpring courses review, we showed you how iSpring rules the game regarding the content library, quiz-making capabilities, LMS integration, and cloud functionalities. Customer service is yet another strength of the service, while the incredible level and intuitiveness and the high number of use cases are the cherries on top.
However, keep in mind that iSpring relies on PowerPoint. Therefore, educators who are not fond of the Microsoft program would most likely avoid this solution. It can also be a little buggy at times, and its prices are not the most affordable either.
At the end of the day, iSpring can be an excellent choice for those looking to create powerful slides and also collaborate with stakeholders throughout the teaching process.
iSpring Alternatives
To give you a wider range of options, we compared iSpring with some of its most prominent competitors. You can check out the results here:
iSpring vs. Pluralsight
iSpring is considered to be incredibly easy to use. Nevertheless, Pluralsight is deemed by many the simplest and most streamlined solution across the industry.
iSpring fights back with superior quality of customer service and the existence of video tutorials as a training tool.
iSpring vs. MasterClass
These two services differ from many points of view. While iSpring is essentially a PowerPoint tool, MasterClass is a WordPress theme that allows you to build a comprehensive LMS around your WordPress project.
However, iSpring is still more popular than MasterClass and has a broader palette of functionalities.
iSpring vs. Total Training
Total Training is a lesser-known solution that provides know-how in the form of customized training, eLearning, and consulting services. It's a more generalistic solution compared to iSpring, which specializes in offering PowerPoint tools and converting capabilities.
iSpring is still vastly preferred over Total Training by virtue of its excellent customer feedback and ease of use.
Wrap Up
Throughout our iSpring review, we saw how this solution could bring your PowerPoint slides to life and keep your students and employees well-educated and informed at all times.
Because of its almost unparalleled ease of use, diverse functions, cloud features, and LMS compatibility, iSpring became one of the most renowned online learning tools currently available.
This is why it boasts over 59,000 clients around the globe, with Visa, FedEx, Phillips, and Bayer some of the most famous and worth-mentioning ones.
If you think these giant companies were up to something when choosing iSpring, take this tool for a spin and share your experience with us!
FAQ
Yes, absolutely. iSpring is a completely legitimate service with tons of positive feedback. It was founded in 2001 and gained tens of thousands of satisfied customers in the meantime.
iSpring is a US-based company headquartered in Alexandria, Virginia.
iSpring is a more-than-reasonable platform from which you can disseminate your educational materials. It relies on PowerPoint, but it also has its own quirks and particularities. To learn more about them, read our entire iSpring review above.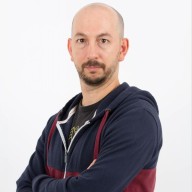 Nick Galov
Unaware that life beyond the internet exists, Nick is poking servers and control panels, playing with WordPress add-ons, and helping people get the hosting that suits them.