So, you're looking for an awesome website name generator.
Considering the fact that there are a plethora of such tools online, how can one be sure to choose the best one?
Well, worry not – we have you covered.
Below is a selected list of the best domain name finders that will provide you with catchy names
Make sure to carefully study each of these options because these tools are not the same – each offfers specific features, but not all of these will appeal to your website.
Read on!
Show More...
Top Domain Name Generators
Nameboy – Best for catchy, sophisticated names

BustAName – Best for picky customers

NameStall – Best for optimizing your domain name

Domain Puzzler – Best for newbies

DomainWheel – Best for generating a name easy and quick

Lean Domain Search – Best for WordPress sites

DomainTyper – Best for those who are set on a specific name

Panabee – Best for synthesizing ideas
Have you ever wondered how Google got its name? What does the word "Google" mean anyway?
"Google" wasn't actually the first name to be considered by Larry Page and Sergey Brin, its original developers. They first thought about calling their search engine "BackRub". This was meant to be a wordplay on the fact that the engine analyzed backlinks to rank its search results.
These guys are great but not exactly the best domain name generators around, so it took them a while to see "BackRub" didn't scream success.
Luckily, the name just didn't rub them right (if you'll pardon the pun), so Sergey and Larry began gathering other ideas for naming their brainchild. After some brainstorming, the word "googolplex" was brought to the table by a friend of theirs, and the word "googol" soon followed.
For those of you wondering, a googol is a ridiculously high number – 10 followed by hundred zeros. And googolplex is even bigger – it's 10 multiplied by itself a googol times!
Happy Little Accidents - Domain Name Creation
Because there was no available domain names generator at that time that would suggest a better name, "Googol" appealed to the co-founders, but none of them seemed to know how the word is spelled since they spelled it "google". By the time they became aware of the mistake, they had already grown fond of the new word, and so Google got its unusual name.
Now it would be nearly impossible to imagine Google being called anything else, especially BackRub. Had it retained its original name, it's debatable if anyone would have taken it seriously enough and if it would have ever reached the momentous popularity it enjoys now.
And that is the importance a name can have in the success of any project.
A good domain name can mean a world of difference to the growth of your site.
This article covers how to find a good domain name. The best domain generators listed here will help you do exactly that without worrying that the name is already taken.
Word of advice: start searching for a domain with these tools only when you are ready to register. Choose one of the best domain name hosts you can hope for, set aside some $30–50 (it may be worth it to register a couple of promising domains for several years), and go for it.
The 8 Best Domain Name Generators
The Parameters of a Good Domain Name
Before you get to use a domain name generator, you should first come up with good ideas. If you wish to make the most of your domain name, you need to make sure that it meets specific criteria.
Domain names don't only make the internet go round but also are the bedrock for successful SEO strategies. To capitalize on the name value, it's a good idea to abide by the following metrics:
Make your domain .com – 46.9% of websites are .com, and people certainly notice its prevalence, so it would be wise to use this TLD along with a solid domain suggestion tool to get a name that will instill a sense of trust in your audience. Most of us are simply used to the .com extension, so it's a good one to rely on for a high visit rate unless you plan to target a specific region with your product or service. Then, a local TLD would be the way to go.
Make it short – this has two advantages. First, people are more likely to remember a one or two-syllable name than one with five or more. Second, a shorter name reduces the odds of it being misspelled when searched online and having people directed to a different website. The optimal length is eight letters.
Make it unique – the best domain names ever are usually odd because they stand out and are more likely to be remembered, so make sure to take advantage of that. Try to come up with a unique word or phrase with no prior meaning (like YouTube) so that when your name gets mentioned, everyone thinks of your brand.
Avoid hyphens and other symbols – again, simple is the best. Adding non-letter symbols like numbers can create confusion, as many won't be sure how to spell the name. For example, if your domain name is 50flicks and someone says that name to another person, will that person know whether to type in the numbers or the letters?
Make it descriptive – Be that through wordplay or through an actually descriptive word, the domain should reveal the nature of your site. This will help both users and search engines treat it accordingly.
As you can see, Web Tribunal breaches two of these guidelines but abides by the other three. That's good.
Domain Name Generators to the Rescue
These tips can greatly help you in forging your bullet-proof brand name. However, all this is far easier said than done. There are over 339 million domain names out there, so the many catchy names for websites are already taken. This can make the process infuriating, at least if you do it on your own.
But there are tools that will help you ease the frustration.
If you're wondering how to find a good website name, name generators can help you find the perfect solution for your domain pain.
The procedure is basically the same for every suggestion tool, and it's pretty simple – you type in your idea for the domain name and are soon greeted by a multitude of viable and available suggestions based on what you typed.
Wrap Up
There you go.
The suggestions above should be more than enough to satisfy your needs to choose a proper name for your professional, good-looking website. What we listed above is considered to be the top 8 best domain name generators one can come across.
As mentioned earlier, a name holds heavy significance in the business world and could mean life or death to a starting website. It's perfectly natural to worry and even obsess about the quality of such a name, especially when so many good ones have been taken away.
But finding a domain name becomes so much easier with a good name suggestion tool. And here you learned about the top of the cream in that realm. This guide has covered name generators for websites, but you should know that each of these tools could be observed as a solid blog name generator as well.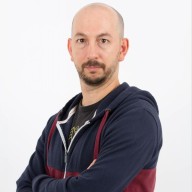 Nick Galov
Unaware that life beyond the internet exists, Nick is poking servers and control panels, playing with WordPress add-ons, and helping people get the hosting that suits them.