Zoolz Review - What Does One of the Biggest Providers Offer
With a wide range of plans for both home and business use and the chance to affordably store large amounts of data, Zoolz is quite competitive in the cloud backup market. Take a few minutes to check out this thorough review and see why Zoolz can be the perfect match for your needs. 
Security and privacy:
Great
Supported platforms:
Win / macOS / iOS / Android
Key features:
Continuous and incremental backup, multithreading, speed throttling, keeps deleted files forever
Visit Website
Best for:
STORING LARGE AMOUNTS OF DATA
Strengths
Feature-rich

Diverse plans

Available for personal and business use

Great privacy and security
No 24/7 technical support

No courier service
Do you have a lot of data to store?
Are you searching for a reliable and secure platform for your business's digital resources?
Zoolz might just be the right solution for your needs.
Its focus on storing large volumes of data and good user experience for individuals and businesses alike gives this service an edge over other vendors.
Check out this comprehensive Zoolz review to see if this is the backup service for you.
Zoolz Works On:
Windows

macOS

iOS

Android

VMs

Servers

NAS drives

SANs

External drives

Networks drives

MS SQL databases

SaaS
What Is Zoolz?
Zoolz is a cloud-based storage provider headquartered in London. Although it offers backup services for individuals too, its main focus is on businesses.
In the age of fast-growing data, it's crucial to have a reliable backup service. That's why Zoolz released their latest product—BigMIND.
The company's primary aim is to deliver a great user experience with its easy-to-use software.
We at Web Tribunal took a deep dive into its features to see what works and what doesn't and compiled the results in this detailed Zoolz BigMIND review.
Keep reading to find out more about Zoolz's offering.
How Does Zoolz Work?
After you sign up on its website and purchase the desired product, you'll get an email with instructions and a link to download the desktop client and mobile app. While preparing this Zoolz review, 2022 edition, we ran the installation and found the setup to be smooth and easy.
Once the backup client is ready to go, you need to start the initial backup. If it is a full backup, the upload may take some time. You can manually select what you want to upload and schedule the next backups.
Then you'd be good to go!
Zoolz keeps all data on Amazon Web Services to provide an extra layer of security.
Zoolz Features
Zoolz backup comes with a wide range of attractive services. From 256-bit AES security and advanced privacy policies to low cost of storage—Zoolz has it all. Let's dig deeper to see what else you can expect from this provider.
Backup Times
Users can tailor their backup times.
Zoolz cloud backup offers continuous backup. Each plan also has the option of backup scheduling. You can either set up the frequency (for example, every 24 hours), or you can arrange it to block out certain hours and days—a useful feature that can save you time.
Zoolz also allows you to pause and resume backups on demand.
Zoolz features incremental backup that only backs up the new files and file changes after the initial upload.
Many Zoolz reviews praise the possibilities the software offers, as they allow you to either set it and forget it or customize the backup time as you go.
Control Features
With Zoolz, you don't have to worry about duplicated files that take up space in your storage. Zoolz uses the process of deduplication to check if your files already exist in the cloud, so they're not uploaded twice.
All plans come with block-level uploads, but only for files larger than 5MB.
Zoolz cloud backup includes multithreading and speed throttling. Enabling the former will disable the latter. These features affect the upload speed.
If you need to slow down the speed because you need your broadband for something else, you can use speed throttling. If you want to upload data faster, you can activate more than one CPU thread.
It's up to you.
Versioning and Deleted File Retention
The versioning with Zoolz BigMIND Business is excellent, as highlighted by many Zoolz reviews.
You can store an unlimited number of versions for as long as you want to. Zoolz's deleted file retention policy is to keep files forever.
Backup Types
Unfortunately, Zoolz doesn't support full-system backup. This is a disadvantage, especially for their business plans, as other cloud backup services can restore the entire operating system in case of a disaster.
Zoolz backup supports images (even RAW), videos, audio, and documents. Their Optical Character Recognition (OCR) supports .jpg, .pdf, and .tif file extensions. You can find the full lists of supported formats in Zoolz's knowledge base.
If you wish to exclude certain files, folders, or extensions from your backup, you can do that too. You also have the option to filter files by date or size.
Ways to Restore Files
Zoolz doesn't offer courier service—a fact that many Zoolz reviews see as a drawback. So the vendor won't mail you your data in case of a total disaster.
Also, Zoolz doesn't have bare-metal restore. This can be a deal-breaker for business users who need full-system backup and bare-metal restorations of their workspace.
Of course, you can restore all your data via the internet at any time.
Backup Speed
Although the speed depends on your computer configuration and internet connection, you can optimize Zoolz to get faster results. In their Zoolz reviews, a lot of users consider speed to be the determining factor for selecting the provider.
For a good reason, to be fair.
You can get the best speed out of the service by:
Enabling

multithreading

Disabling speed

throttling

Switching from smart to turbo mode

Disabling Secure Socket Layer (SSL)

Scheduling

your backups wisely
Even without SSL, your privacy is guaranteed since Zoolz encrypts all data before it leaves your storage.
Remote Features
As an admin on both Zoolz business and home plans, you have anywhere-access, so you can perform a remote restore to any connected device. It's easy to do, and the Zoolz knowledge base offers a step-by-step explanation of the procedure.
You can't do a remote wipe, but you can easily add or remove users or devices.
Next in our Zoolz BigMIND review, we'll explore usability, plans, support, and more.
Ease of Use
Zoolz is remarkably easy to use. It's intuitive and has a straightforward user interface. Besides, the vendor offers a comprehensive knowledge base that covers many frequently asked questions, procedures, etc.
While preparing this Zoolz review, we tested the service and found it easy to sign up and download the desktop client for Windows/macOS and the mobile app for iOS/Android.
The installation takes just a few clicks.
It's that simple!
After installing it, you can take some time to explore settings and customize Zoolz for the best experience.
Zoolz Plan Comparison
Naturally, since it's boasting complete cloud storage, Zools comes with several plans that cover everything from home use to large business needs.
To help you make the best choice, we prepared this detailed plan comparison.
Note that there used to be lifetime plans, but Zools discontinued the service in October 2020. These packages offered lifetime storage for a fixed price upfront instead of yearly subscriptions—the main option as of 2022.
Zoolz has since released a similar offer under a different brand name (Genie9).
Genie9 Home
This option gives you access to Disaster Recovery Support. You can shedule backup runs, set up backup markers, and use the built-in search engine to easily locate the files you're looking for. This plan supports multiple versions per file and affords you a timeline view.
Unlike the previous option, Genie Backup Manager doesn't include backup markers or a timeline view, but affords you multiple backup jobs as well as optional 128-bit encryption for your files. Furthermore, you get to save your backups on CD, DVD, Blu-ray, and FTP/FTPS, too.
BigMIND Business
Zoolz Cloud
Zoolz Cloud Backup can provide as much space for your data as you need for a reasonable annual price: 1TB ($199.99), 2TB ($399.99), 5TB ($999.99), 10TB ($1,999.99), 20TB ($3,599.99), 50TB ($8,999.99). While testing the service, we found the offer of unlimited external drives, users, and servers really convenient. What's more, all plans include versioning and GDPR compliance, as well as a 30-day money-back guarantee. 
The main purpose of this plan is affordable storage of vast amounts of data. You can save a lot by signing up for one, three, or five years. This plan can be purchased separately or added to your existing plan as additional storage. It supports 1,000 users and has multiple admin control features. It's secured with 256-AES encryption and can be used by large enterprises. It's suitable for Windows servers and offers continuous backup. There's also the option to purchase 200TB and 500TB+, but you have to get in touch with a Zoolz representative to do that. 
Zoolz cold storage is based on Amazon Glacier, and its primary purpose is to store data that's not accessed often. It's a much cheaper alternative for storing large amounts of data.
We were also eager to review the Zoolz BigMIND Import/Export feature because it includes two options—Snowball Appliance and BYOHD (Bring Your Own Harddisk).
The Snowball Appliance is an Amazon device that BigMind can mail users so they can upload their data and ship it back. It's perfect for large transfers.
BYOHD allows you to send your own harddisk with your backup directly to Zoolz, and they can mail it back to you if needed.
Now, keep reading our Zoolz review to learn about the provider's support, privacy, and more.
Support
Zoolz pricing varies by plan, and each plan has a different level of support. More basic packages include standard customer service, while pricier ones come with premium assistance.
The latter gives you an advantage over non-premium users so that you get a faster response.
Zoolz's support is available via chat or email. There's also an international phone number for sales queries.
While preparing this Zoolz review, we contacted support and found it helpful. They answered all our questions, although there is room for improvement in the agents' soft skills.
Email assistance is relatively slow. If you're in a hurry, you might as well use a different channel because getting an answer may take 24 hours or more.
Zoolz support maintains a thorough knowledge base that can be helpful, but if your issue is not listed there, we suggest getting in touch with a real human.
Privacy & Security
Many Zoolz reviews are quick to praise the vendor's privacy and security features. It offers a military-grade 256 AES encryption protocol.
With end-to-end encryption, users can rest assured that their data is safe and that no one, not even Zoolz, can access it.
Zoolz BigMIND for Businesses adds an extra level of security with multi-factor authentication (MFA). You have to insert your email, a password, and a verification code sent to your phone to log in to your account.
The security of Zoolz's data centers is top-notch as well since it stores all data on Amazon's well-protected servers.
Zoolz BigMIND for business also complies with necessary business regulations, such as FERPA, GLBA, HIPAA, and GDPR.
Zoolz User Reviews
Zoolz user reviews cover a wide range of issues. Most are positive, but some express doubts about the provider's legitimacy.
Some Zoolz review threads on Reddit go as far as to accuse the company of being a scam, mostly because of the discontinuation of its lifetime service.
As mentioned earlier, Zoolz canceled its one-time payment option that offered to store your backup forever. This frustrated many users and bred most of the negative reviews.
But more recent Zoolz Reddit reviews share good experiences, especially when the service is used for storing large amounts of data.
When to Use Zoolz
Zoolz BigMIND covers a wide range of personal and business needs. Whether you have a home setup or own an enterprise, this provider has a plan for you.
Zoolz's specialty is storing massive amounts of data, so businesses are its main customers. In fact, the vendor is geared mainly towards serving enterprises, so it's most useful if you own a business.
Zoolz Alternatives
If, after reading our Zoolz review, you're still unsure if this service is the best fit for you, we recommend giving the trial version a go and considering some of the most popular alternatives.
Zoolz vs CrashPlan
CrashPlan is a cloud backup service provider that offers only one plan, and it's for small businesses. So, Zoolz provides a lot more options when it comes to plans and features.
If you own a small business, it may be a good idea to try CrashPlan, but for other needs, Zoolz will probably have a more tailored solution for you.
Zoolz vs IDrive
IDrive has a free-of-charge, basic plan for home usage that grants you 5GB of storage. Zoolz used to offer 1GB for free, but it just offers a free trial now.
IDrive has a few plans and straightforward pricing. Zoolz, on the other hand, stands out with more diverse—if pricier—solutions, intended for large enterprises.
Degoo vs Zoolz
Degoo is a storage provider specialized in saving photos in the cloud. The free account comes with 100GB of storage, which is a very generous offer.
Degoo has many plans but considerably fewer features, so it can't really compete with Zoolz in the cloud backup world.
Final Verdict
Zoolz covers all types of users, from those looking for a home solution to those working in complex business environments. Wherever you are on this spectrum, you can benefit from the complete cloud storage Zoolz delivers.
That said, the provider's business plans offer a lot more features and flexibility, so the service is more useful for enterprises.
If you're still unsure whether Zoolz is the best fit for you, give the trial version a go.
FAQ
Zoolz cloud backup service provides a number of plans for various backup needs. You can use it for home or businesses of any size.
It specializes in long-term storage of large amounts of data.
Yes, Zoolz cloud backup is safe.
It uses an advanced military-level 256 AES encryption protocol that ensures zero-knowledge encryption, making your data inaccessible even to the backup provider.
All data is stored on Amazon Web Services, which is a highly secure environment.
Businesses will benefit from the constant Zoolz reviews and audits that guarantee its FERPA, GLBA, HIPAA, and GDPR compliance.
Zoolz is very simple to use. Once you sign up, you'll get the email with instructions and links for downloading the Zoolz PC or Mac client.
After installing the desktop client, you can easily navigate through a very intuitive user interface and customize Zoolz based on your needs.
What is Zoolz cold storage?
Zoolz dual cloud backup uses cold storage that relies on Amazon Glacier.
It's way cheaper than other types of storage and is an excellent solution for long-term safekeeping of data that's accessed rarely. But keep in mind that data restoration from cold storage is much slower.
Check out the Plan Comparison section of our Zoolz review to find out more details about the service.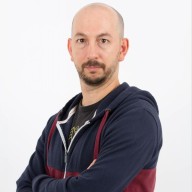 Nick Galov
Unaware that life beyond the internet exists, Nick is poking servers and control panels, playing with WordPress add-ons, and helping people get the hosting that suits them.
Leave your comment
Your email address will not be published.