HubSpot Marketing Hub Review: Is It Really The Best There Is?
If you're looking for the best possible email and digital marketing solution for your booming business, this is the service for you. Check what makes Marketing Hub so good in this HubSpot marketing and email automation review!
Maximum subscribers:
15 million+
Emails per day:
Unlimited
List segmentations:
Numerous
Visit Website
Best for:
BEST FOR BIG COMPANIES
Strengths
Abundance of features

Great analytics

Excellent delivery rate

Abundant integrations
Expensive

Steep learning curve
Professional software can be of big help. You've probably heard of Hubspot—it's notorious for providing comprehensive solutions that help businesses grow better… and for its pretty high prices.
Today, we'll look into Marketing Hub—a piece of HubSpot's complete CRM platform that offers tools and data to help attract the right customers for your business.
Among all else, MH and its features (landing page builder, email and marketing automation, lead tracking, etc.) act as HubSpot's take on email marketing.
So are you actually looking at a great piece of software or is it just a hyped-up name? Does it provide the needed value for its buck?
Read on to find out.
What Is HubSpot Marketing Hub?
As you now know, Marketing Hub is just a piece of the complete CRM service HubSpot is offering.
This review will focus on all the features included for a successful email marketing management.
It's important to note that MH's also a WordPress compatible autoresponder that combines numerous useful tools with CRM services.
HubSpot Marketing Hub Best Features
Marketing Hub is filled with features, so singling out just a few as "best" is a pretty hard task.
Still, here's our take on the matter.
Landing Page Builder
The HubSpot app, much like other automatic email response software, has its own drag-and-drop page builder.
This one is much more heavily packed with options, though. Besides adding elements and accessing their individual properties at any time, it lets you improve the page's optimization and even play around with the typography.
While editing a page, you also get to show and hide certain objects to make navigation easier.
Lastly, with HubSpot Marketing Hub, you can publish your page either instantly or later, at a time of your choosing.
Social Media Management
One of the best things about Hubspot's email autoresponder is its versatility. It's not good solely for dishing out autoresponse emails but also for social media management.
You can create HubSpot campaigns and also share your end result on social media. It gives you the option to do so manually or at a scheduled time. And if you're unsure when it's best to do so, the software has you covered yet again as it can even suggest a proper time for sharing your content.
SEO
It's no secret that SEO is crucial for email marketing, yet it still manages to get overlooked ever so often.
Fortunately, that's not the case with the HubSpot. The software will keep you updated at all times on the most popular SEO topics and the right actions for refining your optimization.
Subsequently, this will greatly improve your traffic and generate more leads.
All this shows that HubSpot offers exceptional analytics, which we cover in-depth further down in our review.
Integrations
HubSpot offers a whole ecosystem of integrations to ensure your growth!
Whatever you'd like to use it for, the +1,000 enhancements have got you covered. Particularly impressive is how there's an integration for each individual HubSpot application, too.
Pretty much all popular options are present as well, making it easy to connect to any of your favorite tools in just a few clicks.
Some of the most popular choices include:
WordPress

GmailGoogle Ads

Facebook Ads

Zapier
Templates
As soon as you start the HubSpot page builder, there are 21 templates to choose from.
On top of that, the official website offers around 80 more, all of which can be downloaded for free.
Given how well the drag-and-drop builder is designed, that's more than enough for a start.
Still, chances are, you won't be needing them all that much anyway, and if you do—you'll be using them just as a starting point.
They are certainly great for discovering and utilizing some of the best autoresponder email examples.
Email Automation
As expected, this is where this software shines.
The automation tool is powerful and surprisingly easy to use. You can set up an email campaign with a specific goal, and still not have to type a single line of code. HubSpot is notorious for its CRO, and it shows.
Another noteworthy aspect is its effortless combination of numerous workflow triggers and top-notch email segmentation.
While the HubSpot email automation process certainly isn't unique, the way it trumps the competition is by offering everything you'd need at your fingertips.
Split Testing
At the core of every automated responder is a good A/B testing feature.
The HubSpot email marketing split testing is superb. Sure, it can test only two email variations at a time, but other than that it has no faults.
It's up to you to choose between the number of opens, clicks, and the click-through rate (CTR).
You also get to decide how your emails will differ inside the HubSpot email autoresponder. You can pick between a different sender name, email's subject, content, or any combination of these.
If your continuous advertising campaign supports multiple languages, you can perform a separate test for each of them. This gives it an edge over other autoresponder software.
Analytics
Marketing Hub's built-in reporting features are like no other. They extend far beyond the HubSpot email marketing analytics.
You can track customers' steps down the sales funnel even without any additional integrations.
Each traffic source, landing page, email, and social media account—individual reports are waiting for you that are bound to assist with mail list building.
Consequently, you can pinpoint the specific moves that build trust, which should then help with your follow-up campaigns.
Let's not forget the SEO analytics—HubSpot helps you gather data from Google's Search console and learn important info about your impressions, position, CTR, and so much more.
What We Disliked
Even this HubSpot tool has problems of its own.
It's still one of the best, if not the best autoresponder of 2022, but it could use improvements on the following:
Steep learning curve

—The UI is great, and so are the guides. Still, there's a lot to learn here, especially if you're a beginner.

Too expensive

—It's simple: the more customers you have, the higher the price. While

HubSpot

is meant for

commercial

use, it's still very costly.
Plans & Pricing
Hubspot isn't a cheap marketing solution.
The autoresponder has a free plan, but the price rises with your contacts.
However, if you're planning on using multiple HubSpot applications, you're in for a treat as the HubSpot discount is its saving grace.
The company offers a Starter CRM suite—a combination of starter plans of four HubSpot applications at a reasonable price.
HubSpot Marketing Hub Support
Calling the HubSpot help platform vast would be an understatement
The website features basically everything you can think of to help with your business endeavors—knowledge base, blogs, video tutorials, etc.
We were pretty impressed with the abundance of info—something really important as this is a pretty complex tool.
The HubSpot customer service becomes available only with paid plans… that's it, that's the only "flaw" it does have.
The team's advertised as "award-winning," and we can see what for—all users are praising them for response times, informativeness, kindness, and eagerness to help.
What more to ask for?
HubSpot Marketing Hub User Reviews
We've read hundreds of user opinions online, while preparing this 2022 HubSpot email review.
What we gathered is this: (almost) all users praise the software's exceptional features—its integrations, automation, segmentation, social media management, just to name a few.
In short—Marketing Hub's customers are more than satisfied with what it brings to the table.
The HubSpot email marketing tool also boasts superb Reddit reviews. Not the least surprising, since the software's frequently described as the best there is.
We've reviewed some of the leading autoresponder suites out there and it seems that the Marketing Hub should be crowned as the best autoresponder according to Reddit.
Is HubSpot Marketing Hub Worth It?
As mentioned—it's one of the best options for digital marketing.
As such, it is a rather costly solution.
Its free plan isn't all that bad, but as soon as you purchase a paid plan the software turns exceptional.
The HubSpot tool has great email deliverability, works seamlessly, and boasts loads of invaluable features that will improve your marketing efforts across the board.
While it's not that suitable for newcomers or small business owners, this is most possibly the best digital marketing tool in 2022.
HubSpot Marketing Hub Alternatives
After discussing Marketing Hub's advantages and shortcomings, it's time we see how it stacks up against similar platforms.
Here is the breakdown:
HubSpot Marketing Hub vs MailChimp
Marketing Hub really has no competition when it comes to its advanced features and variety of tools it offers.
But since it's far too comprehensive (and thus, much more expensive), it's not that suitable for smaller businesses.
MailChimp might have a somewhat more limited toolset but it is a much better choice for small businesses, those with less digital marketing experience, and everyone in need of SMS marketing.
HubSpot Marketing Hub vs GetResponse
Unlike the GetResponse autoresponder, MH offers a free version.
We would not go as far as to call it the best free autoresponder of 2022 (because of the plan's limitations), but having a free version is much better than just a trial.
GetResponse offers some key CRM elements, but it doesn't even come close to HubSpot's level, as it's a customer relation and customer retention solution at its core.
Still, it's a solid email marketing solution that's much more affordable and easier to use.
HubSpot Marketing Hub vs AWeber
AWeber has a specific niche.
It's primarily an email marketing solution aimed at small businesses.
It offers loads of templates and a much more affordable price. It hides a few aces up its sleeve, as it's compatible with mobile Gmail apps and AMP pages.
Also, there's just one paid plan, so however you turn it, you're getting all features it has to offer.
The best option might be to combine these two apps and get the best of both worlds together.
Final Verdict
As our HubSpot email automation and marketing review comes to a close, we must give our final impressions.
The software's truly superb—it does everything exactly how a CRM should, and then some.
If you're looking for a complete solution to help with your business ventures such as attracting and retaining the right customers, regardless of the price, then this is the tool for you.
FAQ
What is HubSpot used for?
HubSpot covers an extensive ground and can be used in a variety of different scenarios, starting with customer relations. Marketing Hub specifically is used for email automation and marketing, helping you send promotional emails automatically, among many other things.
How to use HubSpot Marketing Hub?
This heavily depends on what you're looking to do here. Fortunately, the company's providing a vast library to help with whatever you may need.
Is HubSpot Marketing Hub free?
There is a free version, which is great because nearly all of the paid plans are much too expensive. However, it's pretty limited, so if you'd like to fully take advantage of what the software has to offer, you'd have to go for some of the paid options.
How much does HubSpot Marketing Hub cost?
The pricing options start at $45/month and can go all the way to $3,200 monthly. We've covered all this and more in great detail in our HubSpot review above.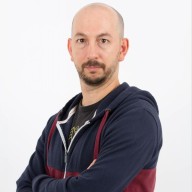 Nick Galov
Unaware that life beyond the internet exists, Nick is poking servers and control panels, playing with WordPress add-ons, and helping people get the hosting that suits them.