EaseUS offers convenient data recovery pro and free plans, suitable for both Windows and Mac users for individual and business use. Here are some of the benefits that make EaseUS a prominent backup and data recovery service. 
Scanning options:
Quick/Advanced
Supported file formats:
Numerous
External storage recovery:
Yes
WORKS ON:
MacOS
Windows
Key features:
Easy to use, automatic backup, disk cloning, free trial
Visit Website
Best for:
ALL-INCLUSIVE BACKUP & DATA RECOVERY SERVICE
Strengths
Free trial for Windows and Mac

Highly intuitive design and decent speed

Automatic backup for PC's and laptops

Disk cloning and OS migration
A bit expensive

Maximum free data recovery is 2GB
If you've ever experienced a sudden disk error that resulted in deleted photos and valuable files from your PC, you know the importance of high-quality drive recovery software. As most IT professionals say, 31% of hardware or system failure results in data loss, and 29% of it is due to human error.
That's why data salvaging should become a standard procedure in the maintenance of anyone's computer devices, regardless of whether it's for personal or business use. There are many data recovery and backup companies, but one remains the absolute leader – EaseUS.
In our comprehensive EaseUS data recovery review, we will see why EaseUS stands out from its competition.
EaseUS was founded in 2004 in China. Since then, it has become the number one software for data backup, data recovery, and partition management, while keeping the users' privacy a priority.
So far, its software has been downloaded 72 million times, and it has served more than 530 million users in more than 160 countries. The number of positive EaseUS reviews seems to only grow with time, as the company constantly upgrades its services trying to meet the users' needs.
In today's review, we at Web Tribunal answer some of these questions: does EaseUS data recovery software really work, is EaseUS recovery data legit and safe to use, and how pleased are users with it?
Let's begin.
What Is EaseUS?
EaseUS is an award-winning backup and recovery software that helps users save, restore, or copy their data in the best way possible. Not only does it offer backup and recovery software for securing your lost data, but it also enables you to save files, perform a disk partition, and recover your SQL or email.
We weren't even that deep into the research of our EaseUS review yet, when it became crystal clear why this company is an industry leader. And, why, according to all the figures, it has big chances of being the best data recovery software in 2022.
How Does EaseUS Data Recovery Work?
EaseUS isn't data recovery scam software – it's been on the market for more than 15 years, and the thousands of satisfied users are proof of the security and reliability of this software.
Simply put, EaseUS is a software-based recovery tool that you can use to save, recover, or back up your data. In case of any drive failure or corrupted storage issue on your device, you won't have to worry about your files and images – all of your data will be safe.
Features
Next on our EaseUS data recovery review comes the most important part of any software evaluation – checking out its features.
Supported Devices
EaseUS is suitable for Windows and Mac. However, not all services are available for both of them. The partition manager software, the PC transfer, and the disk copy are only available for Windows at the moment.
The company has addressed the mobile users' needs as well, by creating applications for both Android and Mac users.
EaseUS Data Recovery Wizard can recover files from HDDs, SSDs, SD cards, USB flash drives, memory cards, etc.
As far as the backup software, it can safely recover data from devices like HDD or SSD. Also, it can recover lost data after an MBR to GPT conversion and from RAID setup as well, a feature that makes the Ease US even better data recovery software.
Supported File Formats
In order to do a proper EaseUS data recovery review, we had to check whether the software actually supports many file formats.
We weren't surprised when we saw the list of supported files – it's long!
Here are just some of the types of supported file formats:
DOC/DOCX, XLS, XLSX, PPT, PPTX, PDF, CWK, HTML/HTM, EPS, JPG/JPEG, PNG, RAW, WMF, AVI, MOV, MP4, WMV, MP3, RealAudio, MPG, WAV, PST, EMLX, ZIP, RAR files and many more!
However, like other data recovery software, EaseUS is not suitable for recovering overwritten data.
Scanning Options
What is the EaseUS Data Recovery Wizard? It's the recovery software that scans all the documents that are ready for recovery.
Before starting with our EaseUS review, we downloaded the recovery software and tested it. Here's what we found:
There are two modes of scanning – a quick scan and advanced scanning.
You can choose the type of documents you want the software to scan. Once the entire scanning process is done, the files are divided into a quick scan folder and an advanced scan folder.
Recovery Capabilities
The next step of our EaseUS review was to test the actual recovery function of the software. We chose a folder, waited until it was scanned, and once the advanced scanning was done, the software itself organized the files.
Once you choose a folder for recovery, you can pick the location where to export it. The software advises you not to put it back into its original location.
Speed
What was absolutely stunning while we did the review was the EaseUS Data Recovery Wizard scanning speed.
Of course, it's important to remember that it all depends on the size of the file or folder.
It took only two minutes to do a quick scan of a 116GB disk. It's much faster than alternatives like TenorShare.
File Deletion
Put simply, once you erase a certain file from your computer, it still exists in your storage drive. But with a little help from the EaseUS Partition Master and its Wipe Data feature, you could erase everything you want and not fear that it will someday be restored with any recovery tool.
You're not likely to find any EaseUS complaints regarding this feature – it worked great. If you want to be completely sure that the data is erased, you can test it with the EaseUS Data Recovery Wizard Pro or Technician.
The partitioning feature is available for Windows only, though.
Ease of Use
It's super easy to install EaseUS software. You have all the download options available in the Download Center on its website. There, you have all the features and tools for every operating system.
You can download the software in a matter of seconds, it's easy to install, and you can start to recover deleted files for free instantly.
EaseUS Free vs Premium
We came to the most interesting part of our detailed EaseUS data recovery review - the pricing plans.
The thing is, EaseUS has a free and premium version of every solution in its portfolio, but we focused specifically on the plans for EaseUS Data Recovery Wizard, available for Windows, Mac, iOS, and Android.
Our review of the EaseUS Data Recovery Wizard plans found the following differences:
We tried the EaseUS file recovery for mobile devices and here's what we concluded from our review of its features:
The Android version offers the same features. The Pro plan is $39.95 and you can recover SMS, lost contacts, photos, videos, audio, etc.
Support
You can reach out to EaseUS via email, in which case they guarantee that you will receive a reply within 20 hours.
Live chat is available from 9:00 a.m. to 5:30 p.m. UTC, Monday through Friday.
The third option is to contact them via phone from 6:00 p.m. to 7:00 a.m., Monday through Friday.
We contacted the live support with a question about security, and they answered almost right away and addressed our concern in a proper manner.
EaseUS User Reviews
We're not the only ones to compile an EaseUS data recovery review – a lot of users have been doing that too!
Their impressions are divided - there are users who absolutely love the software and consider it a lifesaver. But, there are others who claim that it's a scam because of its tough-to-claim 30 money-back guarantee, which, apparently, some of them experienced firsthand. Some of the users complain about software performance and its lack of responsiveness to commands.
However, the overall impression is positive.
When to Use EaseUS
If we had to use one word to describe our overall impression after doing a detailed EaseUS review, it's – brilliant. The company covers every aspect of data protection and recovery, providing a range of services that secure your PC data in every possible way.
If you want to recover lost data, there's the EaseUS Data Recovery Wizard, available on Windows, Mac, Android, and iOS.
If you want to back up your data so it doesn't get lost, it offers Todo software, both for home and business use. And if you want to transfer all of your disk data to another disk without the risk of anything getting lost, you can choose to use the partition manager software, also available for individuals and enterprises.
On top of that, there is a range of other EaseUS products, like Video Editor, Phone Transfer, EverySync, iPhone Unlock, and a backup system that you can connect to your favorite cloud storage system.
EaseUS Alternatives
While our EaseUS review focuses on all the benefits of this software, it's not the only data recovery software – there are plenty of others. We're going to compare some of them with EaseUS.
EaseUS vs Stellar
These two have similar features, and users love them pretty much the same, so it's very hard to pick the best one.
Stellar has been in the industry for more than 25 years, which shows its proficiency, quality of service, and overall user satisfaction. It also has a free trial, with 1GB of data available for recovery.
Stellar maintains multiple packages, just like EaseUS, and the starting price is $49.99 for the Standard package. Both of these support the same file formats and systems, and they are both available for Windows and Mac.
EaseUS vs Disk Drill
Disk Drill is another popular data recovery software used to save lost photos, folders, and files of any kind. It extends a free trial, just like EaseUS, but a major put-off is the fact that it only allows for 500MB of data to be recovered. When compared to EaseUS's 2GB, that doesn't look like much.
EaseUS also has the advantage of letting you hook up something like a photo cloud storage system. This makes it much more reliable for home users that are mostly concerned about photo and video files.
Pretty much any type of file you could think of is recoverable with Disk Drill, just as with EaseUS. The Pro plan costs $89, compared to EaseUS's $69.95. Considering all the features and the fact that EaseUS doubles as a cloud backup system, it is the clear winner.
Final Verdict
After doing the research for this thorough EaseUS software review, it's clear that this software is quite extraordinary. It's fast, reliable, secure, does its job, and depending on the plan you opt for, offers affordable prices.
The free trial is great because it shows the users how this software functions.
FAQ
Is EaseUS safe and legit?
Yes, it's been on the market since 2004, has more than 530 million users, and it's available in more than 160 countries. Also, the company has a 30-day money-back guarantee, and there are multiple ways to contact customer support when there's a problem, so it's definitely a trustworthy service.
EaseUS is owned by CHENGDU Yiwo Tech Development Co., Ltd, with headquarters in Sichuan Province, China.
Yes, it's able to recover lost files and folders and it works with multiple file formats.
How long does the EaseUS scan take?
It depends on the size of the disk, the folder, or the document it scans. But there are two scanning modes for each file – quick and advanced. The quick scan usually takes a few minutes. The advanced scanning is also fast, but as it goes much deeper, it might take an hour or two for a full scan.
The pro plans are paid, yes. But there's a free trial of every type of software EaseUS offers - something that's appreciated by clients in almost every EaseUS data recovery review.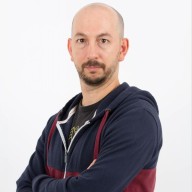 Nick Galov
Unaware that life beyond the internet exists, Nick is poking servers and control panels, playing with WordPress add-ons, and helping people get the hosting that suits them.
Leave your comment
Your email address will not be published.