Great privacy and security, unlimited storage, and a useful mobile app are just some of the features CrashPlan has to offer. Check out our detailed CrashPlan review to find out more of its strengths and weaknesses.
Free version:
30-day free trial
Security & privacy:
Great
WORKS ON:
iOS
Linux
MacOS
Android
Windows
Excellent for SMB:
Affordable, good for unlimited storage, great role control
Visit Website
Best for:
SMALL BUSINESSES
Strengths
Great privacy

Excellent security

Unlimited backup

Unlimited versioning
Manual backup restore

No 24/7 support
Do you own a small business?
Are you looking for a reliable solution to back up your precious data?
There are many providers with attractive offers out there, so choosing the right one may be tougher than it seems. You've probably run into CrashPlan, wondering whether it's a suitable solution for your needs.
One thing is for sure—CrashPlan is doing a great job as a backup system.
But is it the best one?
This CrashPlan review contains insights into all the important features of this product.
I won't recommend anything specific, I'll just promise you some pleasant surprises. So go ahead and check for yourself.
CrashPlan Works On
Windows 8.1, and 10 (version 1803, 1809, 1903, 1909, 2004, 20H2)
MacOS 10.14, 10.15, and 11
Linux - Red Hat Enterprise 7.6, 7.7, 7.9, 8.1, and 8.2
Computers
Servers
External drives
What Is CrashPlan?
CrashPlan is a cloud backup software intended for small businesses. It's owned by the American software company Code42.
To find out whether CrashPlan is the right fit for you, it makes sense to consider your needs.
If you own a small business and need a serviceable backup system, you're in the right place.
Keep reading this CrashPlan review to find out more about the product and determine whether it's your best match.
How Does CrashPlan Work?
CrashPlan uploads your data to its remote, encrypted cloud storage. That way, you can have a secure copy of your important files. Since it's a hybrid backup, it keeps one backup online on the cloud and the other one locally at a destination of your choice.
The initial backup uploads all supported files. For every backup after that, it will copy new and updated files only.
The backup starts with a process called deduplication, which checks if parts of files or entire files already exist, so it doesn't upload them twice. If the file or a part of it passes this check, CrashPlan will compress it, encrypt it, and send it to the backup destination.
But that's just the beginning. This CrashPlan backup review goes into the details of how this product works.
CrashPlan Features
I'll focus on CrashPlan for Small Business. All the features I'll go through are in this plan.
Before I dive in, let's clear up any confusion about the product's name. You may have come across a product called CrashPlan Pro.
What is CrashPlan Pro?
It's actually just another name for the same plan—CrashPlan for Small Business.
Let's see what makes it so special.
Backup Times
CrashPlan's default backup setting is continuous. It works in the background all the time and scans your data unless you change the settings.
You can turn on the option of scheduling backups. This allows you to set and adjust the frequency of the backup process.
One of the most interesting CrashPlan features is the smart continuous backup.
It backs up the files you're currently editing first. It also gives you easy access to previous versions of the file.
Advanced Backup Settings



Another feature CrashPlan offers is block-level uploads. When you make changes, it doesn't upload the entire file again but only the changed parts, which speeds up the upload.
While testing the service for this CrashPlan Pro review, I found the process of data deduplication quite useful. The service scans for duplicated files first, and if it doesn't find any, it backs everything up.
This can slow down the initial upload, but you can easily disable it if you don't need it. Overall, it's a useful feature that ensures you don't have numerous copies of the same file on your backup.
However, CrashPlan doesn't support multithreading. One active thread means one file (or file change) is uploaded at a time.
Another thing we were eager to review was the CrashPlan speed throttling. If you're busy doing something else and need your internet connection at full speed, you can slow down the backup process. That comes in handy when multitasking online.
Versioning and Deleted File Retention
Not only does CrashPlan include versioning, but it also backs up an unlimited number of versions of your files.
Sounds tempting, right?
That's just one of many CrashPlan unlimited features.
Versioning also applies to CrashPlan's policy of deleted file retention. It basically keeps your deleted files forever. Naturally, you can also manually adjust how long it keeps them.
But there are a couple of things to consider. For one, changes to the settings apply to all deleted data in the cloud archive.
Additionally, if you choose to remove something from your backup, it will also disappear from the archive.
Backup Types
What are the file types supported by Craashplan?
I mentioned earlier in this review that CrashPlan uses incremental backup. It uploads only new and changed files. This is a good thing since it cuts back on CPU, storage, and internet usage.
It's also worth reiterating that the service stores more than one copy of your data thanks to hybrid backup. It keeps one copy on its encrypted cloud storage. Thanks to CrashPlan's local backup, the other copy is saved at a location of your choosing.
Unfortunately, the service doesn't support full-image backups. This is a pity because if all things go south, you wouldn't have the option to restore the entire system to its previous state.
CrashPlan can copy user files such as pictures, music, and documents, but not applications or the operating system.
Some other excluded file types are application data, system files, backup files, temporary files, caches, cookies, files in the recycle bin, and virtual machine files.
Ways to Restore Files
Mobile users have it easy. The truly helpful CrashPlan Android and iOS mobile app can restore files with remarkable ease.
Desktop users would benefit from the desktop client, while power users can deploy the Code42 web console. With it, you can perform both web data restorations and troubleshooting.
The way restoration works is the same in every case.
The glaring limitation is that data over 250MB has to be downloaded via the installed software. You have to select manually which files and folders you want to download. Which can be time-consuming and cause unnecessary complications for users with a lot of data.
Unfortunately, there's no courier service or bare-metal restore option. This shows that the CrashPlan Business was initially created for personal use and is yet to be developed further.
On the other hand, as an administrator, you can control what's being backed up on all computers or servers. This means you can restore data from one device to another without much trouble.
Backup Speed
Typically, CrashPlan backup speed is slowest while performing the initial backup, and every following one is a lot faster. Block-level uploads and speed throttling can speed up the backup process.
However, data deduplication can slow it down. This process is happening each time when CrashPlan scans for files. You can disable this option, though, to speed up the backup process.
User reviews point to an excellent upload and download speed. But since you have to select every file and folder manually, the restoration can take ages, even with good internet speed.
Remote Features
You can access your account remotely via the Code42 web console or mobile app.
CrashPlan mobile app is the most useful remote feature this company offers. It's available on iOS and Android.
It allows you to control everything on your CrashPlan Pro account remotely. You can schedule backups, restore files to any device on your account, or perform certain actions as an admin or a user.
The cons list of this CrashPlan review includes the fact that there's no remote wipe and no device locator. On the other hand, having a mobile app that gives you remote control is a useful feature that can make up for these drawbacks.
Admin Control
Admin control is one of many reasons this backup software is great for small businesses. You can connect an unlimited number of devices.
This thorough CrashPlan Pro review wouldn't be complete without a reference to some additional useful features for admins.
As an admin, you can control everything on your account, as well as give permissions to other users to perform actions or add new admins.
In order to perform user management, you can create an account and install the CrashPlan app for each user on their device.
Keep in mind that you're being charged per active device, not per number of active users. Why is this important to remember?
As previously noted in our review of CrashPlan Pro, this backup system offers the option for multiple users per device. If you want to take advantage of it, you can install the app on every user account and, as an admin, control everything that's being backed up by each user.
In other words, data that users can't access won't be backed up. You can only back up the files associated with a user account with CrashPlan installed on it.
This feature isn't available for Linux, though.
The good thing is CrashPlan has a support blog that explains each step of the process in case you need assistance.
Ease of Use
Backing up data is complicated enough. But the CrashPlan mobile app, the web console, and the desktop app are all very simple to use.
The user interface allows you to control the entire backup process with ease. This makes it great for small businesses relying on multiple devices and users.
Users can also access the app, but admins have more control.
Support on the Code42 website blog is great!
It explains each option step-by-step.
CrashPlan for Small Businesses
The trial version includes all the features, so this is a great opportunity to experience everything this service has to offer before committing to a subscription. You can only use it for one device, though.
If you have up to 100 devices connected to one account, this plan will serve greatly as there is no limit on the storage for each device. Each new device costs $10 additionally.
Should you want to back up over 100 endpoints, the CrashPlan sales team will prepare a special offer for you.
Support
Code42, which owns CrashPlan, offers a comprehensive knowledge base for CrashPlan for Small Business on their support website. I tested their support thoroughly for this CrashPlan Pro review.
They offer chat, email, and phone support, which is unavailable during holidays and weekends.
Support's working hours are aligned with US Central time, so if you're in Europe, for example, you have to call them late afternoon if you need help.
There's an option to get in touch via mail, which I used. I received an auto-generated email directing me to a knowledge base and a chatbot.
Other CrashPlan reviews note that the chatbot can be frustrating, and I totally confirm that!
Sometimes the bot shares the right information, but often it doesn't get the question unless it is super simple. It is an interactive FAQ section that provides assistance immediately, so it can be useful if you're in a hurry.
Getting in touch with a human is very hard.
Back to my email—they replied a few days after I sent it because it was the weekend. There's no 24/7 support or live chat (with an actual person), which is a downside to their support.
Privacy & Security
CrashPlan cloud is GDPR and HIPAA-compliant. This is important for those doing business with or inside the EU and with medical institutions or organizations.
Maybe the biggest advantage of this backup system is the end-to-end encryption. It ensures that not even CrashPlan can have file access without the encryption key in case you manage it (which is optional).
However you review it, the CrashPlan security systems are strong.
CrashPlan uses the AES 256-bit encryption protocol, as do most providers. It's basically impossible to break it.
It offers the option of two-factor authentication so that you can have an additional level of security.
CrashPlan's data centers are well equipped, monitored 24/7, and compliant with all security requirements for safe data-keeping.
CrashPlan User Reviews
There are a lot of perks to using this service, but I've also discovered some of its negative aspects while writing this CrashPlan backup review.
They mostly have to do with the shutdown of the CrashPlan for Home. This happened in August 2017, when the option to create a new user or to renew an account was no longer available. The CrashPlan for Home was officially unavailable for use since October 2018.
This caused a lot of trouble because users had limited time to download their backups before their accounts were shut down.
So a lot of user reviews from this period are negative. Still, it's worth pointing out that users were dissatisfied with the discontinuation because they liked the service.
Since then, CrashPlan has focused on serving small businesses, and user reviews are split.
Most CrashPlan reviews focus on the positive aspects, such as good speed and unlimited backups or great ease of use and account control.
What users don't like is the fact that they have to pick individual files and folders for restoration, which takes a lot of time.
When to Use CrashPlan
CrashPlan for Small Business is built, well... for small businesses.
If you own a small business and have multiple devices and users, you can benefit from this service.
Some of the many pros I found during the writing of this CrashPlan review are computer and server backup, unlimited storage, and great admin control. It's secure and uses private encryption, along with many other features.
So, if this matches your needs, CrashPlan can be an excellent solution for you.
CrashPlan Alternatives
Crashplan is an excellent service for the needs of most small businesses, particularly when coupled with a data recovery tool, but it is not without its limitations. Here are some popular alternatives.
CrashPlan vs. Backblaze
Backblaze is a good alternative to CrashPlan, especially for those who need a backup for personal use. The good thing with Backblaze is that, unlike CrashPlan, it allows you to restore all your files at once. This makes it useful when downloading large amounts of data.
It offers unlimited storage, courier recovery, and private encryption.
But it offers a 15-day free trial, while CrashPlan offers a 30-day trial.
While CrashPlan is a great solution for small businesses, Backblaze is geared more toward personal use.
CrashPlan vs. Carbonite
Both Backblaze and CrashPlan have similar pricing methods—a flat price per device.
Carbonite, on the other hand, offers way more plans. They cover both personal and business use and offer combined price plans.
Carbonite's Safe Pro options include up to 25 computers/servers under the same price plan. But storage is limited, and the service does not support Linux.
That said, Carbonite has a full range of plans, which give you a lot of options.
Final Verdict
Are your needs modest?
Do you have a few computers or servers?
Do you run a small business with several employees?
If so, CrashPlan for Business is definitely for you.
Let's be honest—there's always a fly in the ointment.
One downside is the manual data restoration, which can be a nuisance for busy people who have a lot of data to restore.
But there are many benefits as well.
With high levels of privacy and security, unlimited storage, and many devices, the CrashPlan cloud storage is pretty useful in protecting customers' data.
Try out its 30-day free trial and see if this backup system works for you.
FAQ
Yes. CrashPlan has great privacy and security.
But how does CrashPlan work to ensure these?
It uses AES 256-bit encryption, which is unbreakable in 2022. It's equipped with zero-knowledge encryption. This means that no one, under any circumstances, can access your data if you're the one with the encryption key.
Also, its physical data storage is well protected and monitored 24/7 with modern safety systems.
Is CrashPlan really unlimited?
Yes, but CrashPlan unlimited storage is billed per device. The number of devices you can connect is unlimited, though.
However, your device's memory is limited, so the storage of the device you're backing up dictates the backup storage you can use.
Can I backup my site with Crashplan?
Generally speaking, yes, it is possible to copy the files of your website with Crashplan but that shouldn't be necessary, to begin with. Quality business hosting and VPS providers include automatic backups in their services. All the same, having an off-site backup is not such a bad idea.
Is CrashPlan HIPAA compliant?
Yes. CrashPlan has HIPAA and GDPR compliance. The CrashPlan price is especially justifiable if you're in the medical business because it gives you peace of mind.
How much does CrashPlan cost?
CrashPlan for Small Businesses costs $10 per month per device. Yearly, the price amounts to $120 per device.
Each additional device costs another $10. You can connect an unlimited number of devices, and you'll have unlimited storage per device. For more details on the plan, check out the CrashPlan review above.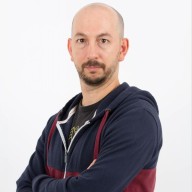 Nick Galov
Unaware that life beyond the internet exists, Nick is poking servers and control panels, playing with WordPress add-ons, and helping people get the hosting that suits them.
Leave your comment
Your email address will not be published.